Seasonal decorating is always fun, but can be a challenge when you live in an apartment or small home. There is not only less room to display decorations, but also less room to store them.
So we've gathered a few fall decorating ideas for apartments and small spaces that are easy to make, simple to display AND don't take up much room to store either.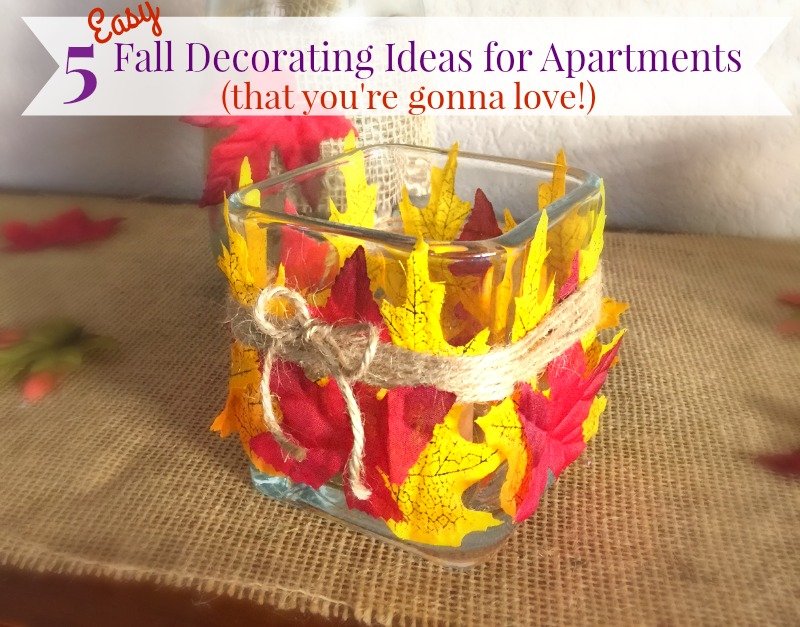 Heads up that there are some Amazon affiliate links in this post, which means if you purchase something through the link, we receive a small commission (at no extra cost to you). Read our full disclosure here.
Now on to our easy fall decorating ideas for apartments and small spaces!
1. Make a fall leaf banner.
I love decorating with leaves for fall. In our neighborhood, there are more acacia and mesquite trees than anything else, so I have to buy my leaves from the dollar store. But that's okay because I can reuse them year to year and they're cheap to replace when they begin to fray.
This leaf banner from Sondra Lynn At Home is a cinch to make and has the added charm of book pages shaped like leaves as accents. You can make the book leaves easily by tracing a leaf onto an old book page and cutting it out with some craft scissors. Click the pin for the complete directions to make this adorable banner.
Here is another leaf banner we love from House of Jade Interiors in which the leaves are dipped in glitter and hung from ribbon. This one is equally easy to make but has a less rustic and more glam feel than the one above.
It's hard to pick a favorite, isn't it?
2. Use fabric.
Next on our list of Fall decorating ideas for apartments and small spaces is to use fabric. Table runners, placemats, and pillow and chair covers don't take up much room in storage and are easily changed out for the seasons.
I love this simple idea from Cobblestone Farms. She draped some burlap over her kitchen chairs and tied it with a sunflower and trailing leaves. It's so cute and rustic!
Inspired, this year I decided to use burlap in my Fall decorations. I bought 3 yards at Hobby Lobby and cut it up into four table runners to use on some bookcases and a console in my living room.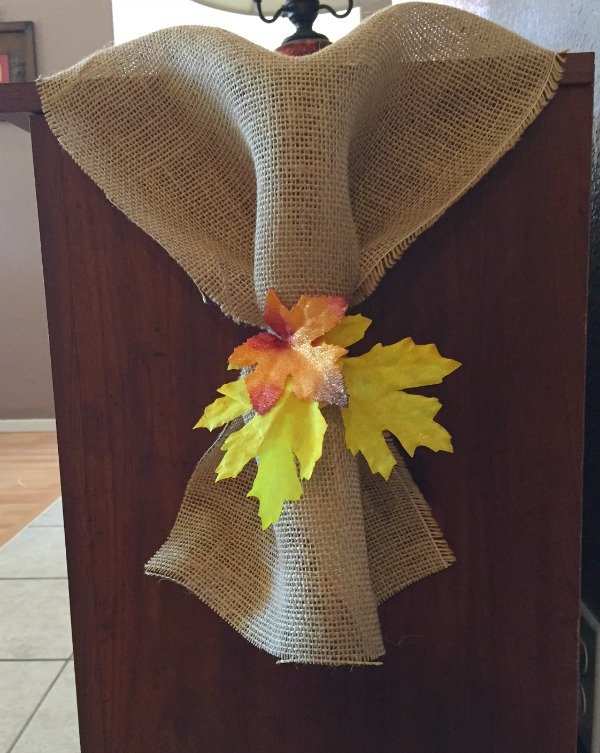 I kept it simple and just used leaves as accents but you could add some pretty fall themed ribbon as well.
To tie the burlap, I used a hole puncher and punched holes into the leaves and threaded them with twine, then tied them around the burlap.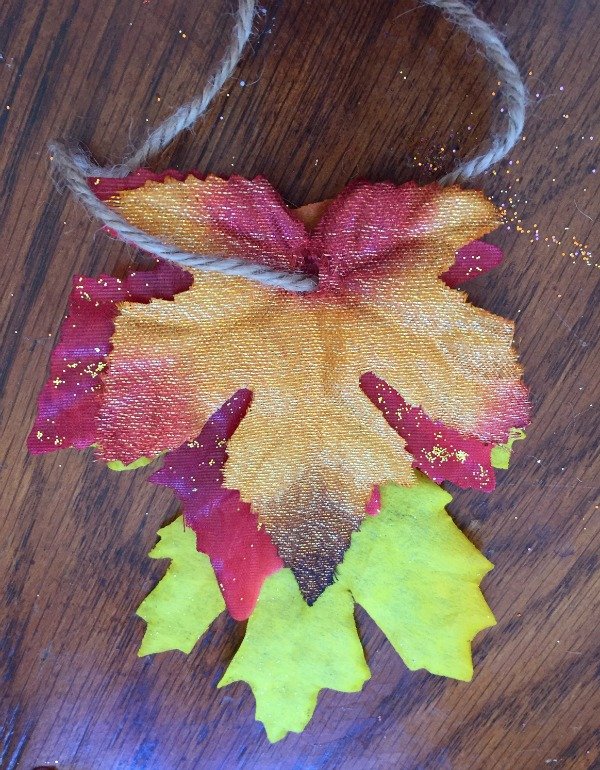 Can you tell I was using glitter on another project?
Another fabric inspired fall decoration is pillows. Or actually, Fall inspired throw pillow covers, which we wrote about here.
Pillow covers are great because you buy a few pillow inserts (like these), then just change out the covers seasonally, and they're super cheap! You never have to store away the actual pillows, just the covers. AND you can pull the covers off and throw them in the wash as needed – what's not to love?
3. Fall-ify your candle holders
Those cheap little votive candle holders are simple to decorate for fall or any season. Just add some leaves with a bit of twine or jute and turn them into a cute and simple fall decoration.
I didn't have round votives but I had a couple square ones I bought from the dollar store. I used Glue Dots (those things are amazing, by the way) to stick the leaves to the glass, then tied some jute around it.
LED candles work well in these so you don't have to worry about a flame melting the glue.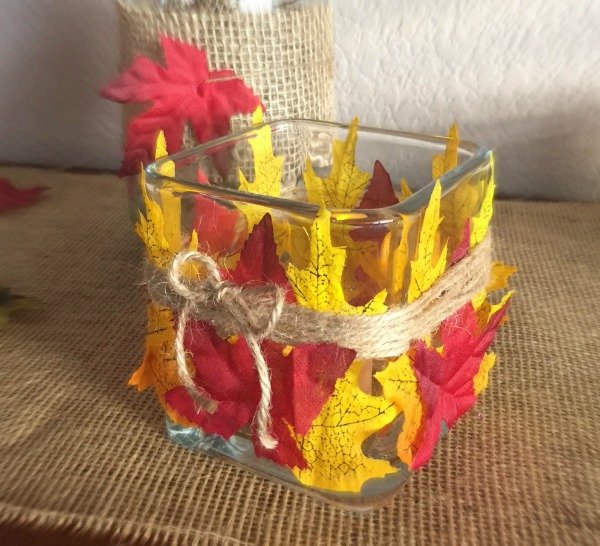 4. Use free fall printables
One of our favorite fall decorating ideas for apartments and small spaces is to use free printables.
This is an easy way to decorate for any season, really. Lots of talented bloggers make lovely free printables and all you have to do is print one out and pop it in a cute frame. This is another item that you can just change out with the seasons, so there is nothing to store.
Here are a few of our favorites: (click the image to go to the post for the download info)
You can find more free printables here and here. Or google "free fall printables" and you'll be clicking for hours at all the beautiful ones available.
5. Skip the wreath
I love wreaths, but they are a pain to store (if you don't want them to get crushed, that is). So I'm crazy about this idea for the front door.
Paint or decoupage some wood letters and attach them with different lengths of ribbon. Use Command hooks on the inside of the door to hold them in place. Click the pin for the full tutorial. So cute!
This next one is easy to make as well. The pin shows all the instructions, but you can click it and go to the website for more details.
Both of these letter projects are great fall decorating ideas for apartments or other small spaces because they take up little room to store yet still look beautiful.
We hope you try a couple of these easy projects to spruce up your small space for fall. Now it's your turn! What's your favorite way to decorate for fall? We'd love to hear your ideas in the comments.