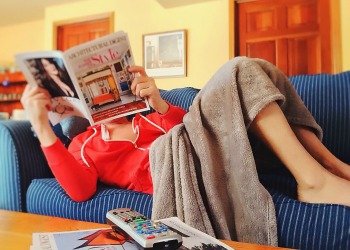 In many people's homes, the couch is one of the most utilized pieces of furniture. It sees the hind ends of both occupants and guests, not too mention Fido and Fluffy.
If you're furniture shopping for a sofa, you want one that will hold up under all the sitting, lounging, napping and playing that happens upon it. The construction of the sofa is what determines it's durability and lifetime.
You likely also want to buy a couch that looks good in your small space and matches your decor, and this is determined by its style.
In this article, we're going to discuss both construction and style and show you what to look for when shopping for couches and sofas so that you get the best quality for the price.
Couch Construction
There are five aspects of a sofa's construction to look at when furniture shopping. These are the frame, joints, springs, filling, and fabric
1. Frame
Think of the frame as the skeleton of the sofa. It's the basis of a strong and durable piece of furniture, so you want it to be sturdy.
The sturdiest frames are made from hard woods like oak, cherry, or maple, to name a few. Sofas made from these harder woods will be more expensive than those made from softer woods like pine, poplar or birch.
A frame made from soft woods may give out after 3 – 5 years. But an advantage is that they are more lightweight (a nice feature if you move often) and less expensive.
Whichever type of wood you go with, it should be kiln dried. This is because wood shrinks as it dries, causing cracks and splits. So the wood used in furniture construction should be dried thoroughly in a kiln to avoid defects later.
Engineered woods, such as plywood and particleboard are also used to make sofa frames. Plywood is several thin layers of lumber epoxied together under high pressure and is the stronger of the two.
Plywood of high quality can make for a very sturdy frame, as long as the rest of the construction is sound. Expect a sofa with a plywood frame to last 2 to 3 years. Particleboard however, is much less strong.
Some frames are made from a combination of hard and soft woods and engineered woods. Soft woods may be used in the curve of the back or arms, because it's more pliable.
Certain couches are also made with steel frames. These are very strong and durable but because steel isn't easily contoured, the styles available with steel frames are limited.
One tip to test the strength of a sofa frame while furniture shopping is to lift one front leg of the sofa about 6 inches. The other front leg should rise too. If not, the frame has too much give and is weak.
2. Joints
Furniture is made by pieces of wood coming together. The points where one piece of wood connects to the other are called joints. The sturdiness of these joints is a large part of the overall durability of the frame. Ever sit on wobbly furniture? That's due to weak joints.
There are a variety of joining methods used in a sofa frame, including:
Mortise & Tenon – One piece of wood has a hole, the other piece fits into it at a 90 degree angle. This is the strongest joint method.
Double Dowels – Two dowels inserted into two pieces of wood to hold the two wood pieces together.
Corner Blocks – An extra piece of wood is screwed into place at the frame corners for added strength.
Reinforcement – Glue, screws or staples are used in addition to another method to add an extra layer of support.
Beware of frames that only use reinforcement, without any other support. These frames will be weak and won't last long under much use.
3. Springs
The quality of the springs in couches and sofas has a large impact on their comfort. There are two types of springs used. One is eight-way hand tied spring coils and the other is Sinuous or S springs.
The former are more expensive (as the name implies, they are labor intensive to produce). The latter are cheaper and lend a softer feel.
A sofa made with S springs can still be quite comfortable and durable as long as the springs are made from a hard steel. The number of springs in the frame affects the bounce and comfort of the couch as well. Some poorly made couches just have the webbing and no springs at all while a good quality one will have as many as 14.
Consumer Reports put together a handy illustration showing the different aspects of a couch's construction that is very helpful.
4. Filling
Goose down is the filling of choice for high-end sofas. It's very soft and comfy, however it's expensive and high maintenance, unless you like constantly fluffing your couch cushions.
Polyurethane foam is low cost and low maintenance and a common material in low to medium priced sofas. Look for high-resilient foam, which is a bit longer lasting and more comfortable than low resiliency.
Polyester fiber is the cheapest of fillings, but it flattens quickly. If you just need a very inexpensive couch that you are willing to replace in a few short years, this is fine.
A good compromise to get both quality and value is to look for a combination of fillings. You can find polyurethane foam surrounded by a layer of down or conventional foam with the extra padding of polyester batting.
5. Fabric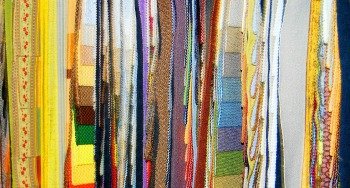 There are a variety of upholstery fabric types to choose from and the way to pick the best one for you is to determine the kind of use your sofa will get.
Do you have children? You'll want something easy to clean. Do you have pets? Ditto. Does your brother come over and crash on your couch for the night? In that case, you don't want a nubby, itchy fabric. Or maybe you do, to give bro the hint.
In any case, here are some of the most popular sofa materials and some pros and cons of each to help you decide.
Linen and silk – Natural fibers that soil and wrinkle easily and must be professionally cleaned. Best suited for formal living rooms and not a good choice for kids or pets.
Cotton – Natural fiber which resists wear, fading, and pilling. It does wrinkle and soil however. Blending with other fabrics increases durability and results in a sturdy, family-friendly fabric.
Wool – Durable and resists pilling, fading, wrinkling, and soiling. When blended with synthetic fiber it's easier to clean and can be spot-cleaned when necessary.
Leather – Natural material that is tough and children and pet friendly. Can be damp-wiped clean and treated with leather conditioner. Some leathers may not be comfortable to sit on in the heat or cold.
Vinyl – Similar to leather but less expensive. No need for special treatment – just wipe clean. The quality will determine how durable it is.
Acrylic – Synthetic fiber developed as imitation wool. It is durable and resists wrinkling, fading, and soiling. Low-quality acrylic may pill badly.
Nylon – Synthetic fiber usually blended with other fibers to make a strong upholstery fabric. It's resilient and doesn't soil or wrinkle easily, but does tend to fade and pill.
Olefin – Synthetic fiber commonly used in patio furniture for it's extreme durability and ease of care. Child and pet friendly but is very casual in style.
Polyester – Synthetic fiber usually blended with other materials to add wrinkle resistance, ease of cleaning and to reduce fading.
Rayon – A synthetic fiber developed as an imitation silk, linen, and cotton. It's durable but wrinkles.
Microfiber – A durable Synthetic fiber made from polyester and sometimes nylon. It withstands wear and tear from pets and kids and is easy to clean.
Of the above, microfiber, wool, leather, and vinyl are the best materials for kids and pets.
How to Pick a Couch Style
6. Consider use.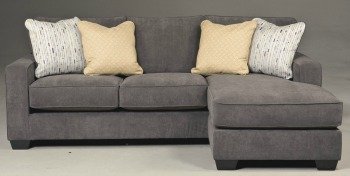 To buy a couch in the correct style for your household, consider how it will be used. If you have a family and everyone typically sits on the couch together, a sectional is a good choice. There are smaller sectionals which work well in limited space.
If not a sectional, still think about how many people will sit on your couch at the same time. If just two people, then a loveseat or double cushioned couch is fine. If it's three, make sure and get a couch with three cushions because no one wants to sit on the crack. Or consider bench style cushions, which can even squeeze in 4 people if needed.
Will there be napping on the sofa? Make sure it's long enough to accomodate the napper.
7. Consider depth.
For maximum comfort, make sure the depth of the couch is right for you. The depth is how wide the cushions are from the back of the sofa to the edge of the cushion.
If you sit in a couch that's very comfy, take a minute and measure from the inside of your knee to the spot where your lower back hits the back of the couch. Those are your optimum depth dimensions.
8. Consider decor.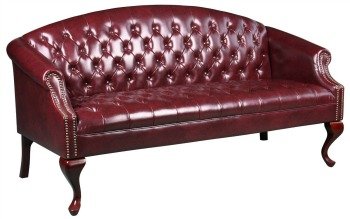 If your decor is traditional, look for a sofa with a contoured back, rolled arms, and tufted cushions.
If you're the more contemporary type, look for one with clean lines, no fancy flourishes and simple upholstery.
You also want to consider if you prefer a pillow back or tight back sofa. A pillow back is just that – the back is made up of several layered pillows. These are comfortable, but tend to get messed up, especially if you have pets and kids.
A tight back sofa is where the back cushions are sewn to the couch. They're pretty much no-muss, no-fuss. A good compromise is to get a tight back sofa and add throw pillows.
One last word on choosing a sofa to match your decor involves the color. With a large and relatively expensive piece of furniture like a couch, it's a good idea to go with a neutral color. You can always jazz it up with accent pillows and throws.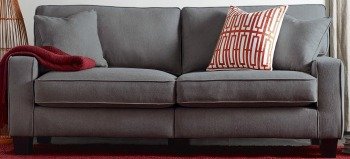 Neutral doesn't have to mean beige or tan. Black and brown and even navy can be neutral colors. They are simply a base around which you can choose your accent colors. In a small space though, it's usually best to go with lighter colors for your neutrals.
For more details about furnishing and decorating your living room, read our 30 Fab Tips for Decorating a Small Living Room Beautifully article.
9. Consider size.
You want to pick a couch that's the right scale for your room. If you're unsure, map out the space in your living room that's earmarked for your sofa and measure the area. It helps to lay out paper or string to show how much room will be taken up by the furniture piece.
Once you know the approximate ideal size for your space, when you're furniture shopping, you can look for a couch with this in mind.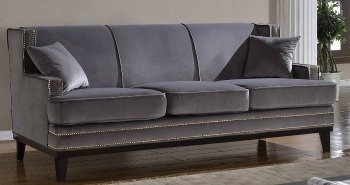 Also on the topic of size – if you have a small room, it helps to choose a couch with open legs. The ability to see through and under the sofa makes the room appear larger.
You also might consider buying a couch with low or no arms for the same reason. A more open feel tends to equate with a feeling of more spaciousness.
If you plan to buy a couch online, be sure and read the description carefully and look for these points we've mentioned. Do a little research on the manufacturer because when you can't see the sofa in person, and are unsure if it meets quality construction standards, ultimately it comes down to their reputation and the virtue of the furniture they make.
For more tips about buying furniture online, read our 7 Tips you Must Know Before Buying Furniture Online article on our Home page.