Every small room has its own challenges, but decorating a small living room can be especially tricky.
The very name denotes that it's likely the room in which you spend the most time, and it's certainly the room most seen by your guests.
So the objective is to find ways to make it practical, comfortable, and beautiful. We've put together a few ideas to help you do just that.

The links in this post take you to Amazon and if you buy something through a link, we get a small commission, at no extra cost to you. You can read our full disclosure here. We hope you enjoy our tips and product suggestions!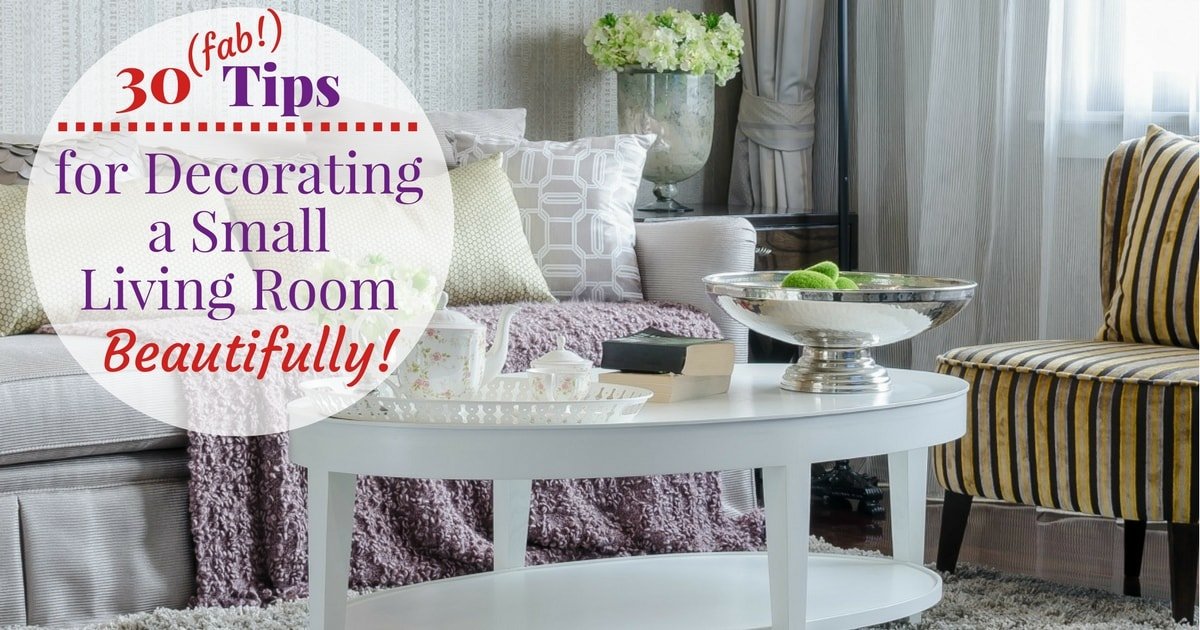 Small Living Room Space Planning
Before we get to the awesome ideas, there are three things you need to do to plan out the space.
Decide how much seating you need in the room, for both your family and your guests.
Each seat needs a table or surface near it on which to set a drink, snack, or other item, so the number of seats helps determine the number of surfaces you need.
Decide what items need to be stored in the room, such as a TV, books, games, or favorite collectibles, and this helps you determine how much and what type of storage you need in the room.
Once you've figured out the amount of seating, surfaces, and storage you need in the room, use the following ideas to help make the right purchases (or use what you already have) and arrange it all artfully.

Small Living Room Seating
1. Use a couch and chairs that are the right scale for the room.
When decorating a small living room, scale is important so that your furniture pieces neither overwhelm the room nor get lost in it. Choose a shorter couch (like this one) or a loveseat (like this one) instead of a traditional sofa and use chairs that match the scale of the couch.
2. Or, opt for a sectional instead of a couch and chairs.
We think of sectionals as these giant furniture pieces, but they come in smaller sizes (ike this one) as well. One sectional can provide the same seating as a loveseat and chairs and can anchor the room and make it look less cluttered. The trick is to find one that's proportional to the room.
3. Choose pieces that have legs.
Furniture with legs (like this piece) (raised off the floor) makes a room look more open because you can see under and through the piece. It tricks the eye into thinking the room is larger.
4. Direct traffic around the conversation area, not through it.
The way the furniture is arranged in your living room will determine how guests enter the space. Make sure you don't direct traffic right through the middle of your conversation area. In the image below, the seating area is tight and there is a wide area around it, making it clear where guests should walk.
5. Float your conversation area.
Unless your room is very small, try arranging your seating area away from the wall. When there is room to walk around the space, it feels larger.
6. Keep some folding chairs handy for extra seats when entertaining.
Folding chairs (here's some nice ones) get a bad rap as those ugly, uncomfortable things you have to sit on at school events. But with a little paint and stenciling, they can be made up to match your decor. You can even make or buy cushions and stash those inside an ottoman for when you need them.
Take a look at this video to see how easy it is to transform an old metal folding chair into a cute seat you'd actually want in your house.

Video Tips for Decorating a Small Living Room
Here's a helpful video about decorating a small living room from BHG with some tips on how best to arrange the furniture.

Just a final note on seating – You can also use oversized pillows or poufs (like this one) for extra seating, plus they add some nice texture to your space!
Tables for Small Living Rooms
7. Put a table or surface near every seat to hold a drink.
Each seat in your living room needs a surface (like this) near it so your guests aren't sitting there awkwardly, holding their cocktail teacup. Look at any home interior photo and you'll notice this commonality.
8. Pick two small tables for a coffee table.
Sometimes two small tables like these work better than one large one in a small space because you can move them around as needed. The two tables don't even need to match, as the image below shows beautifully.
Here's some pieces to help you get this stylish look:
9. Use ottomans as tables (and seating).
We love ottomans! Are they seats or tables or storage? Yes! They're all three and IMHO are a necessity when decorating a small living room. Put a tray like this one on top to make a hard surface for putting a cocktail on or remove it and have a soft seat. Plus, you can move them wherever you need to in the room.
Here's two storage ottomans we love: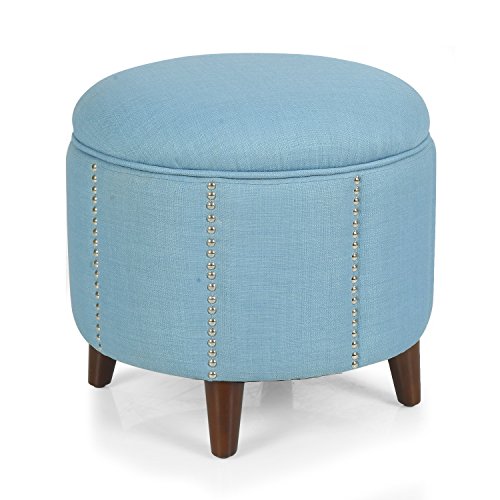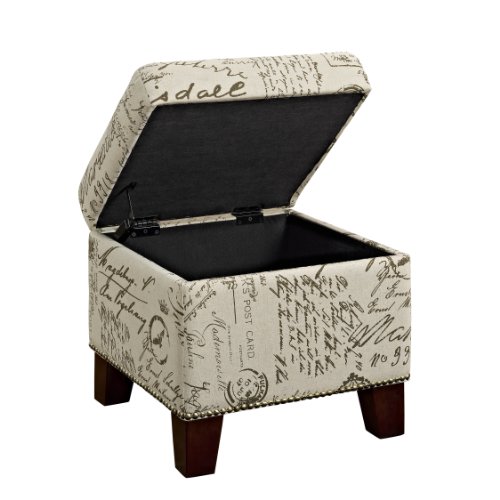 10. Try a long, narrow bench for a coffee table.
A narrow bench (like this one) takes up less space in the room and is long enough to provide a convenient surface for everyone seated on the couch (if you're using a full sized couch).
11. Buy a clear coffee table.
Lucite or acrylic tables work well in small rooms because of their transparency. They don't break up a room the way an opaque table does.
Amazon has a nice assortment of lucite tables for your small space:
12. Get some nesting tables.
Nesting tables (like these) are versatile little things. Use two in place of a coffee table and the third as a side table, or move them around as needed when you have guests.
Nesting tables come in all sorts of styles – here's some we love: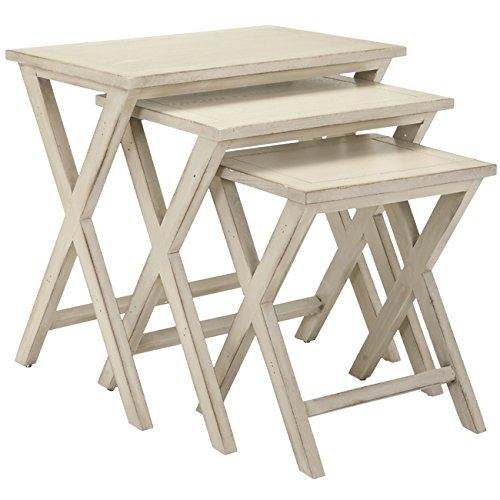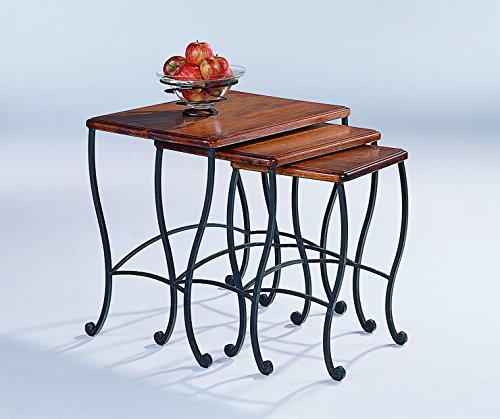 13. Make a drink perch.
If you have absolutely no room for a side table, make a DIY drink perch like the one below using this tutorial. So clever!
If you're not a DIYer…buy a ready made drink perch like one of these:
A last tip regarding tables – a trunk makes a great coffee table and provides some storage too! This trunk is on wheels, which is perfect for rolling in and out of your small room, as needed.
Small Living Room Storage Ideas
14. Put shelves behind your couch.
If your room is tiny and your couch needs to go against the wall, put bookcases like these, behind it for storage. Make sure and add accessories and photos to pretty it up and make it a statement piece in the room. In the image below, the homeowner put contact paper in the back of the shelves for some added color.
15. Blend your TV into your shelves.
Your television is likely the most unsightly thing in your living room, but unless you give it up entirely, you have to come up with an appealing place to store it. Try placing it on a wall shelf (make sure the shelf is in studs and can hold the weight) in with your books and accessories.
16. Make some around the corner shelves.
These narrow shelves turn awkward corners into narrow storage spots for small books and accents.
Check out this how to video and make some DIY around the corner shelves yourself.
17. Build or buy some floating corner shelves.
Floating shelves painted the same color as the wall blend right into the room and putting your books and accents up high brings the eye up and helps the room appear larger.
Make your own corner floating shelves with this video tutorial.



18. Turn a cube storage shelf sideways.
Cube storage is right up there with ottomans as a small space necessity. Use baskets like these or bins to hide clutter, or use the shelf space to store books or display accents. Turn one sideways for a narrow end table with storage (or buy one like this).
Here's some more great cube storage products:
19. Use a storage bench.
Place a storage bench against a wall or under a window for storage plus extra seating.
20. Put a console table behind the couch.
Whether your couch is against the wall or not, you can use a sofa table and gain some extra storage space. If you float your couch, you can use the space under the table for storage as well.
Here's two console tables we love: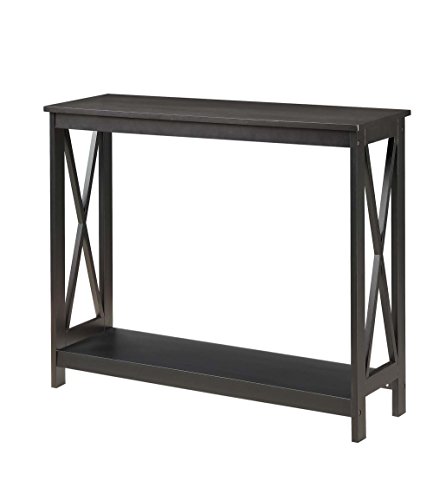 21. Or put a cabinet or dresser behind the couch.
Think outside the box and look around your house for furniture that could be put to better use in another room. The space behind the couch is perfect to butt against a low bookcase, a dresser, some stacked trunks…you get the idea.
One final storage tip – Attach fabric around an end table and slide bins or rolling plastic drawers underneath for some cheap, hidden storage.
Other Tips for Decorating a Small Living Room
22. Determine the focal point.
The focal point in a room doesn't mean all the furniture must face it, it simply means it's the thing you want the eye to find first. When decorating a small living room, the focal point can be a view, some built-in bookcases, a grand piece of art, a gallery wall, anything as long as it grabs attention and makes a statement in the room.
23. Keep the base color palette neutral.
Neutral isn't boring when you add consistent pops of accent colors. The rule of thumb when decorating a room with color is:

60% should be a dominant color.
30% should be a secondary color.
10% should be an accent color.
If the dominant and secondary colors are neutral, the 10% bits of accent color scattered around the room really liven up the space. The trick is to pick just one or two accent colors and use them consistently here and there around the whole room.
In the picture below, the walls and furniture are neutral (60% and 30%) and they've chosen red and orange as accents. It works beautifully in the space.
Here's some products to help you get this look:


For more help in using accent colors in your room, this post from Teal & Lime gives some excellent and educational advice.
24. Use uplighting to brighten dark areas.
Good lighting is especially important when decorating a small living room. From House and Garden UK, "Dark corners tend to close in a space," so light them up with some strategically placed uplights.
Here's some suggestions to brighten up those dark corners:
25. Hang curtains high and wide.
You've heard this a time or two before, right? But it's worth repeating. This one little trick makes such a difference in the size perception of a room. Curtains hung high give the impression of high ceilings and make a room appear larger.
26. Arrange art high up on the wall.
Going along with hanging your curtains high, another trick when decorating a small living room is to draw the eye upward with art. This can be done by hanging art high up on the wall. You can do this with just a few pieces, like in the picture below, or hang a large gallery wall with several pieces. Either way, the wall can become the focal point in the room and help to expand the whole space.
27. Use mirrors.
We all know the magic which mirrors work in small rooms. You don't even need to hang them up if you don't want to. Lean a big one against the wall or behind the living room couch to visually expand the space. If you can place it opposite a window and reflect some lovely light, even better.
Here's some mirror ideas for inspiration:
28. Go big with art.
Remember tip #22 to create a focal point? A large piece of art is a fabulous way to do that. Just because your space is small doesn't mean you can't go really big with some art you adore.
29. Keep it balanced.
If you have something tall on one side of the room, like a bookcase or artwork, place something tall on the opposite side to balance it. In this picture they added an overhead floor lamp.
These style lamps (here's an example of one) work well in small rooms, by the way, because you can place them behind a couch and slide the base underneath so it's hardly noticeable.
30. Don't forget about layers and textures.
The finishing touches, like rugs, throws, and pillows really pull the room together and add depth and warmth to the space. This is especially important in a small space to prevent it from being underwhelming.
We hope these ideas give you some inspiration to make your small living room more beautiful and most of all, more comfortable for you and your family. If you liked these tips,
please share this with your friends on Pinterest or Facebook
. And for more ideas on decorating a small living room, follow our Pinterest board!