Father's Day is quickly approaching and it's time to start thinking about gifts for your practical dad that he'll actually use. The desktop golf and novelty coffee mugs are entertaining and all, but dad deserves something useful that won't end up on a shelf in the back of the closet.
To help you out, we've gathered some practical gifts for dads that they'll find so useful, they'll wonder why they didn't get themselves one sooner.
Quick Note: We work hard to find ideas and products you'll love! As an Amazon associate, we earn from qualifying purchases. We earn from other retailers as well, which means if you buy something through the links or images on this page, we may get a small commission at no extra cost to you. Read our disclosure for more info. We hope you enjoy our tips and product suggestions.
Gifts Practical Dads Will Use Around The House
Caplord Magnetic Bottle Opener and Cap Catcher
No products found.
No products found.
Dad will love the convenience of opening his beer or soda and ditching the cap all in one move, while standing at the fridge. And it's nice-looking enough that mom won't mind.
The other cool thing about the Caplord is it comes with screws, so if dad prefers to drink his beer from a cooler on the patio, this can easily be attached outdoors. Versatile AND practical!
---
LuminoLite Rechargeable Clip-On Light
No products found.
No products found.
The LuminoLite clips on to books, Kindles, laptops, and notebooks for easier reading or working in dim light. It holds a charge for up to 60 hours, has a flexible neck for angling just right, and is super slim and light.
With nearly perfect reviews, it's a popular little product and a practical gift for dads who need a little extra light to read or work. It's especially useful when camping or traveling.
---
Portable Power Bank
No products found.
No products found.
This dual port power bank is a useful tool dad can use when he's underestimated how long it takes to see eight tourist attractions in one day. It works quickly and will get dad's devices powered up and ready to go in no time. Now if only there was something to recharge his travel mates. #CanWeGoHomeNowDad
---
Coffee Gator Brewer and Mug All-in-One
No products found.
No products found.
Dad can make and take his coffee in one convenient cup with the Coffee Gator Pour Over Brewer and Mug. This is an especially practical gift for dads who don't want to make a full pot of coffee or don't have counter space for a coffee maker. It's great for camping too.
It uses regular coffee grounds, no special filters, and keeps the coffee piping hot.
---
Couch or Bedside Caddy
No products found.
No products found.
Dad can use a Zafit Bedside Caddy to keep everything he uses nightly right at his fingertips. I like this one because the pockets aren't so big that you have to dig for stuff. They're just right for reading glasses, phone, water bottle, and his dad joke book. And Mom will love that his nightstand finally gets cleaned off.
Practical Dad might also like a sofa arm caddy, for his remote, Chapstick, and Altoids. It's a less clunky version of the Remote Boat that T.V. dad Frank loved so much.
Sofa Armrest Organizer
Dad Jokes
---
Anker Bluetooth Light-Up Speaker
No products found.
No products found.
The JBL Pulse 3 Light-Up Portable Bluetooth Speaker will win dad over as soon as he hears his Sinatra accompanied by a light show. The sound from this little speaker is amazing and it boasts 12 hours of battery time.
Dad can geek out and customize the light sequence to create his own unique show, if he wants. This is a fun and practical gift for dads who want to add a little ambiance to their music.
---
Rocketbook Smart Notebook
No products found.
No products found.
You can't get more practical than an erasable notebook. Dad can now organize and save all his doodles and to-dos to his computer with the Rocketbook Smart Notebook.
He just takes a picture of the page with his phone, chooses where to save it, and erase the page so it's ready for his next brainstorm. There's 36 erasable pages, so he can have several ideas going at once and no more wasted paper. Such a clever gift idea for practical dads!
---
Practical Gifts Dad Can Use in the Car
Steering Wheel Tray
No products found.
No products found.
Whether dad spends a lot of time in his car by choice or because he's always waiting around for mom or the kids, a steering wheel tray would come in super handy. He can eat, work, or play games on it and it fits most cars and folds flat for easy storage. If it's out of stock, this one is a good choice too.
---
Drop Stop Seat Gap Filler
No products found.
No products found.
The best gifts for practical dads solve a problem AND have clever names dad will appreciate. The Drop Stop fits around the seat belt and fills the gap they've coined "the carmuda triangle." No more digging for lost sticky notes, coins, or phone while trying to drive. Dad will love it.
---
Hands-Free Phone Mount
No products found.
No products found.
Help dad stay safe on the road with a Hands-Free Car Mount for his phone. This one attaches to the dash with stick on adhesive and holds the phone securely with magnets. It features 360-degree rotation so dad can always see his screen.
---
Bluetooth Enabling Tool
No products found.
No products found.
Chances are, dad has an older car that isn't Bluetooth enabled, because practical dads like to hang on to old stuff. This handy Bluetooth Enabling Adapter plugs into the lighter and pairs with dad's phone (which hopefully IS from this decade) so he can talk safely while driving.
It will play dad's music from his phone or from a flashdrive, plus has 2 USB ports for any other devices he needs to charge while in the car. It's a super useful little gift for dads who like practical stuff.
---
Handy Gifts for Practical Dads Who Like to Be Prepared
An Outdoor Survival Kit
No products found.
No products found.
This 12-in-1 Emergency Survival Kit has everything dad needs to for his next fishing or camping trip. I especially like the spork that also guts fish. Good thing the kit has a little extra room to throw in some bleach wipes. Dad can also use it to show the grandkids a thing or two about survival in the wilderness, so he can pass on all that practical knowledge.
---
Bosch Laser Measure
No products found.
No products found.
Make dad's projects and repairs even easier with a Bosch Laser Measure. It's compact, accurate up to 65 feet, and has an easy to read digital display. He'll be the envy of his friends with this thing.
---
RAK Magnetic Wristband
No products found.
No products found.
This cool Magnetic Wristband is like giving dad a third hand for Christmas. Washers and screws and other necessities for those pesky repairs are always handy with one of these. It's a favorite gift for practical dads everywhere.
---
NOCO Portable Car Battery Jumper
No products found.
No products found.
The NOCO Portable Car Battery Jumper is the best thing dad will want in his emergency car kit. Not only will it charge a completely dead battery, but it's also a power bank for his devices and a powerful flashlight. Plus, it's just a little over 6-inches in length. Practical dads will love having this in an emergency and will probably buy one for each of his kids that drive as well. Because dads are like that.
---
Personal Care Gifts That Even Practical Dads Will Use
Eddie Bauer Rainfoil Packable Jacket
No products found.
No products found.
This Eddie Bauer Jacket is like the Swiss army knife of all jackets. It's waterproof (reviewers swear it!), lightweight, and folds completely into itself to be used as a pillow or attached to a backpack for easy carrying. It comes in 6 colors and is the ultimate practical gift for dad.
---
The Ridge Slim Wallet
No products found.
No products found.
If dad's wallet is so thick he has back problems, you might show him how to put business cards and photos on his phone, then get him The Ridge Slim Wallet. It holds up to 12 credit cards, yet is only about 1/4 inch thick. It also has RFID blockers to keep card information safe from thieves. The makers stand behind it so much that it has a lifetime guarantee.
If dad prefers genuine leather, the slim leather wallet below is a great choice.
---
Squatty Potty
No products found.
No products found.
Trust me, things that help one poo are at the top of your practical dad's want list. Ever since the Squatty Potty first appeared on Shark Tank, it's renown for doing just that. Enough said.
---
A Bidet Attachment for Dad's Toilet
No products found.
No products found.
Now this…THIS is THE Ultimate gift for practical dads. How much more practical can you get than a clean arse? The Greenco Bidet attaches to the toilet and uses tank water for the uh…irrigation. Easy and effective. Oh and this review is disturbingly hilarious.
---
Pristine Toilet Paper Spray
No products found.
No products found.
As long as we're on a roll, here's another personal care gift dad will find useful. By lightly spraying toilet paper with Pristine Toilet Paper Spray, dad gets all the fresh clean feels of a wet wipe, without the risk of clogging the pipes. It saves money, the environment AND his plumbing. A practical dad gift win!
Here's a bathroom reading book and some poo-pourri spray to make a whole gift bASSkit out of it. 😀
---
Edible Gifts Are Perfect for Practical Dads
Chocolate Caramel and Crunch Grand Gift Basket
No products found.
No products found.
Practical dads like gifts they can use and who couldn't use a basket full of sweet chocolate and caramel combined with just the right amount of salty? If dad has a sweet tooth, this will keep him munching happily for days.
---
FreshJax Smoked Spices Set
No products found.
No products found.
Help dad impress his guests with a gift of this FreshJax Smoked Spices Set. They can be used for grilled food or to add a little BAM to whatever dish he's whipping up in the kitchen. Tell him you'll be happy to be his taste tester.
---
Mike's Hot Honey
No products found.
No products found.
Once you introduce dad to Mike's Hot Honey, he won't want to eat anything without it. It makes pizza, wings, grilled cheese, and anything else you put it on taste A-MAZ-ing. Add it to a homemade gift basket filled with edible goodies and your practical dad will make you his new favorite.
---
We hope you found something in our list of gifts for practical dads that YOUR practical dad will use and love.
You might also like:
Gifts for Dads Who Never Want Anything
Gifts for Moms Who Never Want Anything
[Sassy_Social_Share]
Pin These Gift Ideas for Practical Dads for Later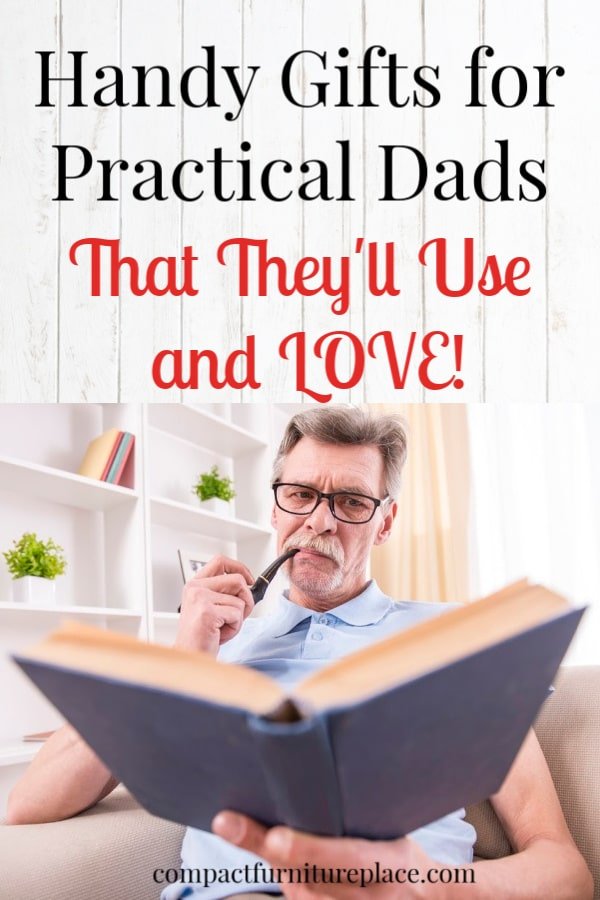 Search for More Practical Gifts for Dads