Shopping for gifts for dads who want nothing isn't that hard when you breakdown what dad is really saying. Which is that he can't think of a thing he needs or wants that he's willing to store somewhere in his home.
But the key to finding a gift dad will use and love is to look for something that makes his world a little more pleasant.
To that end, we rounded up some items that will add convenience or comfort to dad's life, even if he lives in a small space. These are perfect gifts for dads who want nothing because once he uses them, he'll realize they are really something (and he won't mind keeping it around the house)!
Quick Note: We work hard to find ideas and products you'll love! As an Amazon associate, we earn from qualifying purchases. We earn from other retailers as well, which means if you buy something through the links or images on this page, we may get a small commission at no extra cost to you. Read our disclosure for more info. We hope you enjoy our tips and product suggestions.
Father's Day Gifts for Dads Who Want Nothing
A Lively Online Class On An Intriguing Topic
This is the coolest gift for dads who want nothing because it's not a thing but rather an awesome, enlightening experience! MasterClass offers online courses taught by instructors renown for their craft. There are varied topics, including acting, directing, writing, performing magic, cooking and many more.
Dad might like a photography class from Annie Leibovitz, or a Directing Class from Ron Howard, or maybe The Art and Soul of Guitar from Carlos Santana.
You can gift a single class, or the better deal is a MasterClass All-Access Pass. which gives dad access to as many classes as he wants for a year. Dad will get all the inspiration he could possibly want then who knows…he might pen the next best seller as a result. Maybe he'll mention you in the forward. 😀
---
A Super Comfortable, Portable Zero Gravity Chair
No products found.
No products found.
The Timber Ridge Zero Gravity chair is going to be the most comfortable thing dad ever put his keister in outdoors.
I know this because my husband got one as a gift from his sister and he loves it. His favorite thing to do when we camp is relax outside and read his Kindle and this chair is perfect for that.
He loves that he can adjust the recline angle to the optimal position to avoid the sun in his eyes, or recline all the way back for an outdoor nap. It's ergonomically shaped so it's easy on the back and legs too. It supports up to 300 pounds, so even big and tall men (like my mister) can get comfy in this thing.
My husband used to bring a hammock camping and use that, but this chair is much better for his back and actually more comfortable. He always says he wants no gifts for Christmas, but this one turned out to be the best gift he never wanted!
---
A Turntable That Converts Vinyl to MP3
No products found. No products found.
For dads who have a vinyl collection, this Jensen Turntable lets them enjoy their favorite tunes while reminiscing about the good 'ole days.
Even if dad already has a record player, what's cool about this one is it connects via USB to a computer so dad can convert his records to mp3 and listen to them on his ipod, tablet or in the car. Plus, converting to mp3s means dad has a backup of his favorite tunes in case anything happens to his vinyls.
Helping dad preserve his music collection is a great gift for even the pickiest of dads.
Below are a couple other space-saving gift ideas for dads with a record collection.
Hanging Vinyl Record Holder
Turntable Stand and Record Storage
---
A Tablet/Phone Stand is a Practical Gift for Dads Who Don't Want Anything
No products found.
No products found.
Dads who say they want nothing for Christmas but who are still leaning their phone or tablet against things to watch videos, might could use this adjustable tablet stand.
It holds smartphones, Kindles, and tablets of all sizes, either vertically or horizontally. Super handy for when dad's trying to follow a barbecue recipe or watch a DIY fix-it video in the garage.
This one is a best seller and has fabulous reviews, but I want to share the two below as well. I especially like the foldable stand because it's so compact and easy to store. Both of these have awesome reviews and would be useful gifts for dads who say they don't want anything.
Foldable Tablet/Phone Stand
Long Arm Tablet/Phone Stand
---
A Rolling Seat With Toolbox for Dads Who Tinker
No products found.
No products found.
If dad is a garage tinkerer, he might love this cool Rolling Seat with Tool Chest.
It features a padded seat so dad can work comfortably and drawers to hold all the tools he needs close at hand. The seat supports up to 300 pounds.
Dad will love the fold-down shelves to have additional tinker-y stuff at his fingertips, while keeping the whole thing compact for easy storage.
---
Chiller Sticks for Dads Who Don't Want Gifts But Like Cold Beer
No products found.
No products found.
Beer Chiller Sticks are perfect Christmas gifts for dads who want nothing because they are incredibly handy and take up almost zero room in the freezer.
You just pop a frozen one into a room temp bottle of beer (or any bottled beverage) and it's instantly cold. They work great at parties when someone forgets to put the beer in the fridge!
Also good for dads who hate when their beer gets warm before they can finish it.
---
A Shiatsu Massager to Work Dad's Sore Muscles
No products found. No products found.
A massager is one of those pampering gifts that dads who want nothing will love, but would never buy for themselves, which makes it the perfect gift.
This Shiatsu Neck and Back Massager works great for kinked necks and sore backs, but what's so nice about it is dad can use it on arms, legs and feet too.
Dad will love the way it wraps around his neck or back, making it really convenient to use, even at work. It also comes with an adapter so he can use it in the car!
---
A Kindle Paperwhite for Dads Who Want Nothing But Love To Read
No products found.
No products found.
I bought my husband his first Kindle several years ago and he still says it's the best gift he's ever received…from anyone.
It's time for me to upgrade it though because the latest Kindle Paperwhite is waterproof, thinner, and has even more storage capacity than before.
My husband loves having hundreds of books at his fingertips (it will hold thousands, actually) and Kindle books are a little cheaper than printed books too. Plus, there are sites like Gutenberg where dad can download books for free, or his local library may offer digital books to check out.
Trust me, if dad is a reader, a Kindle will be the best gift he never knew he wanted!
---
A Waterproof Bluetooth Speaker So Dad Can Rock Everywhere
No products found. No products found.
This portable Waterproof Bluetooth Speaker is perfect for dads who want to rock to their tunes while in the pool, on the lake, at the beach or anywhere else.
The sound is great, it's only about 6 inches high, and the range is pretty darn good. Even if he doesn't need the waterproof feature, it's a rugged little speaker at an excellent price that dad can use anywhere. The other nice thing is it claims a 36-hour battery life.
If you don't mind spending just a wee bit more, the Ultimate Ears Wonderboom speaker is an awesome little speaker too. I bought one for a hard of hearing friend who needed to amplify her computer sound. The quality is fantastic and it's portable and waterproof as well.
---
A Portable Lapdesk For Dads Who Like to Recline
No products found. No products found.
Make dad's life a little more comfortable with a Portable Lapdesk. I have a similar one to this and I have to say…it's great when I want to work on my computer but my back is too sore to sit in my home office chair.
This lapdesk features height and angle adjusters so dad can get perfectly comfortable with it on the couch or in his recliner. And it has a handy side drawer for pens and doodads. It folds up flat so he can tuck it under the bed or in a closet for easy storage too.
And hey, you can serve dad breakfast in bed on it!
---
A Monitor Riser with Storage for Practical Dads
No products found.
No products found.
Practical dads who always say they don't want any gifts might find this Monitor Riser and Desk Organizer really useful.
If dad works on a desktop computer, chances are his neck is often sore because his monitor isn't set high enough. Not only does this raise it up, but it has handy storage drawers to keep his desk tidy too.
For home or the office, this is a neat little item to help dad work more comfortably and save space too.
---
A Cool Watch Made of Wood
No products found.
No products found.
In our tech-centric world, it seems wearing a simple watch has nearly gone out of style. But practical dads might agree it's actually much more convenient to glance at your wrist for the time than to pull out a phone and tap.
When the watch is as unique and beautiful as these Maui Kool Kaanapali Wooden Watches, how can dad not want one of these as a gift?
The face comes in a variety of colors and it includes a lovely bamboo gift box. Dad might think he wants nothing for Christmas or Father's Day…until he sees this beauty.
---
A Retro Wireless Charging Dock for Nostalgic Dads
No products found.
No products found.
If dad owns a phone that is capable of wireless charging, he might dig the Retroduck Wireless Charger that looks like the TV he had as a teen.
It charges fast, is Qi certified, and comes in three colors.
I love this gift idea for dads because it's practical, useful, AND nostalgic. What more could dad want?
---
A Wooden Docking Station For Dads Who Want No Gifts But Like Convenience
No products found.
No products found.
A Wooden Docking Station is the perfect gift for dads who say they want nothing because it's one of those things he doesn't know he needs until he has one.
It's so convenient to have everything he uses when he goes out all in one place and mom will like it because maybe dad will put his stuff away if he has a neat place to put it.
---
A Cool Wall Clock

Redbubble is a great site to find unique gifts for dads who think they don't want anything. From home decor to clothing, all the designs are by independent artists in a wide range of genres and styles.
The Music Everywhere Wall Clock is one of my favorite wall decor designs, but there are tons to choose from and you're sure to find one dad will appreciate.
---
I hope one of these gifts for dads who want nothing turns out to be the perfect something for your favorite dad for Christmas!
[Sassy_Social_Share]
RELATED:
Gifts for dads who are super practical
Gifts for moms who say they don't want anything
Pin These Dad Gift Ideas for Later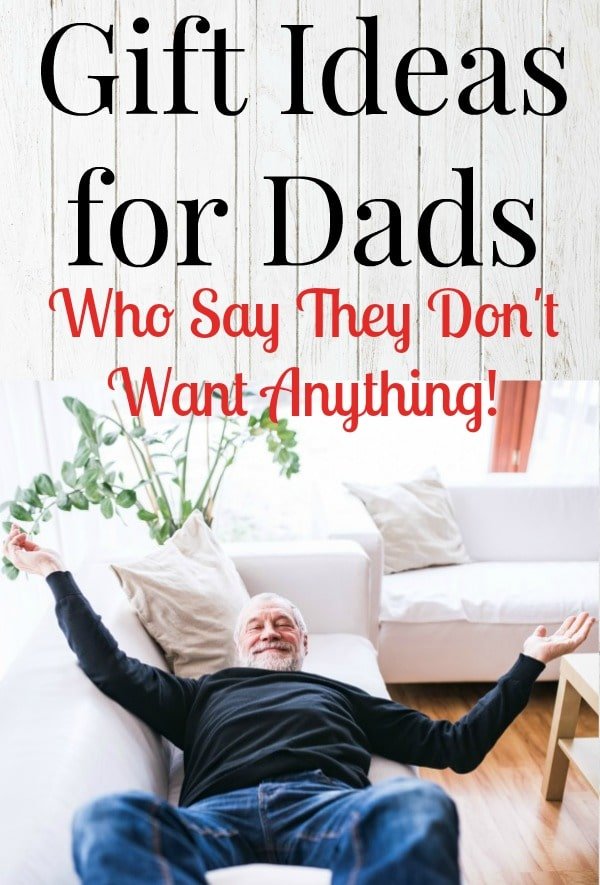 Search for More Gifts for Dads Who Want Nothing