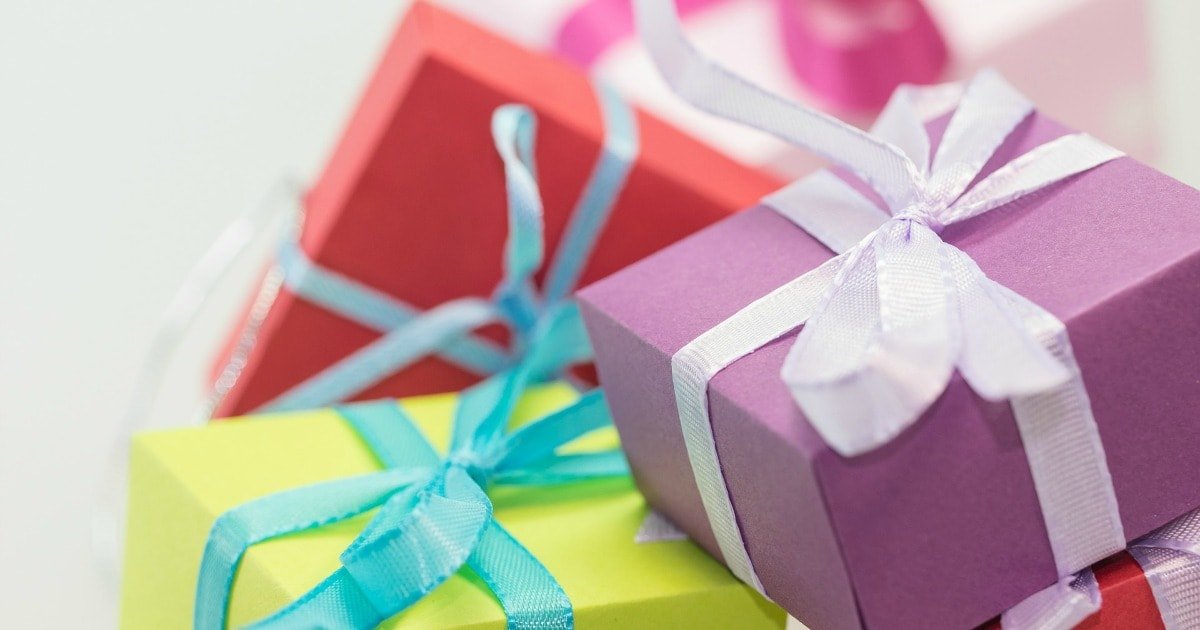 If mom is trying to clear out clutter and downsize, you may find yourself with the delightful task of finding a gift for a mom who says she doesn't want anything.
As if buying mom a holiday gift she'll love wasn't challenging enough!
Since I've recently downsized and said this to my own kids, I thought I'd share a few gift ideas for moms like me. You know, gifts for moms who don't want anything…but that they'll actually use and love.
These are all really cool gifts that either save space or make a mom's life a little more pleasant, or both.
And none of them add clutter!
I work hard to find great stuff you'll love! As an Amazon Associate, I earn from qualifying purchases. I earn from other companies as well, so if you buy something from the links on this page, I may get a small commission at no extra cost to you. Read more here. I hope you enjoy my tips and product suggestions.
Space Saving Gifts for Moms Who Don't Want Anything
An Online Class that Inspires Her
MasterClass offers all kinds of online courses taught by people who are top in their field. Mom can learn how to write a great short story, or how to improve her cooking craft, or just about anything else she's interested in.
You can buy just one class, or for a surprisingly low cost, you can buy mom an All Access Pass and she can take as many classes as she wants for a whole year!
MasterClass gives mom the gift of knowledge, inspiration and growth and those things don't take up any storage space at all. It's the perfect clutter-free gift for moms!
---
Over-the-Door Jewelry Organizer and Mirror
View on Amazon
This is the perfect gift for moms who say they don't want anything that adds clutter…but can't bear to part with any of their jewelry.
*raises hand sheepishly* 🙄
This lighted and mirrored jewelry organizer hangs conveniently over a door, eliminating the need for a bulky jewelry box or armoire. Plus, all mom's pretties are neatly hidden away by a mirrored door.
If mom has more makeup than jewelry, there's also this nifty over-the-door makeup center that even has a built-in table.
---
Magnetic Spice Holders
Mom may think there is no gift she wants…until she sees these little space savers! This set of 12 magnetic spice tins can be stored on the side of the fridge and save on cupboard and counter space. It comes with 120 stick-on labels so mom can customize them any way she wants.
I love that you can twist these to reveal holes in the side to shake the spice, or you can screw off the lid to measure out a larger amount.
If it's not convenient to stick them on the side of the fridge, this stainless steel wall plate can be mounted to the wall or side of a cabinet for them.
The same maker of the wall plate, also makes these magnetic hexagon-shaped spice jars that are a bit more expensive, but super sleek looking!
Either one of these sets will help space-challenged moms gain some cabinet room. They're super useful gifts for moms who say they don't want anything.
---
Magnetic Knife/Tool Rack
Help mom clear up some kitchen drawer or counter space with a magnetic knife and utensil strip.
It's easy to install and puts her most-used kitchen utensils in easy reach. She might appreciate a second one for sewing or office supplies too!
---
Instant Pot
View on Amazon
The wildly popular (for good reason!) Instant Potis THE gift for moms who say they don't want anything.
It's practical, convenient and saves space and time in the kitchen. What mom wouldn't want that? Me included…this is going on my list!
The Instant Pot is a slow cooker, rice cooker, pressure cooker, steamer and yogurt maker all in one. That's a whole cabinet full of appliances mom can clear out!
It comes in 3 sizes, so whether mom lives alone or with family still at home, there's a size that will work for her.
---
Tea Bag Organizer
If mom is a tea lover, she knows the frustration of having ten half filled boxes of tea bags falling over each other in her cupboard.
You can solve her problem by getting her this nifty Tea Bag Organizer. It's made to fit into a standard cupboard and neatly holds up to 100 tea bags!
I don't see why you couldn't put a couple strong magnets on the back and hang it on the side of the fridge too. It's a great little space saver that tea drinking moms will love!
---
Kindle Paperwhite
View on Amazon
I'm a book lover and I LOVE my Kindle Paperwhite! It's like having a library at my fingertips all the time, without a single bookshelf.
It's backlit, so I can read in bed without having a light on and disturbing my husband. It's great for reading in the tent when we're camping too. Oh, and the latest version is even waterproof! Hello, bathtub reading.
The Paperwhite holds 8GB of data, which is enough for thousands of books! Plus, all the books are stored on the Amazon cloud, so if I do surpass that amount, it's no problem.
You can buy Kindle books on Amazon, of course, but you can also check out ebooks in Kindle format from most libraries. You can find out how to do this at your local library's website.
Even tech-challenged moms love Kindles. My mom is 79, still has a flip phone, and sends real letters with stamps, instead of emails.
But she uses her Kindle like a pro! It turned out to be the best gift mom never wanted!
AND what's also cool is that I can share my Kindle library with my mom so if I buy (or borrow) a book I think she'll like, she can read it too.
Speaking from experience, a Kindle is a fantastic Christmas gift for a book-loving mom who doesn't want anything that takes up more space.
Below are a couple accessories for the Kindle mom might like. My husband and I both own the padded holder and use them nightly. They make it so much more comfortable to lay in bed and read our Kindles.
But now I want to upgrade to the this sleek Kindle case, which has a built-in holder and stand all in one. It comes in several patterns too. Oh, this is going on my gift list!
Padded Holder
Case/Holder/Stand
---
Nixplay Digital Picture Frame
I love digital picture frames because you can display hundreds of photos in one frame – super space saving. But boy have they come a loooong way, baby! I have one from about eight years ago which I really liked at the time…but it doesn't hold a candle to this NIXPLAY Digital Photo Frame.
With a Nixplay Digital Frame, you can email or use an app and send photos straight to mom's frame. This is totally perfect for older parents.
Imagine mom sitting in her favorite chair, watching a digital picture slide show on her frame and all of a sudden she sees brand new pictures coming through of you partying on the deck of the cruise ship. Wait…how did that one get in there? 😉
You can even caption the photos, make playlists, mix them up with video and all kinds of other cool stuff.
AND the Nixplay has motion sensors so they turn on when mom walks in the room and turn off when she leaves. It's all very George Jetson-y.
Like the Kindle, Nixplay frames are great techy space-saving gifts for moms who don't want anything that adds clutter.
UPDATE: I bought this for my mom and she LOVES getting photos from all of her kids and grandkids right to her frame! I can attest that it's really easy to use too!
---
Foldable Pill Case
This may not be the most glamorous of gifts for mom, but it's super practical for moms who take vitamins or medications regularly.
This Foldable Pill Case has seven compartments, including one that's oversized, and the whole thing folds up to a little under 4″ x 3″.
It's perfect for mom to throw in her purse so she doesn't miss any doses while she's away from home. It's a nifty little practical gift for a mom who says she doesn't want anything.
---
Gifts for Moms Who Never Want Anything but Have Taken Up Container Gardening
Like many people in 2020, mom might want to grow her own vegetables but doesn't have a big yard. Here's a few gift ideas for practical moms who want to start a garden on their balcony or small patio.
A Garden Tool Set and Tote
The Scuddles Garden Tool Set has everything mom needs to get digging. It's a top seller and a great idea for a practical gift for mom.
---
The Vegetable Container Garden Bible
If my kids happen to be reading this – I want this Vegetable Container Garden book so I can learn how to grow food on my patio! Sure I can google my queries, but it would be really nice to have a handy book to refer to whenever I have questions about garden pests, when to harvest what, and all the other things newbie gardeners need to know.
Speaking from experience, this would be an appreciated gift for a mom who wants to garden in a small space.
---
A Copper Hummingbird Feeder
If mom is spending more time outdoors tending to her plants, she might enjoy this small copper hummingbird feeder. I love the unique style and decorative touch of of the hummingbird charm dangling down. Even moms who don't want gifts like to watch hummingbirds, right?
---
Gifts for Moms Who Don't Want Anything…Except Their Favorite Beverage
French Press Portable Coffee Maker
If mom's a coffee drinker, she'll love the highly-rated Kohipress french press coffee maker and travel mug. It makes delicious brewed coffee in shorter time and with less acid than conventional coffee makers.
You just put the coffee grounds right in the cup, add boiling water, push down the press and let it steep for about 3 minutes. Voila!
It's a perfect gift for moms who don't want anything that clutters up their space. No coffee mug or carafe to clean, no filters to buy and store, no wasteful K-Cup pods.
The best coffee to use with this is a coarsely ground coffee, like this one from Primos Coffee Company. Or mom can use her favorite coffee beans, just set the grinder to coarse.
---
Infuser Water Bottle
Improve the flavor and health benefits of mom's water with a Live Infinitely Infuser Water Bottle. Just add fruit once and refill with water all day for a tasty alternative to diet drinks and soda.
You can also use it to make cold-brewed tea.
This bottle not only looks fabulous, but is BPA-free and dishwasher safe. Plus, the infuser rod can be removed and used in a larger pitcher for group servings.
As a mom who tells my kids I don't want anything…I want this!
---
Loose-Leaf Tea Maker and Mug All-in-One
For moms who like herbal tea from unprocessed dried herbs, the Tea Song mug and infuser setmakes loose-leaf tea drinking so easy. It comes with a built-in infuser and lid that doubles as a coaster.
It's dishwasher and microwave safe and comes in several pretty zen designs.
What's really nice is the whole thing fits together and takes up the same room in the cupboard as a single tea mug.
It's a nice little tea-lovers gift for a mom who doesn't want anything that takes up unnecessary space…but likes convenience!
---
Tea Drops
The latest craze in hot beverages are Tea Drops and I have to say, these look pretty cool and have amazing reviews.
Tea Drops are basically tea leaves compressed into pretty little shapes. You just drop them in your cup and add hot water. No need for a tea strainer even. You can use them to make iced tea as well.
You get a sampler set, so mom can try different flavors of both herbal and caffeinated varieties.
They make a nice little practical gift for moms who enjoy their tea!
---
Pampering Gifts For Moms Who Say They Don't Want Anything
These next few gifts for moms are things she probably won't buy for herself but will make her everyday life just a little more pleasant. They fall in a category I call, Practical Pampering.
They aren't clutter because they will be used, and they don't take up much space.
---
Portable Bluetooth Speaker
View on Amazon
If mom listens to music from her phone or ipod, a good quality portable bluetooth speaker is always appreciated.
The sound is so much better than just coming from her phone and this little baby is only about 2.5″ high and wide and plays from 33 feet away from the music device.
If your budget is a little higher, check out the Ultimate Ears WONDERBOOM speaker. I bought one for a friend who is hard of hearing and needed something to amplify the sound from her computer.
Let me tell you – the sound from this thing is awesome and it works from as far away as 100 feet from whatever it's paired with! I highly recommend it. The volume buttons are right on the front of it (the plus and minus signs), making it super easy to use.
With a portable speaker like one of these, mom can enjoy her tunes all around the house, outside, camping or wherever she likes.
---
Essential Oil Diffuser Necklace
Help mom pamper herself a bit with this highly-rated oil diffuser necklace. Not only will her favorite essential oil scents lift her mood, but it's a lovely piece of jewelry that goes with anything, dressy or casual.
The necklace comes with nine insert pads in different colors so she can coordinate it with her outfits. She can use her favorite brand of essential oils in it and the pads are washable and reusable.
If you want to start mom out with a soothing scent, Edens Garden is an excellent brand and their Joy blendis very good.
An oil diffuser necklace is a thoughtful gift for moms who don't want anything, but don't know how much they would love this!
---
One Line A Day Journal
The simple One Line A Day journals are a concise way for mom to jot down a thought or two, a gratitude, an event or feeling – whatever moves her.
It takes the tediousness out of journaling because anyone can write one line. And it's beneficial to look back and see what you were doing last year or three years ago, on this date. Kind of eye-opening, actually.
The beautiful thing is that mom can pass the journal down so future generations can get a glimpse of the life of their ancestor.
---
Flameless LED Candles with Remote
I love the ambiance of candles in a room, but hate how they look when they've burned partway down and can't bring myself to throw them out when they're still burnable. So this set of flameless LED candles with a handy remote is the perfect solution.
Mom can turn these on and off with the remote and put them on a timer so they shut off automatically. I've actually forgotten that I had a candle burning before and went to bed. Not good. With these you don't have to worry about that.
They look lovely all together on a mantle or table, or scatter them around the room for a little candlelight everywhere. And no more storing half used candles.
LED candles are nice little gifts for moms who don't want anything, but would love a little hassle-free ambiance in their home.
---
A Cashmere Pashmina
When I hear the word pashmina, I think of Rachel from Friends, circa 1998. But a big comfy scarf never goes out of style and can be a welcome gift for moms who think they don't want anything for birthdays or holidays.
The LERDU Cashmere Pashmina Scarf will keep mom warm and looking stylish. I love that you can wear these a number of ways AND it doubles as a small blanket when you're traveling, picnicking, or need to warm up a grandkid.
It comes in a whole slew of colors and patterns, so there's sure to be one mom will love.
---
Casual Watch
The Timex Weekender Watches are big sellers because of their casual style and great price. They come in several colors and prints and a slightly wider band if you prefer.
Sure, it's a little old-school to get mom a watch. But as a mom, I've gotten back in the habit of wearing a watch because it's just so much easier to glance at my wrist for the time, than to dig in my purse for my phone, pull it out and tap it.
So yeah, a mom who says she doesn't want anything might actually love a casual watch.
---
Shiatsu Pillow Massager with Heat
Treat mom to a massage whenever she wants with the Shiatsu Pillow Massager. This portable massager attaches to the car seat or chair so mom can lean back for a shoulder, neck or back massage.
The balls reverse direction every so often, so you don't get sore after a couple minutes like with a lot of other massagers. It has heat too, which is great to loosen tight muscles.
The reviews on this thing are pretty darn impressive! It comes in five color choices (including pink!) plus it has a one year warranty.
A massage whenever I want? Yes, please! This could turn out to be the best gift your mom who doesn't want anything ever got!
---
A Luxurious Throw Blanket
Mom will feel totally pampered and cozy when she's wrapped up in this Pinzon Faux Fur Throw Blanket. It's the perfect size for mom to snuggle into with room left over for her doggie to burrow in there too. An important feature if mom's also a dog mom!
it's super soft and reviewers are raving about it. It comes in brown, ivory or gray and is very reasonably priced. It will win over your mom who says she doesn't want any gifts!
---
More Gift Ideas for Moms Who Don't Want Stuff
Here's a couple more ideas of clutter-free gifts for moms who say they don't want anything for birthdays or holidays. These are guaranteed not to gather dust on a shelf or take up space in the back of the closet. And in case you forgot, if you buy something from these links, I get a little commission and you can read more about that here.
---
A Gift of Free Shipping, Streaming, and Music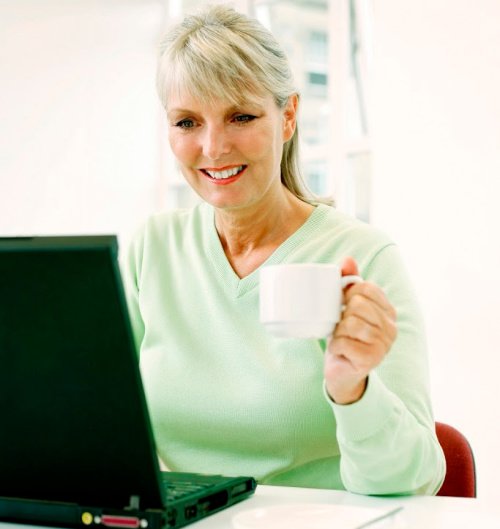 Of course I'm talking about a gift subscription to Amazon Prime! I have a subscription and I LOVE it! It's entertainment and convenience all rolled into one gift that collects ZERO dust. Here's more reasons I love it:
Free 2-day shipping on MANY items (sometimes even faster!)
Free access to all the great shows on Prime Video
Listen to thousands of songs, make playlists, create stations, and purchase music if you want (just listening is free)
Unlimited photo storage (so nice to have an additional backup)
Free Kindle books mom can read with the Kindle app if she doesn't own a Kindle
If mom orders from Amazon at all, this will be the one of the best gifts she never wanted.
Get details about an Amazon Prime gift subscription here.
---
So there you have it. My wish list…I mean…THE list of great gifts for moms who don't want anything. 😉
Whether your mom is downsizing, trying to save space or just doesn't want more clutter, she's sure to love one of these.
RELATED:
Gifts For Dads Who Say They Want Nothing
Practical Gifts for Dad
We update our gift ideas all year long, so you can pin this post and save it for later!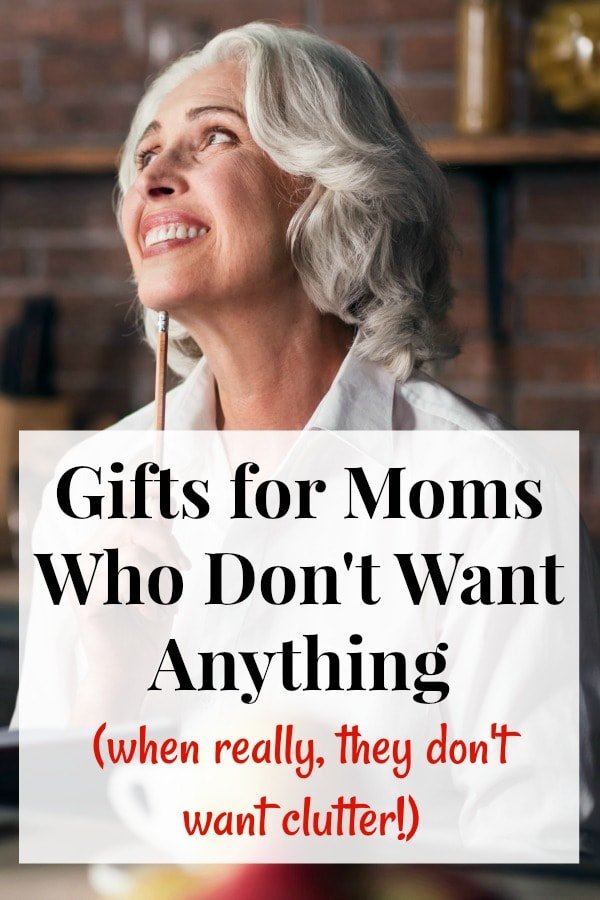 Search For More Gifts for Moms Who Don't Want Anything