Know someone who might like this? Share it!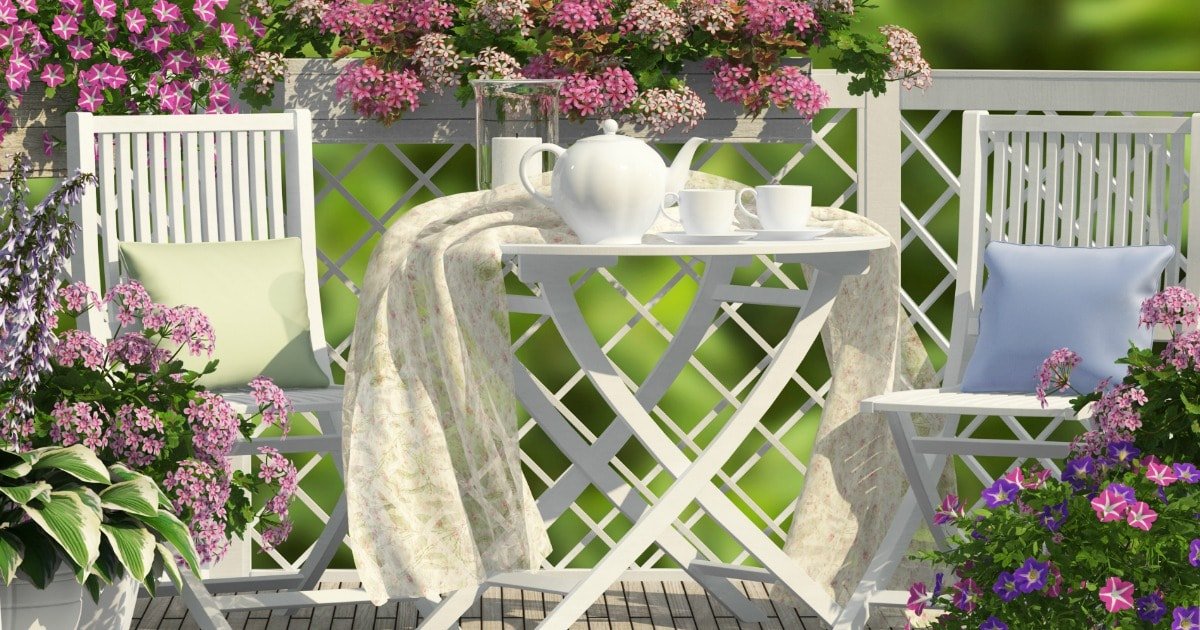 With the right inspiration, you can do big things with every small space in your home, including your tiny balcony. So we've gleaned some balcony furniture ideas especially designed for small spaces to help you turn your tiny terrace into the retreat of your dreams!
Whether you're looking for balcony furniture ideas for dining or just relaxing, there's a range of decor styles here to appeal to every taste.
In a hurry (or just curious)? >>>>> Go straight to my top five favorite balcony furniture ideas right here!
15 Balcony Furniture Ideas for that Tiny Terrace
Balcony Furniture Ideas for Terrace Dining
Imagine having a little bistro vibe on your balcony. Some throw pillows, some twinkle lights, a little greenery – it could be the perfect place to enjoy breakfast coffee or dinner wine. Heck, it could be an awesome outdoor work space too!
Here's a diverse mix of table and chair sets to help you get the ambiance you want for your balcony retreat.
---
Grand Patio Steel Bistro Set
My favorite balcony furniture idea is this simple, affordable little bistro set. It folds up and tucks out of the way when you're not using it, making it just right for even the tiniest of balconies. Here's some more reasons to love this little balcony dining set.
Comes in 5 vibrant colors
Rust-resistant, easy-care material
Chairs support 280 lbs.
Table diameter 23.6″
Chair seat measures 16.5″W x 13.8″L
The Grand Patio Bistro Set looks great in a variety of decors and comes highly rated!
---
Porto Iron Bistro Set
This iron bistro set with a crackle finish lends a sort of modern Tuscan vibe to a small balcony. I love the oval shape and the way the chairs fit tightly into it to save space. It would work well right up against a balcony railing – all the better to enjoy the view, if you have one.
Here's a few more features of this balcony furniture set.
Easy assembly
Chairs support 250 lbs.
Table measures 18.75″W x 39.5″ L
Chairs measure 21.5″W x  20.5″D
The Porto Iron Bistro Set comes in coral and teal as well. This is a great little set with a unique look. The larger table area is plenty of room for two and you could even squeeze in an additional folding chair to accommodate a third.
---
Cosco Folding Patio Bistro Set
Next up in our balcony furniture ideas for dining is the Cosco folding bistro set with glass tabletop. This set is a little more traditional than the prior two, with its glass and resin wicker combination. It looks great with just about any decor and I really love the warm brown color of it.
Here's some more details about this balcony bistro set.
No assembly
Chairs support 250 lbs.
Easy-care materials
Table diameter 24″
Chair seat measures 15.35″W x 15.16″D
This outdoor patio set for small spaces also comes in this counter-height set, which is great if you have a solid balcony wall and want something tall enough to get a good view of your neighbors over it.  😉 Also good if you want to rock an outdoor pub vibe in your little balcony space.
---
Giantex Patio Set
I love this little compact Giantex Patio Set . Look how the chairs tuck completely into it – what an awesome balcony furniture idea! With its glass top and wicker combo, it's traditional, but the shape of it fits into a modern patio decor.
One thing to be aware of with this set is that one chair is slightly smaller than the other. This is so that the smaller chair fits under the larger one when they're pushed in.
Here's the deets on this small balcony furniture set.
No assembly
Wicker look, but durable steel frame
Chairs support 260 lbs.
Includes cushions
Table measures 19.69″W x 25.96″L
Chair 1 measures 16.93″W x 20.28″D
Chair 2 measures 14.56″W x 19.28″D
This set got great reviews for look, comfort and durability, but a few consumers felt the chairs were too small for a larger adult to be comfortable. Just something to keep in mind.
If you're looking for a small space patio set that's a little roomier, you should check out this other small patio table and chairs set.
The seats are a little wider and they have arms, so they might be a bit more comfortable. The table is a little longer too, but the chairs slide right up under it, similar to the Giantex set.
---
Adams Quick-Fold Cafe Set
The Adams Quick-Fold table and chairs set is a great portable balcony furniture idea. It's a durable resin material with a picnic table look to it, so it's cute for a rustic decor. It's super easy to clean and maintain too. Here's a few more features of this set.
No assembly
Chairs support 250 lbs.
Hole for umbrella
Table measures 28″W x 28″D
Chairs measure 15.63″W x 16.75″D
The umbrella hole is a nice feature if you your balcony doesn't have shade. If you decide to use an umbrella, you'll need a base that you can fill with water or sand to help keep it steady. Below is a small size umbrella, and a base that comes in colors to match the table.
Small Canopy Umbrella
Adams Umbrella Base
---
Best Choice Products Acacia Wood Bistro Set
If you like the look of wood, you'll love this next balcony furniture idea. The Best Choice Products Wood Bistro Set is absolutely charming and would look fabulous with a rustic, country or farmhouse decor.
Here's a few more features of this beautiful balcony set.
Folds up and tucks away easily
Table diameter 24″
Chair seats measure 17″W x 16″D
Acacia wood is naturally resistant to weather and rotting, but you may want to rub it down with some teak oil to keep it looking nice. Unless you like the weathered look, in which case eventually it will weather to a grayish color.
Despite the bit of upkeep, this is a beautiful bistro set for the price! 
---
Don't Forget to Add Some Textures to your Balcony Furniture
Before we get to the last dining set on our list of balcony furniture ideas, I wanted to show you this picture. Look how cute this bistro set is with the added textures, like soft throws and colorful pillows.
Whatever table and chair set you choose for your balcony, don't forget to add textural elements.
Those small touches make a big difference in your balcony decor and really make the space so much more warm and inviting, don't they?
Black & White Throw Pillow
Soft In/Outdoor Throw
---
Cassie Wood Balcony Bar Set
Our last balcony dining set is one of my favorites! This stylish Cassie Wood Balcony Bar Set adds sophistication to your outdoor dining experience. If you have a great view, this balcony furniture idea is perfect for you!
There's a lower shelf on it so you can rest your feet or display some pretty greenery. Here's  some details of this outdoor balcony dining set.
Weather resistant acacia wood
Comes in gray or natural finish
Bar measures 48″W x 16.5″D
Stools measure 17.5″W x 13″D
This balcony set doesn't have any reviews yet, but I'm recommending it because GDF Studio offers many quality furniture products. Also, the Cassie Balcony Bar Set is so much less expensive than this balcony bar set. I mean ALOT less.
For how great it looks and the price, I think the Cassie Balcony Bar Set is definitely worth a try.
These patio sets are a diverse mix of ideas that would work on a tiny balcony. For more balcony furniture ideas for dining, check out this large selection of small patio sets here
.
---
Balcony Furniture Ideas for Casual Seating
Bistro and bar sets are great balcony furniture ideas, but maybe you'd prefer some more casual seating options for your small balcony.
Small couches, poufs and chairs add comfort and style to a small balcony and below we have some cool pieces that are just right for small outdoor spaces!
---
Pallet Seating
Pallet seating is low to the ground and when stacked with cushions, is very comfortable. I love the laid-back vibe it gives to an outdoor space.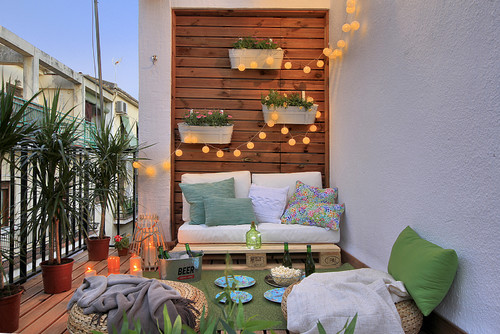 If you're up for a project, pallet seating is pretty darn easy to make.
Check out this short video to see how to make a patio couch from a pallet. You can simplify it further by not building the back part and just lean back on cushions, like in the picture above.
---
Tangkula Infinite Combo Outdoor Furniture
The Tangkula Infinite Combo pieces are a great balcony furniture idea because you can buy the pieces separately and arrange them any way you like. If you check out the reviews, you'll see consumer photos of the pieces on their balconies and they really look terrific!
Here's some more nice features of this small patio furniture collection.
Removable cushion covers
Lots of customization options
Easy to reposition
Seats measure 29.5″W (length varies depending on the piece)
These pieces have a sophisticated modern look with a comfortable feel, so they work well in just about any decor style. Add some accent pillows for pops of color and you'll have a beautiful, stylish balcony that will make your neighbors envious!
Speaking of accent pillows, The ones below have fantastic reviews and come in a whole bunch of colors and patterns.
Greendale Rectangle Accent Pillows (Set of 2)
Greendale Square Accent Pillows (Set of 2)
---
Keter Corfu Patio Loveseat
This little Corfu Patio Loveseat is perfect for a small patio or balcony. It's actually a bit narrower than the Tangkula pieces I mentioned above. It's made from durable resin with a woven appearance, like wicker. Super easy to clean and maintain.
Check out these details for this balcony furniture idea.
Comes in brown or charcoal
Supports 599 lbs.
Includes cushions
Measures 50.4″W x 27.6″D
This is a nice piece for some affordable and comfortable seating on your balcony.
---
Keter Urban Knit Pouf Set
Oh, I love, love this balcony furniture idea! The Keter Urban Knit Pouf Set is casual seating and surfaces all in one. It's a hard resin material with a knit-looking texture, hence they call it a "pouf". But make no mistake, these things are durable and made to weather the outdoors!
Here's a few more reasons I'm obsessed with this little balcony furniture set.
Comes in 2 color combos
Table piece is also storage!
They fit inside each other when not in use.
Can be seating or side tables (I know I already said that, but it's the best part!)
Table measures 16″W x 16″D
Seats measure 22.3″W x 22.3″D
If you want a versatile, fun, stylish furniture set for a small balcony, this is it!
---
Balcony Furniture Ideas for Side Tables
Once you've figure out the best balcony furniture to put your keister on, it's time to find a side table for your cocktail. Or your coffee, Cosmo magazine, Kindle or all of the above.
The point is, you need a place to put stuff that isn't the ground. So below are some ideas for that.
---
Modway Haste Stool/Side Table
I really get excited when I find furniture pieces that are multifunctional because that is exactly what compact furniture is all about! The Modway Stool and Side Table is another great example of this. It's a modern little stand built for indoor or outdoor use.
Here's the deets.
Removable lid for storage
Durable enough to sit on
Comes in 4 colors
Measures 12″W x 12″D
The Modway would fit a modern or art deco style and can easily be wiped clean and used indoors too. It's a cool little piece for the price!
---
Mosaic Iron Outdoor Accent Table
I do love wrought iron on a patio. This little Dragonfly Mosaic Accent Table is so pretty and just the right size to hold a few outdoor necessities while you're relaxing on your balcony. Here's a few more details about it and the other designs that are also available.
Measures 14″W x 21″H
Comes in 7 different patterns and color combinations
You can check out the variety of patterns here. These tables are a lovely way to add some color and artistry to a small balcony or patio.
---
Lahaina Convertible All-Weather Side Table
Here is another cool balcony furniture idea because of its multifunctionality. The Lahaina All-Weather Side Table is a C-shaped slide-up side table and storage cube all in one. It looks great together as one piece or separated into two cool pieces.
Check out some of the other nice features of this patio furniture piece.
Built for indoor or outdoor use
No assembly needed
Measures 17″W x 18″D
If you remove the storage cube, the table makes a cool slide-up tray which is super handy indoors by the couch. And the storage cube alone makes a nice little side table. Two balcony furniture ideas in one – I love it!
You can also buy this piece as a set with two chairs. It's a great price for a 3-piece set! One of the photos in that link shows all the measurements, so you can see if all three pieces would fit on your balcony.
---
Sundale Hanging Folding Deck Table
Now this is one of the coolest small balcony furniture ideas yet! The Sundale Folding Deck Table attaches to your balcony railing and can be folded down when not in use. Imagine how handy this would be on a tiny balcony when you're entertaining!
Here's a few nifty features of this balcony table.
Adjustable to 3 heights
Rust and chip resistant
Holds up to 50 lbs.
Measures 23.6″L x 15.7″W
This little thing would be an awesome addition to your teeny balcony!
---
So how will you use your tiny balcony? Whether it's casual dining, entertaining or relaxing, I hope these balcony furniture ideas inspire you to create a rockin' outdoor space!
Need some more inspiration? Check out these 25 ways to turn your balcony or small patio into a fabulous retreat!
Search for More Balcony Furniture Ideas