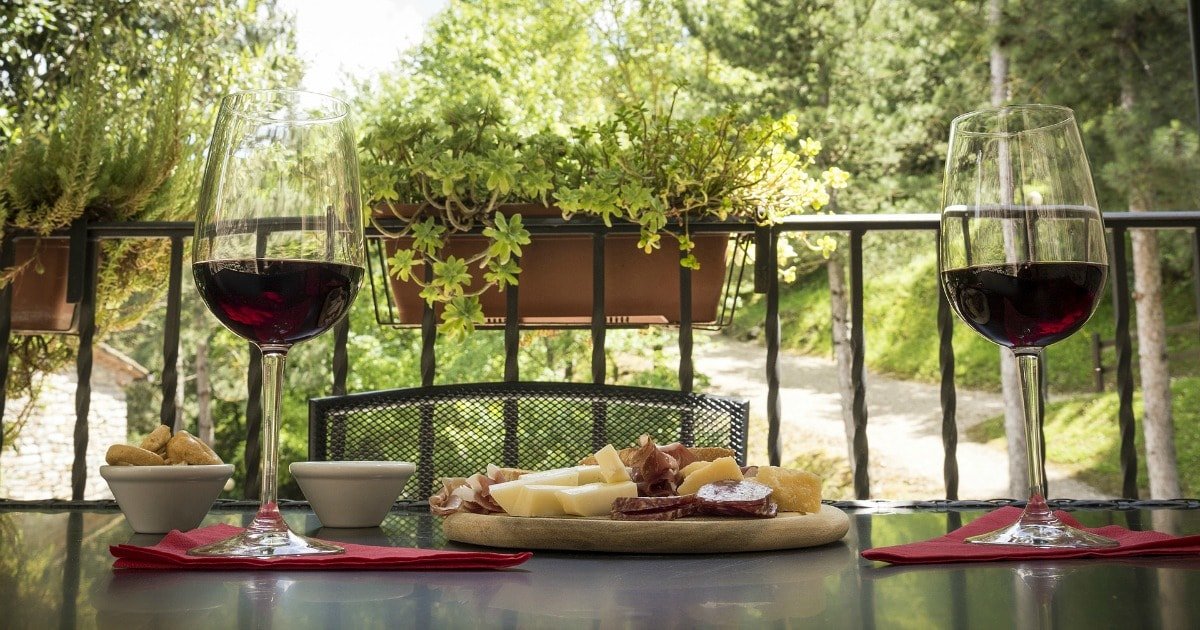 Need some small patio ideas for your balcony or other outdoor space? Do you imagine it as a calm spot to sip your coffee in the morning and a welcoming retreat to come home to at the end of your day?
Here's a few small patio decor ideas to help you bring that image to life.
Quick Note: We work hard to find ideas and products you'll love! As an Amazon associate, we earn from qualifying purchases. We earn from other retailers as well, which means if you buy something through the links or images on this page, we may get a small commission at no extra cost to you. Read our disclosure for more info. We hope you enjoy our tips and product suggestions.
25 Small Patio Ideas and Decorating Tips
1. Pick a purpose for your small patio
Before deciding what to do with your little outdoor space, think about how you will use it.
Do you dine out there and entertain guests or is it a spot just for you to sit and relax with a beverage? Maybe you want it to be your own private sanctuary where you paint, write music, or meditate.
However you use it, let that determine how you furnish and decorate it. For example, there's no reason to buy an outdoor table big enough to have a meal on if you won't be dining there. Makes sense, right?
In the small patio below, this homeowner decided it would be a place for her and friends to kick back and relax. I love the small patio decor idea of using pillows instead of chairs to give the space a charming, relaxed feel.
Like this small space patio idea?
To get this look with less upkeep, use outdoor patio cushions! They work great as floor cushions and who says you can only use them on furniture? Check out these cushion and accent pillow sets below. They come in tons of colors and have fabulous reviews!
Outdoor Floor Cushion Set Comes in a Ton of Patterns!
Outdoor Accent Pillows in Loads of Colors!
---
2. Think of it as an extension of your home
A patio or balcony can add some real usable square footage to your small space. Keep your small patio decor in the same style and color scheme as your home so it feels like another room and is cohesive with the rest of your decor.
---
3. No small patio is too small
Even a tiny outdoor balcony can be utilized as additional living space. This homeowner obviously wanted an outdoor nap spot and their dinky balcony did not deter them from getting it!
A hammock is a great idea for a small patio. It gives their space a laid back, Jamaican vibe.
Like this small patio decorating idea?
Me too, mon! Below are a couple deals on a highly rated hammock and hammock chair to add this vibe to your small patio decor.
Indoor/Outdoor Hammock in Choice of Colors
Indoor/Outdoor Hammock Chair Swing
---
4. Keep your small patio clear of clutter
Clutter makes any space look tiny and disorganized and it's no different with an outdoor space. The best small patio idea is to have a spot to hide unsightly clutter. Make sure the things you place in your small patio decor are intentional and add to the beauty of the space.
Do you love the side table in this small patio decor idea?
You can find a similar one below. This red one is cool because it's seating, storage and table all in one and comes in several colors!
Patio Side Table/Seat with Storage
Rattan Outdoor Table with Storage
---
5. Get creative with the floor
Here's a few small space patio ideas for your outdoor flooring. There are actually many ways to make the floor of your tiny outdoor retreat not look like a sidewalk.
Peel and stick linoleum, interlocking floor mats, or even painting the floor (if you're not in a rental) are great small patio ideas to make it more finished and feel like another room.
I love the look of this cozy small patio decor!
Below are some good brands of interlocking floor tiles to help you get this look in your small patio space.
Easy Interlocking Patio Pavers
Ikea Interlocking Tiles – More Color Choices!
---
6. Warm up your small patio decor with rugs
Rugs are one of the easiest small patio ideas to implement. They are an inexpensive way to give an outdoor floor a makeover and add warmth and texture to your little space.
The outdoor rugs below are highly-rated and come in several sizes and a huge array of colors and patterns. Rugs are a fabulous small patio decor idea!
Fab Outdoor Rug
Marbella Outdoor Rug
For a really inexpensive and outdoor friendly rug, try making a painted dropcloth rug. This video shows how to do it. The patio in the video is large, but if you're making a rug for a small patio, this is a quick and easy project.
---
7. Potted plants are a gorgeous small patio decor idea
The best thing about the outdoors is fresh air and greenery. Plants add life and charm to balconies and patios and are one of the best small patio ideas to enhance your outdoor space.
Even the tiniest of balconies, like the one below, can be a lovely spot to have morning coffee and it's more than just having a table and chair on it. The little corner of green gives it a cheerier ambiance and it just wouldn't be the same without it!
---
8. Go vertical with your small patio accessories
If you need all the floor space you can get for seating, go vertical with your plants and accessories, like they did in the image below.
Like this small patio decor idea?
Below are some beautiful outdoor plant and accessory stands to help you go vertical on your small patio too.
Bamboo Plant and Accessory Stand
Wood Indoor/Outdoor Plant Stand
Another neat small patio decor idea is to use painted cans and hang your greenery on the wall or fence, like they did below. So cute!
---
9. Install bench seating on your small patio
Bench seating is a practical small patio idea because it's narrower than chairs and utilizes corner space. It's especially useful in a narrow patio space.
In the picture below, the owners used built-in benches on one side of a rectangular table and skipped the chairs on the opposite side so there's plenty of room for traffic flow.
---
10. Make bench seating out of milk crates.
If rental restrictions prohibit built-in bench seating, make your own out of milk crates. You can make these as long or short as you like and you get bonus storage underneath for gardening supplies, or a place to store outdoor pillows when it's windy.
Simply use zip ties to connect the crates together, and buy or make a cushion for the top. This is one of my favorite patio ideas for small spaces!
---
11. Add a folding shelf to your patio balcony
This Sundale balcony folding shelf is a cool small patio idea! It attaches to your balcony or terrace railing. Pull it out when you need a place to set drinks, and fold it down when you don't need it. What a great small patio space saver!
---
12. Use patio furniture of the right scale
Just like your indoor small space, you want to use furniture that's the proper scale for your outdoor space so as not to overwhelm it.
---
13. Use multifunctional furniture
Choose patio furniture with more than one use, such as a chair that contains storage, like this Suncast Seat with Storage.
Little benches like the one below are perfect small patio ideas because they pull double duty as both a table and seating. They're inexpensive if you can pick one up from a yard sale or thrift shop. They're so cute too!
If you can't find a small bench you like, you can make one simply by adding 2×4's to this nifty Bench Building Kit!
Garden stools are another great small patio decor idea for their multi-functionality as well. They're both a chair and table in one! Plus, you can find them to match any decor.
Set of 3 Outdoor Garden Stools
Beautiful Ceramic Garden Stool
---
14. Use furniture that's visually light
Patio furniture with open legs tends to make a small outdoor space look less cramped. The ability to see through the legs makes the area appear larger.
This Patio Bistro Set is a fabulous small patio idea because it's lightweight and folds up and out of the way when you're not using it. Plus, it comes in several colors and comes highly recommended!
RELATED: 15 Apartment Balcony Furniture Ideas to Help You ROCK Your Tiny Terrace!
---
15. A terrarium coffee table is a cool small patio idea!
Add an interesting piece of furniture to your outdoor room with this beautiful terrarium coffee table that you can make yourself surprisingly easily. Watch the video to see how. I love this small patio decor idea!
---
16. Transform your small patio with wood pallets
It's amazing what you can do with an outdoor space even if you're renting. The renters below came up with this small patio idea and renovated their patio using pallets. It's all temporary and can be taken down when they move out. What a fantastic small patio idea!
---
17. Make a drop front bar for your small patio
Furniture that folds out and back up again is a perfect decorating idea for a for a small patio. And you can build this one yourself!
This drop front bar can be installed on the wall and turns any space into an entertaining hot spot. Watch this video to see how to make one.
---
18. Add a portable bar into your small patio decor
Speaking of bars, here's a fun addition to your patio or balcony – a patio table and cooler all-in-one.
---
19. Add privacy to your small patio with greenery.
Create "walls" for your outdoor space using greenery, like these tall bamboo shoots.
---
20. Or add privacy with curtains
A beautiful small patio idea is to use curtains hung from a closet rod or tension rod. You might want to check with your apartment manager or HOA regarding hanging fabric on your balcony, though.
Like this small patio decor idea?
Below are some inexpensive outdoor curtains to add some privacy and beauty to your small outdoor space.
These Patio Curtains come in 5 Colors
These are More Sheer but still Durable
---
21. Include some lights in your small patio decor ideas
Twinkle lights make any space more beautiful and I just have to include them in our small patio ideas. I do love me some twinkle lights! Add them to your outside room for a romantic and festive atmosphere in your small space.
25Ft Globe String Lights
33Ft Fairy String Lights
Here's a neat small patio idea to do with lights – use some icicle lights and a hula hoop to make this adorable outdoor chandelier.
---
22. Add a mirror to your small patio decor
Mirrors visually expand any space, indoor or outdoor. Put one one your patio to make it feel bigger and add glimmer and sophistication at the same time.
---
23. Hang some art in your small outdoor space
Your walls outdoors need some adornment, just like they do indoors. Look around your house for art you're not using and if it can fare well in weather, include it in your small patio decor.
Framed posters, wrought iron, or wood signs are good choices for decorating a small patio. Even some empty painted frames add an interesting element.
Live Laugh Love Wall Decor
Come Sit on the Porch Metal Sign
Here's a cool small patio decorating idea – Paint a rubber doormat and hang it up for a wrought iron look without the weight. I've seen these painted in everything from neon to shabby chic and they look fantastic!
Scrolly Doormat to Paint
Picture this in Shabby Chic
---
24. Make a fairy garden for your small patio
If you don't have room for a garden or as many plants as you'd like, make a fairy garden. You can use a basket, box, pot, or planter tray and turn it into a tiny version of your ideal garden space. Add some lights and you have a whimsical piece of garden art for your patio or balcony decor!
Do you love this small patio decor idea like I do?
You can find the most adorbs fairy garden sets to get you started. And I have to move on now, otherwise I'll get lost browsing them all online!
Fairy Garden Starter Set
Fairy Garden House Kit
---
25. Use textures and layers in your small patio decor
When you're decorating your small patio, don't forget about the little touches of pillows, throws, and rugs over rugs to add some warmth to your outside room. These elements truly make a difference in the whole look and feel of a space and make it a more enticing spot in which to relax.
---
I hope these small patio ideas help you transform your tiny outdoor space into something that makes your home a little more sweet!
Pin These Small Patio Ideas for Later