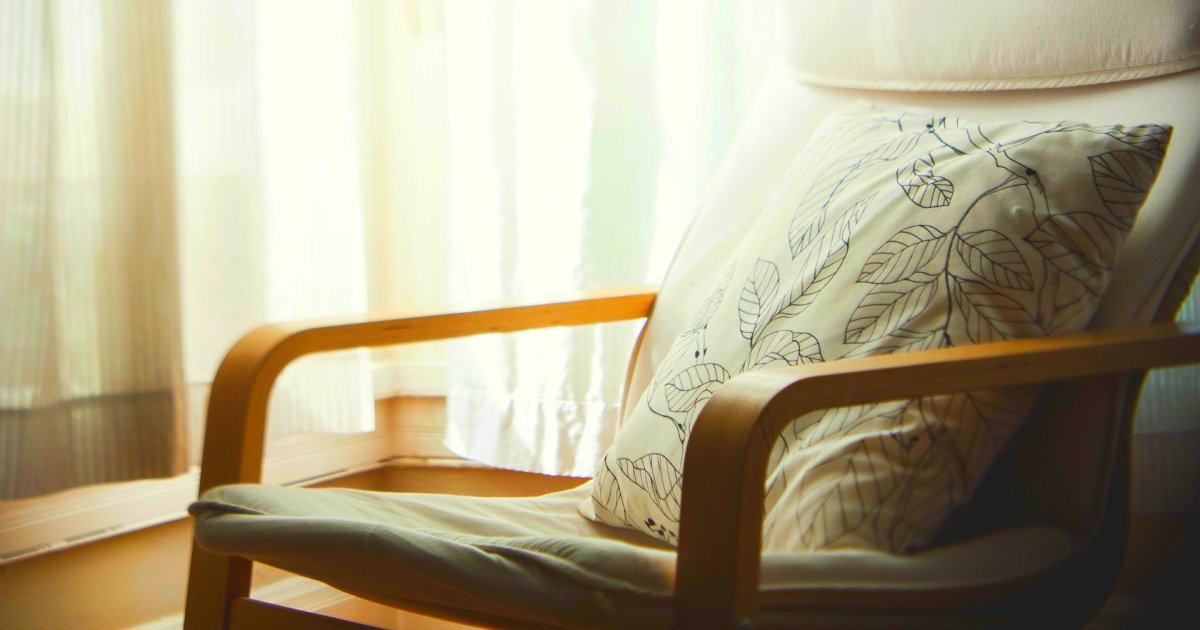 When you're furnishing a small living area, finding comfortable chairs for your small space is a challenge. It seems like you have to choose between the style you adore or the comfort you long for – kind of like shoe shopping 😉 .
To help you out, we gathered a selection of comfortable chairs that are perfect for getting cozy in your tiny space.
To make our list, these comfortable living room chairs for small spaces had to meet a few criteria:
Small footprint – chairs with narrow sides and snug upholstery take up less floor space.
Raised off the floor – when you can see under and through the piece, it makes the room feel more open.
Not tall-backed – an unobstructed view across the room feels less crowded.
Arms are a must – If there's a danger of falling out of it when you doze off, it doesn't qualify as a chair built for comfort!
There's a variety of styles here, so no matter what your decor, one of these comfortable chairs ought to do nicely in your small space.
Related: Tips for Decorating a Small Living Room
We work hard to find great stuff you'll love! As an Amazon Associate, we earn from qualifying purchases. We earn from other companies as well, so if you buy something from the text or image links on this page, we may get a small commission at no extra cost to you. Read more here. We hope you enjoy our tips and product suggestions.
10 Comfortable Chairs for Small Spaces
The Janet Arm Chair is Perfect for Small Living Rooms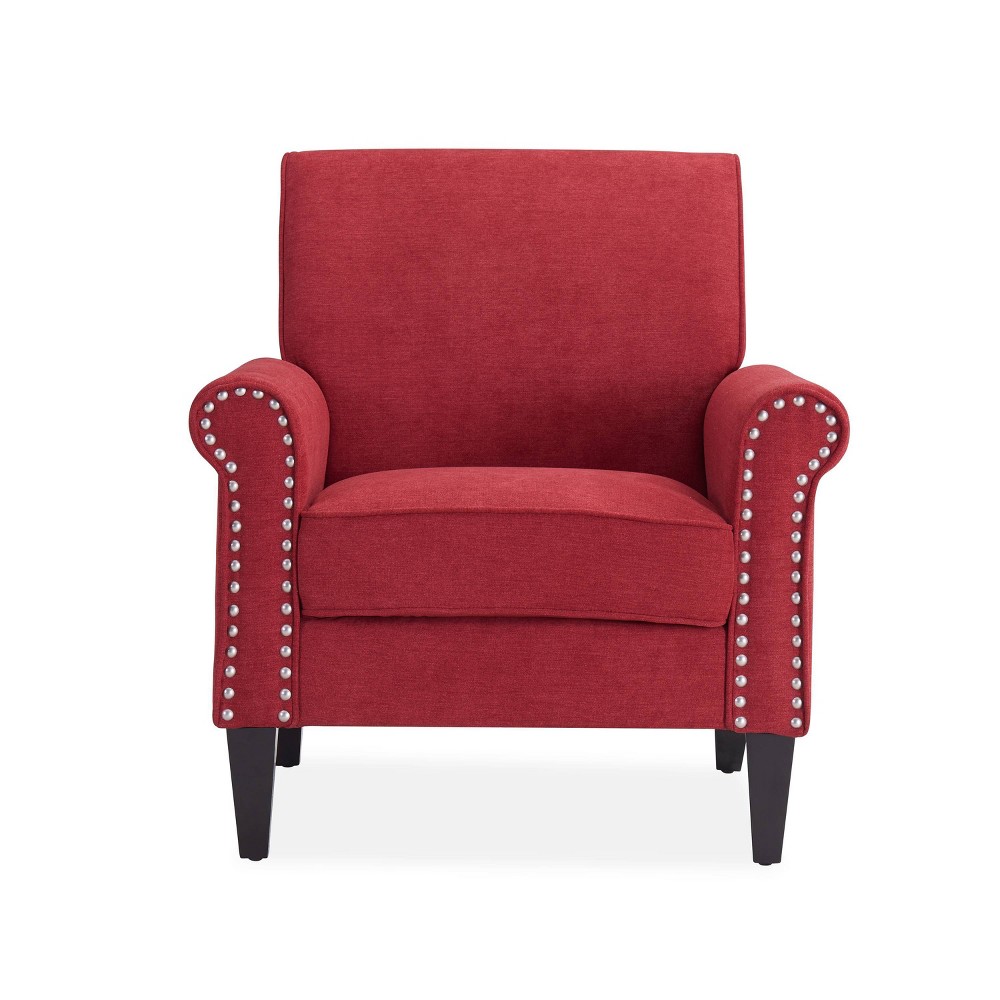 Well, HEL-LO, my pretty! I adore this chair, but then I always was a sucker for red. But if you're not…don't worry because the Janet Arm Chair from Target's Handy Living Collection also comes in a lovely amethyst or burnt orange, as well as many neutral colors, like a charcoal gray and taupe.
Here's a few more details about this comfortable chair for small spaces.
Polyester fabric means no-fuss cleaning
Holds 300 lbs
Comes in 7 colors
Measures 34″W x 31″D
This timeless design works well with just about any decor style. If you click the link to check out this chair at Target, you'll see there's enough variation in the choice of colors and detailing that it's a great chair for both a masculine or feminine room.
---
Medford Club Chair is Ideal for Small Spaces
View on Amazon
This sharp-looking beauty is the Medford Club Chair. In addition to its super reasonable price and positive reviews, here's a few more reasons it makes our list of comfortable chairs for small spaces.
Easy-to-clean Microfiber
Nailhead accents for rich look
Choice of 8 colors
Measures 28.00″W x 29.5″D
The color choices are very diverse and include this fabulous teal and gray floral print!
I want to add a note here about comfort when it comes to chairs for small spaces – these are not overstuffed chairs. They have tight upholstery which is usually going to feel a bit firm until they're broken in some.
You may want to add a throw pillow or two so you have the option of some extra cushioning when you want it. Plus, throw pillows are a great way to add accent color to your space. Below are some ideas for 18×18 pillow covers and some highly rated 20×20 pillow inserts. Hint: you want the inserts slightly larger than the cover for extra pouf.
Modern Pillow Covers
Magenta Pillow Covers
Spring Pillow Covers
Pillow Inserts
---
Wendy Chair and Ottoman Set is Small and Comfortable

For that truly "Ahhhhh" feeling, there's nothing like putting your feet up. So our list of comfortable chairs for small spaces wouldn't be complete without chairs that include ahhhhhtomons. 😉
The fantastic feature of ottomans is that they can be extra seating for guests or place a tray on them and they're an instant side table. When you buy this Wendy Chair and Ottoman Set, you're getting 2 pieces of furniture with one purchase, which is a lot of bang for your buck!
Here's a few more details about the Wendy Chair.
Easy-care Polyester fabric
Extra thick cushioning!
Holds 300 lbs
Comes in 4 great colors
Measures 35″W x 34.5″D
The Wendy Chair is the widest of the chairs on our list, but it's still compact enough to be a comfortable living room chair for small spaces.
---
Soriano Channel Chair is Comfortable for Small Spaces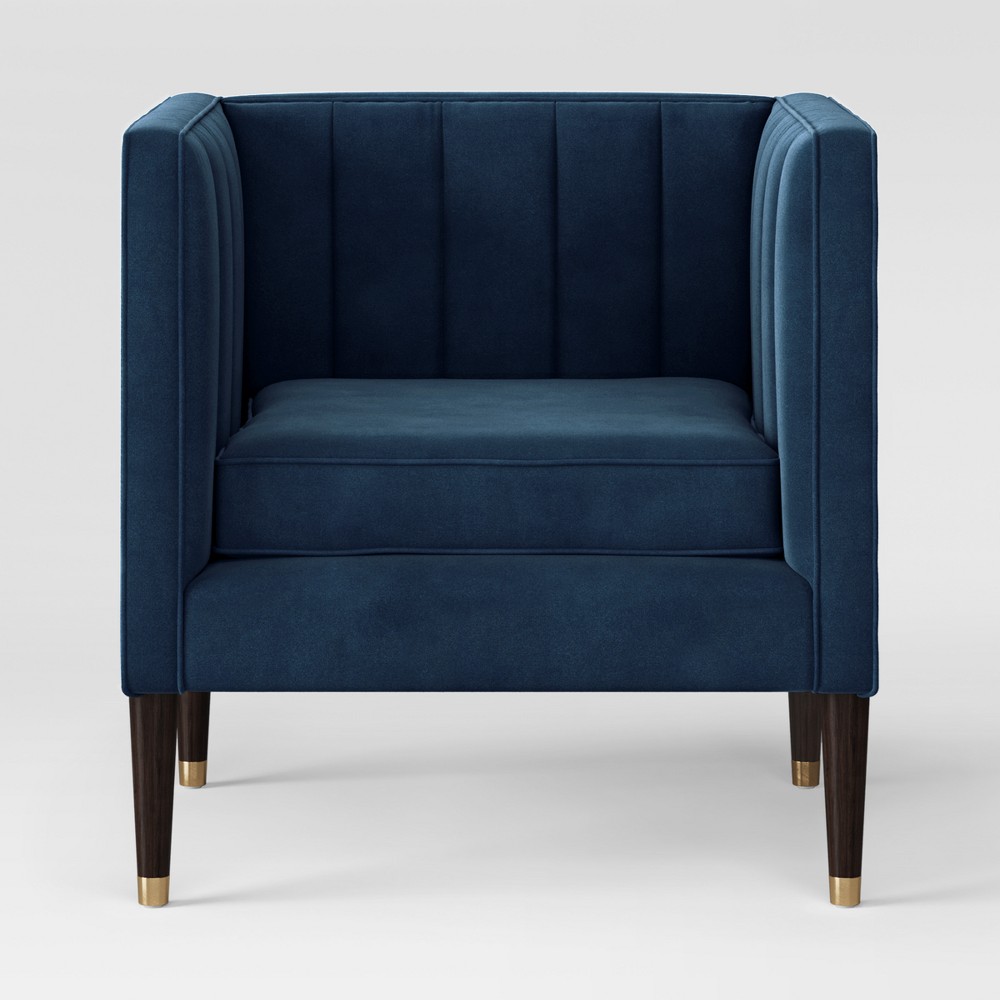 This sleek and pretty little number is the Soriano Channel Tufted Chair from Target. I adore the look of the French-seam upholstery. This one can really classy up a tiny living room! Here's a few more details about this comfortable chair for small spaces.
Easy assembly
Holds 250 lbs.
Measures 31.5″W x 28.5″D
Not only does this one look fabulous, it's also getting great reviews for comfort and sturdiness.
---
Mills Tufted Grey Club
The Mills Tufted Blue Grey Club is a great chair for minimalists. It's straight up simple and comfortable, but the rolled arms keep it from looking stuffy. Here's some more reasons you should check it out.
Easy assembly
Good price and reviews
Also comes in beige
Measures 28.75″W x 30.75″D
The Mills Club Chair also comes in a light grey. It's a classic, comfortable chair for a small living room.
---
DaVinci Swivel Glider and Ottoman
When you're looking for comfortable chairs for small spaces, a good category to check out is nursery chairs. Because if it's comfy enough for mom and dad to rock junior to sleep, then it's comfy enough for your small living room, right? Plus, they are designed to be small enough to tuck into a corner.
The DaVinci Swivel Glider chair and ottoman isn't raised off the floor, but it makes our list of living room chairs for small spaces because of its small footprint and big comfort! Here's some more details of this cozy nursery favorite.
Certified chemical-emission safe
Nice, silent swivel action (360 degrees!)
Supports 300 lbs.
Measures 27″W x 30″D
This nursery chair is a nice quality, comfortable chair for small spaces and has great reviews from folks who have to do a lot of sitting! 😀
---
Christopher Knight Felicity Arm Chair
I've always loved the Christopher Knight furniture collection. It's classic and stylish with just a bit of flair. The Felicity Arm Chair has a casual mid-century vibe and works perfectly in a small room. Here's some more reasons it makes our list of great comfortable chairs for small spaces.
Easy assembly
Very reasonably priced!
Measures 25″W x 29.5″D
You can find this chair in both charcoal and teal here. This is a nice, versatile and comfortable chair for a small living room.
---
HomePop Velvet Swoop Arm Chair
For an elegant addition to a small room, try this HomePop Velvet Swoop Arm Chair. It's a classic style that fits well in both traditional or modern decor. Here's some details about compact, comfortable chair.
Easy to wipe clean
Great consumer reviews for comfort
Measures 25″W x 27.75″D
For added comfort, pair it with the HomePop Velvet Storage Ottoman, also in Navy. What a great addition to a small living room, office, or master bedroom!
---
Comfortable Recliner Chairs for Small Spaces
Recliners for small spaces are the ultimate in living room comfort! You just have to make sure you have the room to recline back (12 – 24 inches usually, depending on how far back you recline).
One thing to keep in mind when buying recliners for small spaces is that they are smaller than your typical recliners. This point may seem obvious, but you'll notice it is a common discussion in the reviews.
If you're over 5'8″ or so, you may find that your head is taller than the headrest. Of course…everyone sits differently and pillows behind your head or back can solve many discomfort issues.
The point is, if you're tall and need a recliner for a small space – read the reviews and understand the chair measurements to make sure it's the right size recliner chair for your comfort.
---
Christopher Knight Darvis Print Recliner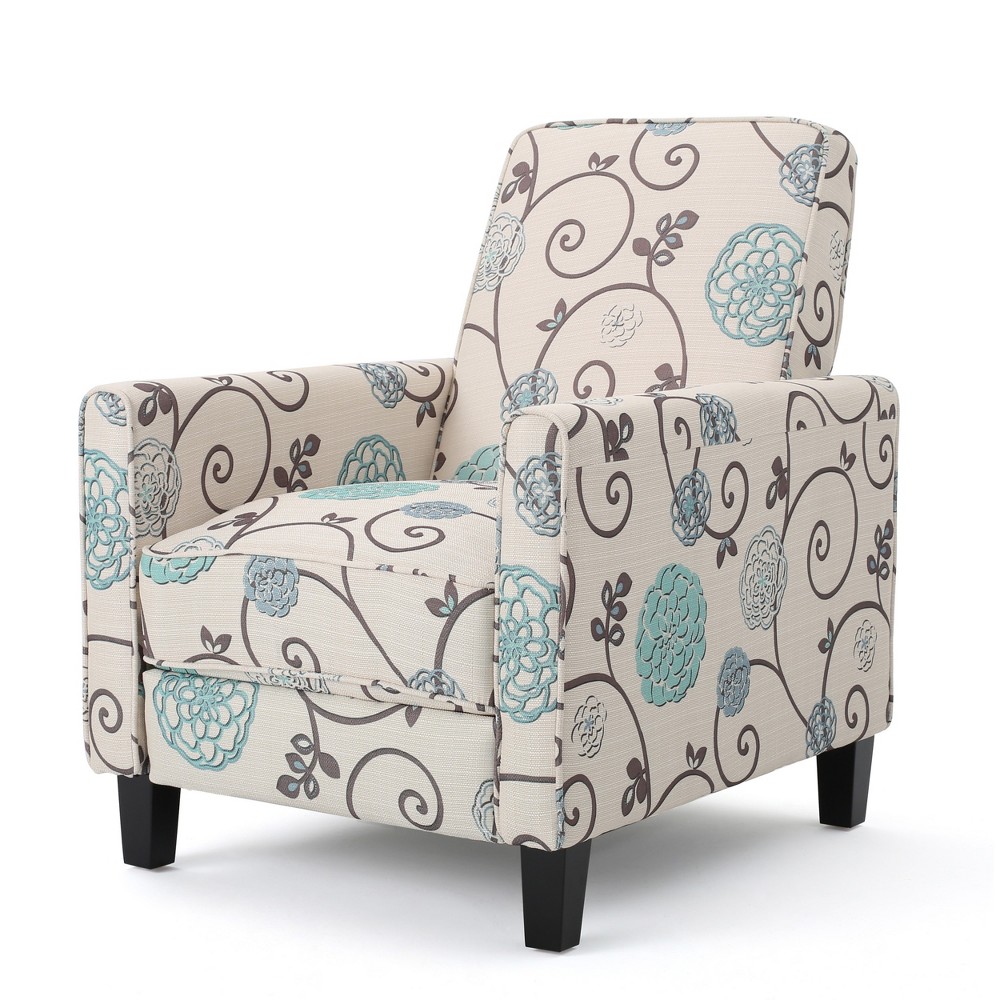 I love how this Darvis floral print recliner from the Christopher Knight Collection, is so sleek and feminine, it doesn't look like a recliner at all.
This one is perfect for a soft feminine look in your small room. Here's a few details about this recliner chair for small spaces:
Comfortable, deep seat cushion
Measures 27″W x 34.75″D
Reviewers report it's comfortable and fits well into small corners too.
---
The Lucas Smoky Recliner Chair
At about 27 inches wide, The Lucas Recliner offers loads of comfort for a tiny footprint in a small space. When it's closed, you can't even tell it's a recliner just looking at it.
Here's some other nice features of this recliner chair for small spaces.
Easy assembly
Super price and good reviews
Measures 26.75″W x 34″D
This compact recliner chair for small rooms comes in a few other color choices too. I especially like the brown leather-looking one here. It also comes in a nice black and a sharp-looking teal.
---
Christopher Knight Macedonia Recliner Chair is Comfort in Small Spaces
The Christopher Knight Macedonia recliner chair for small spaces is both sleek and comfortable. I love that it comes in several colors, like this funky, modern orange. Here's some more details about this relaxing chair.
Lever-free, push recliner
Supports 250 lbs
Easy assembly
Measures 33.46″W x 35.83″H
In the same link, there are options to buy some of the colors as a set, and if you catch them on sale you can get a great deal on two of these comfy chairs! Check the deal on the blue set below.
---
Add one of these comfortable chairs for small spaces to your living room and you'll be all set for curling up with that deep read (or Netflix binging – we don't judge!). Plus, you'll beautify your small living room in the process!

**Details: Product prices and availability are accurate as of the date/time indicated and are subject to change. Any price and availability information displayed on amazon.com at the time of purchase will apply to the purchase of this product. Certain content that appears on this site comes from Amazon. This content is provided "as is" and is subject to change or removal at any time.
Search for More Comfortable Chairs for Small Spaces