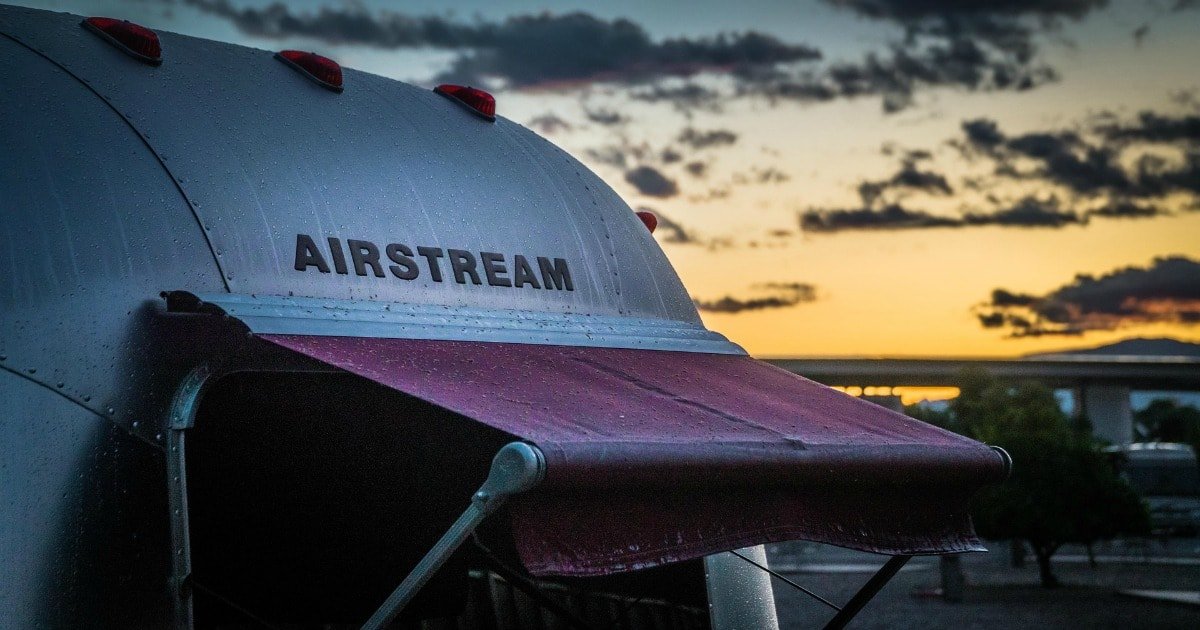 RVs and travel trailers are the epitome of compact living but what they sometimes aren't the epitome of, is stylish decor.
If you're tired of your boring motorhome interior, here's some RV decorating ideas to help you turn it from drab to fab!
Camper and RV Decorating Ideas
[toc]
The links below take you to Amazon, where you can view details about each of these cool products.
1. Add Some Color!
When decorating your RV, pick two or three accent colors and use them consistently around your space, just like you would in your home.
A throw blanket, some accent pillows, a rug or two to warm up the floor – all of these small touches make a big difference in the look of your home on wheels.
Not only will your traveling home look stylish, it will feel more warm and inviting as well. The RV owners below used lime green in their space and Just look how fabulous it looks! You can't even tell it's a living room on wheels.
It doesn't take much money to add those colorful touches in your RV decor either. Check out these inexpensive RV decor items that will add warmth and color to your RV living space.
This multi-color easy care rug comes in various sizes
This cozy soft throw blanket comes in more rich colors
How cute are these 6 colorful throw pillow covers
---
2. When RV Decorating, Show your Personality
Think of your RV or travel trailer as a blank canvas upon which you can splatter your charm.
If you collect things, bring a few of your collectibles and display them. If you love vintage, then deck your rig out retro style. Pinterest is full of adorable vintage themed travel trailers for inspiration, by the way.
If you're into sports, Hollywood glam, cowboys, whatever…show it off in your home away from home and add some elements that demonstrate who you are.
---
3. Change the Curtains
The stock valance/curtain combo seen in the "before" pictures of most trailer and RV decorating photos screams "cheap motel room". Dress up your windows with some curtains in a print or solid that features your accent colors.
I love the grommet curtains pictured above and the whole midcentury vibe going on there.
If you can't find curtains you like, look for fabric that strikes your fancy. Then use hemming tape to make a "seam" on the sides and bottom (or use a sewing machine), and attach the fabric with clip style curtain rings, like the ones pictured below. They turn ANY fabric into curtains so easily. Just make sure they are wide enough around to fit your rod.
Simple grommet panels in a ton of color choices
Clip curtain rings – handiest things EVER
If you are willing to tackle a small project, here's a video tutorial for how to make some no-sew grommet curtains:
---
4. Paint the Walls and Cabinets
If you're up for some small scale renovations, paint the walls and cabinets of your home on wheels to brighten up the usually dark interior.
When it comes to RV decorating, paint is probably the cheapest, but most dramatic change you can make to your interior.
I adore the white cabinets in this newly painted rig below!
If you have wallpaper and it isn't peeling, you can paint right over it if you prime it with an oil-based primer. Watch the video tutorial below for more details.
Below is a short, Larry-The-Cable-Guy style video that explains how to paint RV cabinets too.
---
5. Use Maps as Wallpaper
I love this RV decorating idea. What better way to adorn the walls of your journey maker than with maps? Even if you added one in just a small area, it's a fun and whimsical touch.
In researching the best way to apply the maps to the wall (since they are thinner than traditional wallpaper), some DIYers said regular wallpaper glue worked fine while others said the maps started coming off the wall in humid weather.
If you're unsure about that, you could hang maps as artwork rather then wallpaper, and get a similar effect.
Stick On Dry-Erase Map
Travel Quote Wall Art
Executive Poster Map
Which brings us to our tip #6 below…
6. Put Up Artwork
Artwork not only adds character to your motorhome, but it also expresses your style and personality. Whether it's prints, signs, paintings, antlers or whatever floats your boat – display them proudly.
And don't forget about family pictures as well, so it feels like your loved ones are adventuring with you.
Nails and screws aren't recommended for use in RV or trailer walls because you can't be sure what's on the other side and don't want to damage anything.
Use double-sided velcro, Command strips, 3M wire hooks, or Quakehold Museum Putty to keep your pictures and art in place.
Camper Wall Art
Trailer Key Holder
Shasta Vintage Print
---
Wall decals like these are another fun item to use in your RV decorating.
You can change them out periodically to mix things up a bit and they take up very little storage space.
The ones pictured here come with 61 travel-themed decals that you can place however you want to create your own custom, removable wallpaper.
Click the button to view them on Amazon so you can see all of the decals it comes with. It's an amazing deal!
Can you tell how much I just love this idea?
---
7. Add a Backsplash
A peel and stick backsplash is an easy way to update your rig's kitchen or bathroom. They can be applied to any smooth surface, even over wallpaper. They don't require glue, but you could use a little adhesive if you have doubts they will stick.
They make a huge difference and really add a modern look!
Peel and Stick Modern Subway Tile
Peel and Stick Polito Bella Tile
Peel and Stick Aqua and Gray Tile
---
8. Give Your Counters a Makeover
The nice thing about RV renovations is that since the area is small, the cost for materials usually is too. You can get a new countertop from a home improvement store without putting too much of a dent in your wallet.
And here's an RV decorating tip for you – if your laminate counters are still in good shape, with no chips or peeling, you can paint right over them. Now that's a cheap, quick and easy decor fix!
There are special countertop paints just for this purpose. They give your RV kitchen counters a beautiful granite look and are surprisingly easy to use. Watch this video to see how.
Countertop Paint Kit in Various Colors
Metallic Contact Paper for Fridge
Instant Granite Vinyl Film for Counters
---
9. Use Regular Furniture
When it comes to RV decorating, many people first think about changing the upholstery. But professionally reupholstering existing RV furniture is usually more expensive than replacing it.
You could do the work yourself and save money, but you might consider just replacing the built-in furniture with regular pieces.
You may find that a loveseat fits perfectly in the nook of your slide-out, anchoring it in place when you're on the road (just take careful measurements to be certain). If not, simple metal brackets can be used to secure the furniture to the floor.
You can also replace the booth style dining area with a regular table and chairs. Drop-leaf tables like this one are great space savers.
Keep the loose pieces secure when travelling with floor rings and straps if they don't fit in your slide out area snugly enough.
Using regular furniture makes your trailer look and feel much more like home.
These are some of my favorite drop-Leaf table sets that would fit well into RV decor.
Expandable Dining Set with Storage
Drop-Leaf Country Dining Set
Drop-Leaf Dark Finish Dining Set
---
10. Try Open Shelving.
To make the interior feel more open, consider taking out one row of upper cabinets and using open shelving instead.
Use decorative baskets like these or pretty boxes like these to store things that you would normally hide in cabinets. Then display some decorative items on the shelves, once you're at your destination.
Actually, that museum putty I mentioned early works really well for holding decorative items in place!
If you do try open shelving, use a tension rod to keep things secure when you're on the road, or take the items down when you're traveling and put them back when you're settled. The latter is the safer option if you have an RV rather than a trailer.
A decorative doodad can be a flying missile if you get in an accident or have to slam on the brakes.
Below are some nice-looking storage containers, pretty enough to display on open shelving.
Love these Wood-look Storage Boxes!
Storage Nesting Boxes with Sayings
Great Deal on this Snazzy 5 Piece Set
---
Feel inspired yet? We hope these trailer and RV decorating tips help you to decorate your traveling abode so it truly feels like home!
Pin These RV Decorating Ideas for Later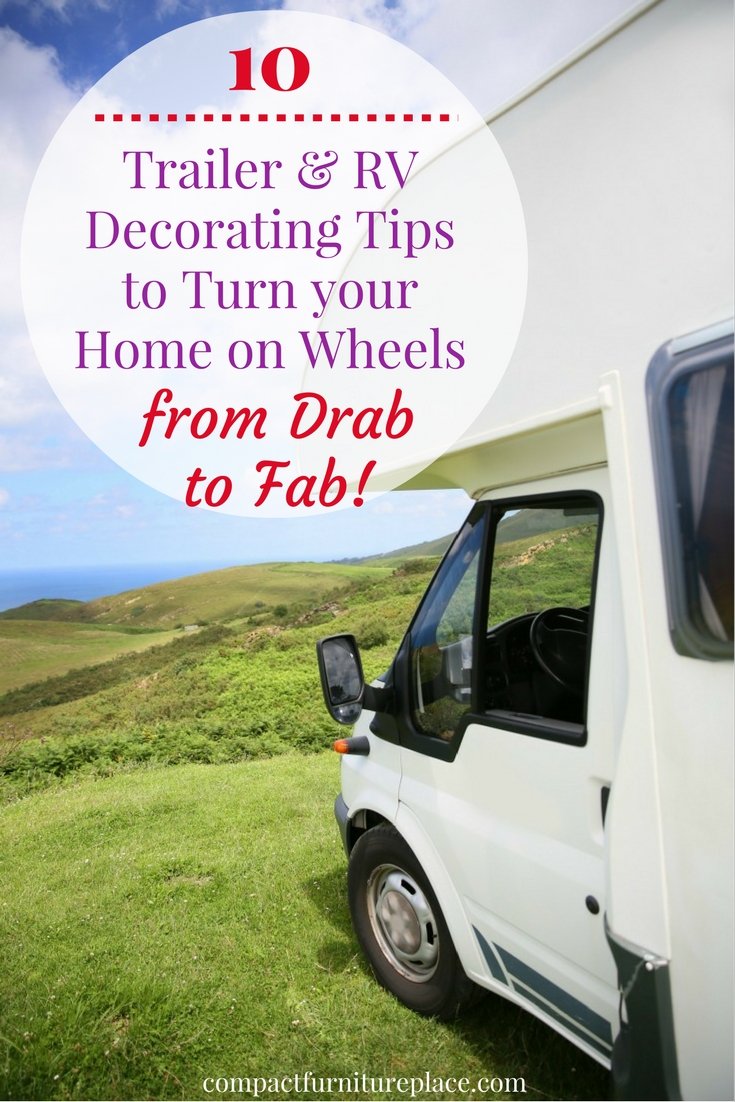 Looking for some space saving tips for your RV? many storage and organization ideas for a regular kitchen and bathroom can be applied in an RV or trailer as well.
Check out some space saving ideas you can use in your RV in our 22 Big Space Saving Ideas for Small Kitchens article and our 30 Decorating and Storage Ideas for Small Bathrooms.
And for more RV and travel trailer inspiration, follow our Pinterest board!


Search for More RV Decorating Products