I'm no stranger to fitting stuff in small spaces. I'm also no stranger to finding ways to feel comfortable even if space isn't abundant. Recently I decided to buy a bigger bed for my 10×12 bedroom, which required a bit of research to make sure that the fit was not only accurate, but also comfortable and functional. So what size bed fits in a 10×12 bedroom?
A 10′ x 12′ bedroom can fit any bed up to a king sized one. Considering king size mattresses measure 76″ x 80″ and a bed frame could add up to 5″ per side, a king sized bed would easily fit into a 10′ x 12′ (120″ x 144″) room. However, the remaining space might feel tight depending on your needs and other pieces of furniture in the room.
So whether you're wondering which size bed to get for your bedroom or you're looking for ways to create more space with the one you have, this article will give you plenty of information to help you make the best choice for you. We'll cover fitting the right size bed in your 10′ x 12′ bedroom, fitting other pieces of furniture, and ideas on how to create more space in your bedroom. Let's get started.
What size bed can fit in a 10′ x 12′ bedroom?
Like I mentioned before, a US standard king size mattress would easily fit in a 10′ x 12′ room, since it's generally 76″ wide by 80″ long (6′ 4″ x 6′ 8″), according to American Mattress. Unless you decide to keep it simple and put your mattress on the floor or a kind of platform, buying a bed frame for your mattress would add 2 to 5 extra inches to each side, totalling 86″ x 90″ (7′ 2″ x 7′ 6″) for the entire bed. This extra space is for the bed frame as well as any special features the bed might have, like storage drawers. Storage drawers are an amazing way to create more space in your bedroom, but more on that later.
Note: In this article I'm not focusing on the California king size mattress because it adds up to the same surface area as a US standard king size mattress. The California king is just 4″ less wide and 4″ longer.
The images below can give you a good idea on the amount of space you have left if you decide to go with a standard king size bed. Assuming you have a door which opens into the room, the trajectory of the door requires some extra space which needs to be left free of furniture.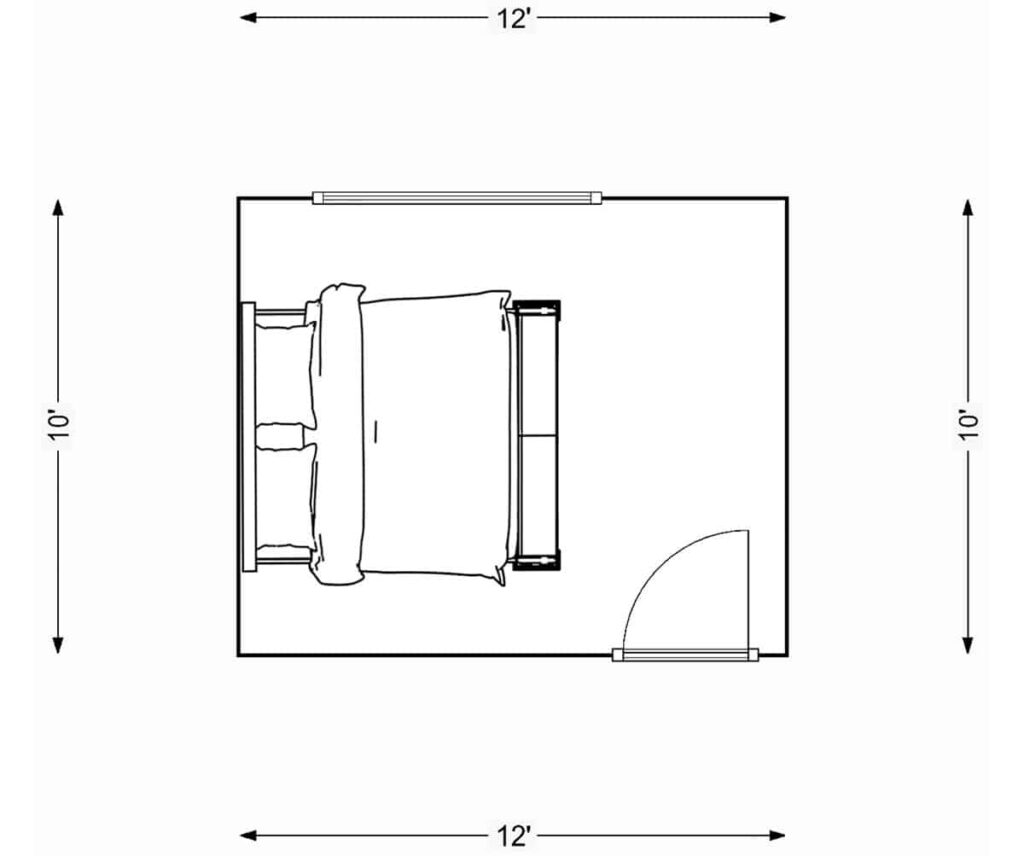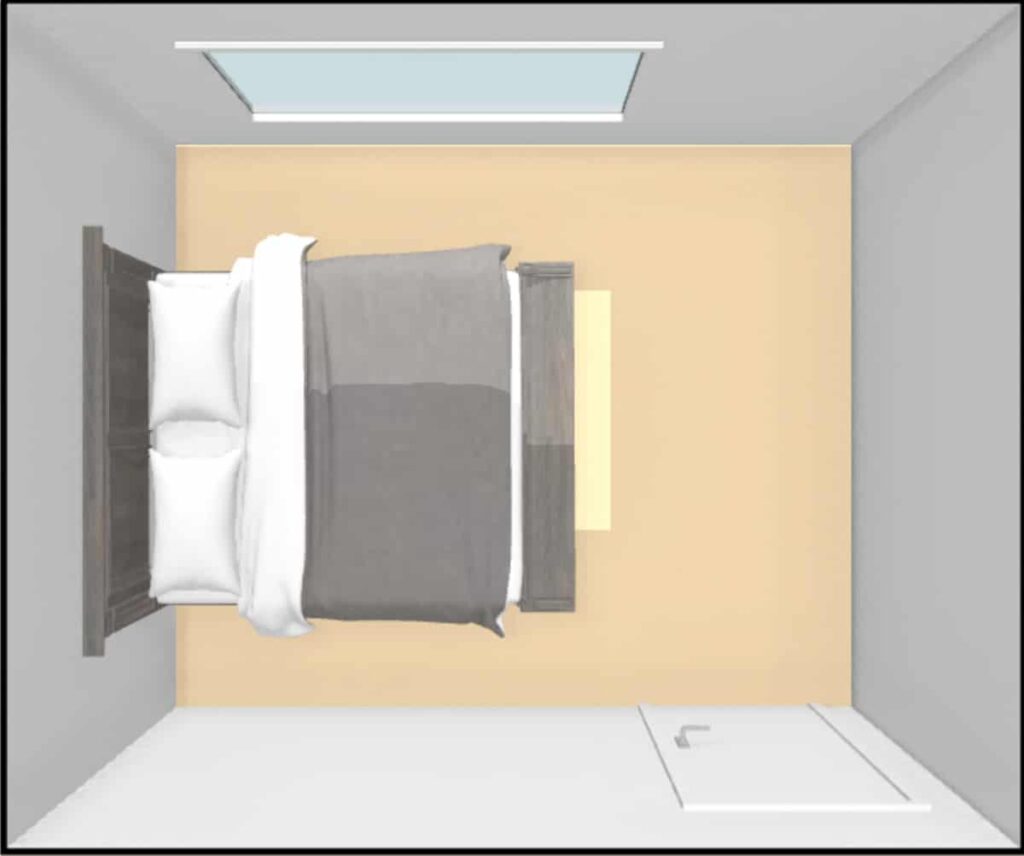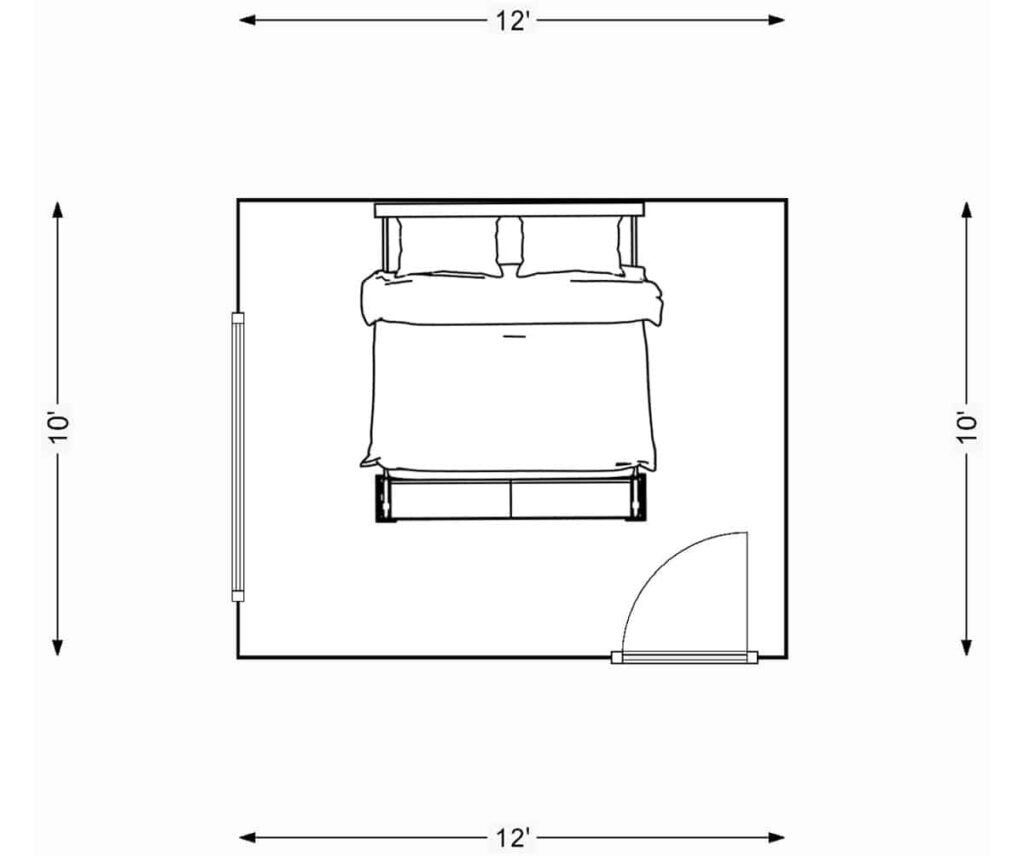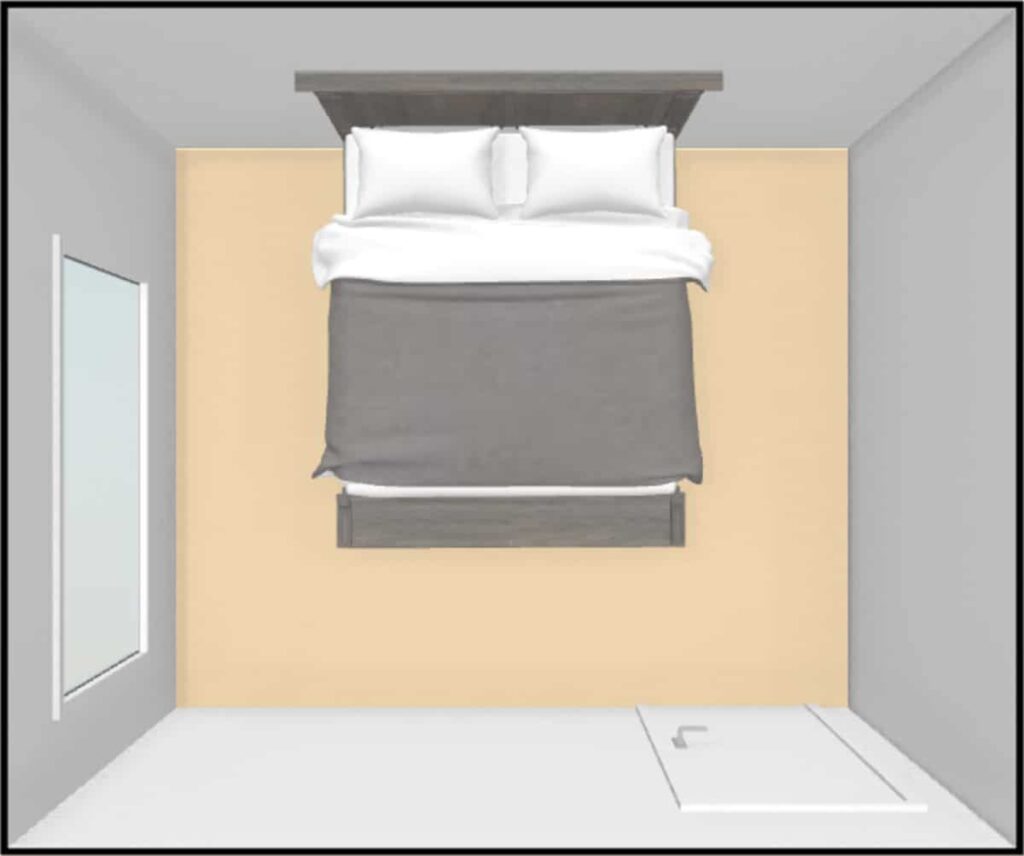 FUN FACT
A 10×12 room could in theory fit:
1 king size bed
1 California size bed
2 queen size beds
2 double beds
3 twin beds
As you can see on the visuals, if you plan to put in a lot of furniture or large pieces of furniture, you might want to consider a smaller bed, a sliding door, or some kind of space-saving furniture.
In the next section, you'll find a few helpful visuals to give you an idea on what furniture you can fit into your 10′ x 12′ room with a king sized bed.
What other furniture could fit in a 10′ x 12′ bedroom with a king size bed?
You've arrived this far because you may be considering the comfort of a king sized bed and now you need to know if anything else can fit in your bedroom. Fear not, there is still some space. On the images below you can see an example 10×12 room with a king size bed, 2 bedside tables and a wardrobe with sliding doors. The sliding doors would allow you to have a decent size wardrobe since regular doors take up more space when you open them.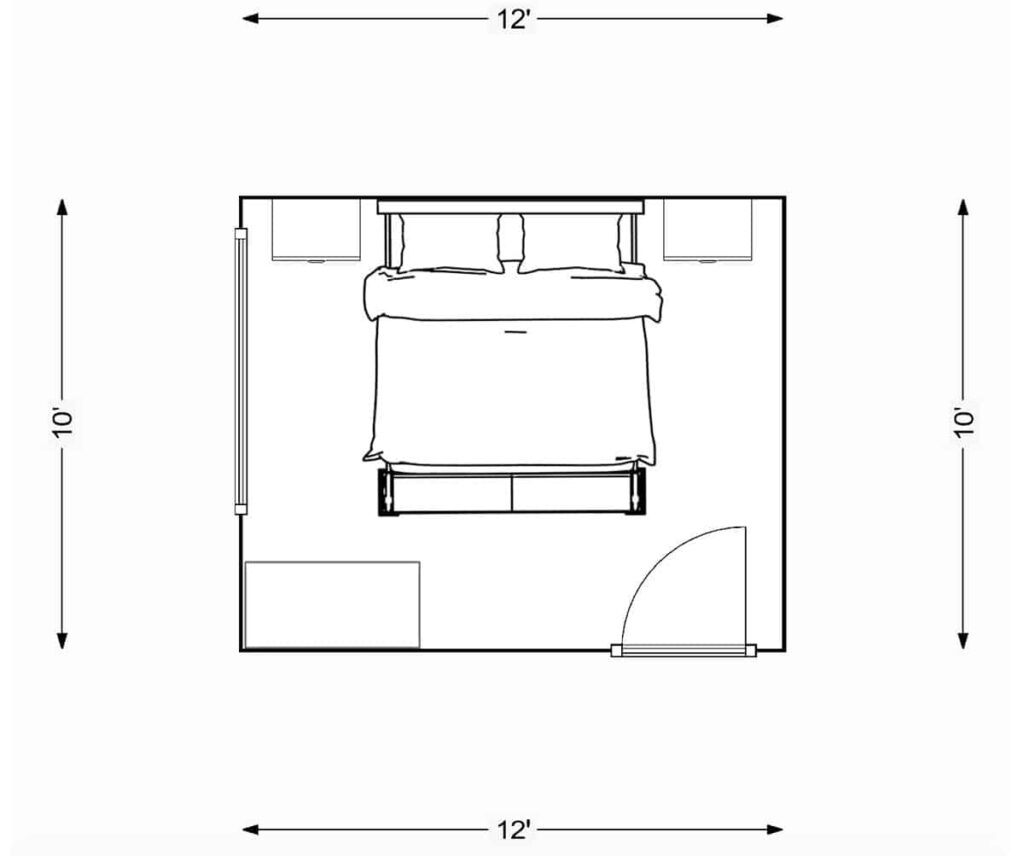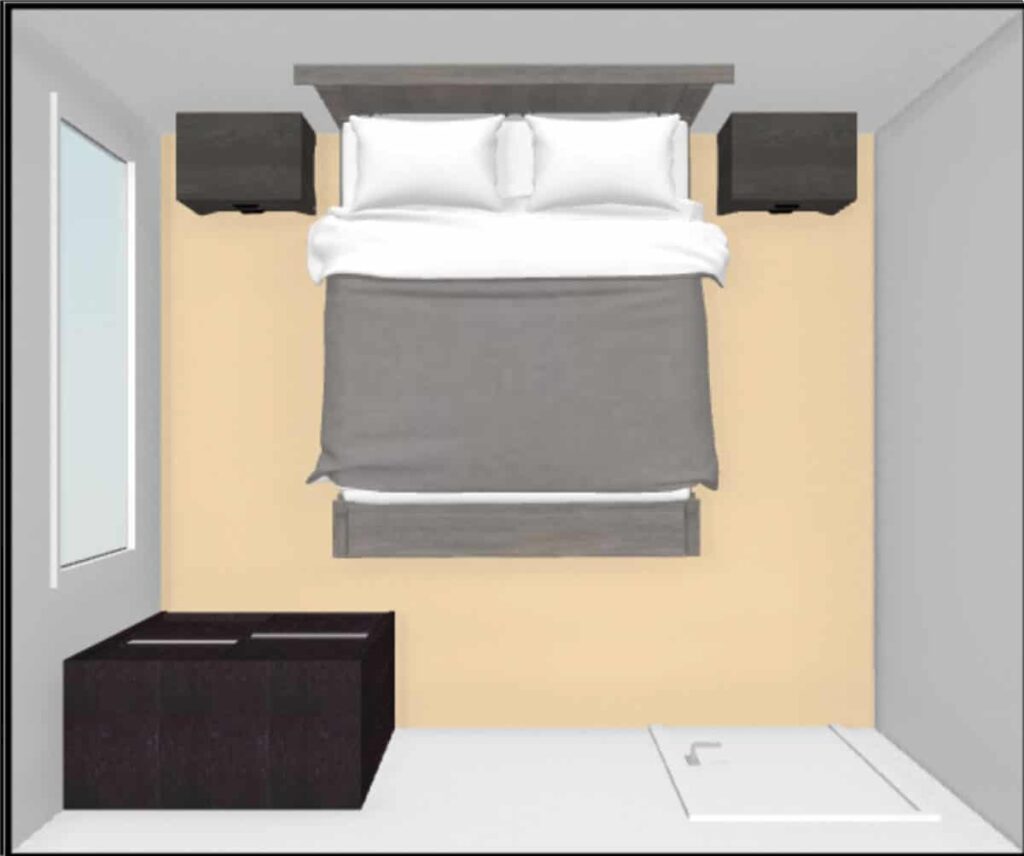 In case your bedroom is a bedroom / home office (who's with me on that one?), you might need to fit a desk in there instead of bedside tables. Even in this case, you can keep a decent sized closet but you might have to make peace with it being in the (blurred) background of your Zoom calls. Here is an example of what a 10×12 bedroom could look like with a king size bed, a desk, a chair, and a wardrobe: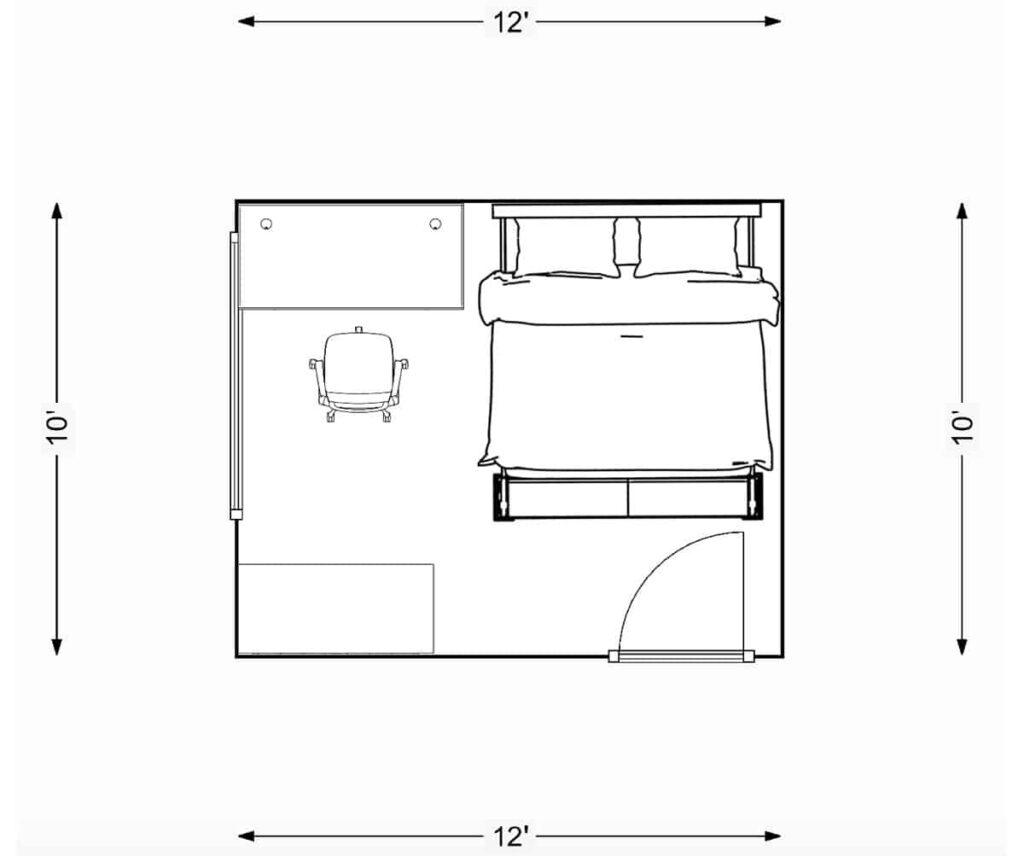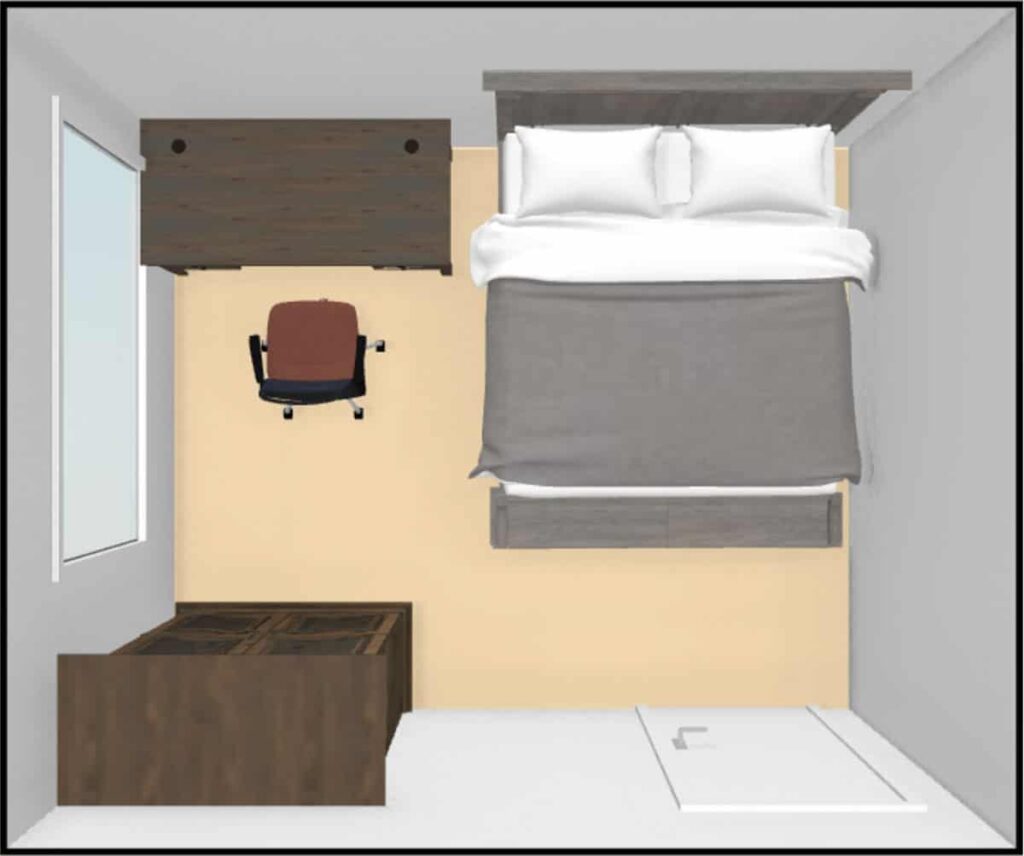 As you can see, fitting a king size bed in a 10×12 bedroom is possible and will allow you to fit a few more pieces of furniture depending on your needs. There is a lot you can do to create more space, so read on for some ideas on how to make your room more spacious with a king size bed in it.
How to save space in a 10′ x 12′ room with a king size bed?
Here are some ideas to get your creativity going in your 10×12 room-king-size-bed-space-saving-challenge:
Use different storage options
Getting a lift-up storage bed frame or a bed frame with drawers will give you lots of space to store your things. This is slightly better than just storing boxes under the bed, as it completely hides what's inside and makes your bedroom look less busy and more spacious. If you decide to put a desk in the room, don't forget to get one with drawers to hold your home office supplies.
Hang things on the walls
Putting some shelves on the wall will definitely save you lots of space and can look beautiful as well. You can use shelves to store books, clothes, home office supplies, and documents and then place some flowers and decorations on top of them to bring your space to life. All of this with no floor space taken!
If you're looking for more space-saving tips for your small bedroom, you might be interested in checking these articles. There are some pretty awesome ideas in there:
How do other bed sizes fit in a 10′ x 12′ room?
In case you're still wondering how other bed sizes fit in a 10×12 bedroom, check out the images below. The first ones have a queen size bed and the second ones have a full/double bed inside. Choosing these options that are a bit smaller than the standard king size bed leaves you with even more space to play with to add more furniture or to keep it minimalistic to enjoy all that extra free space.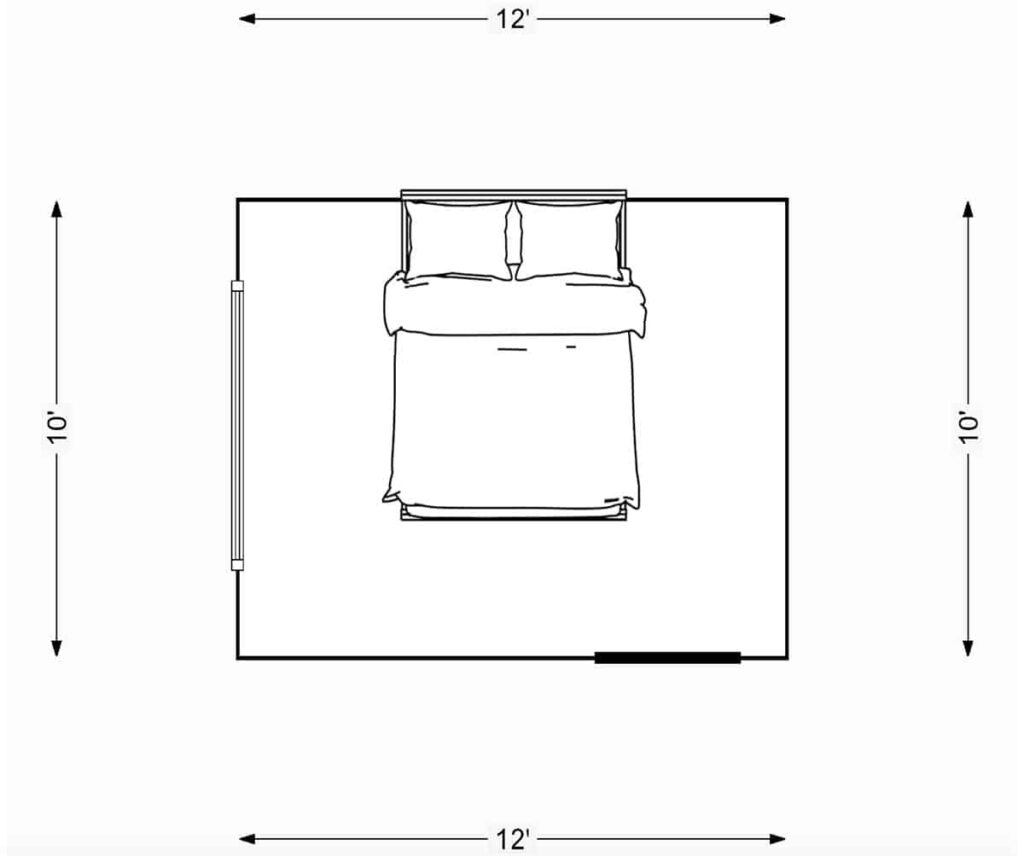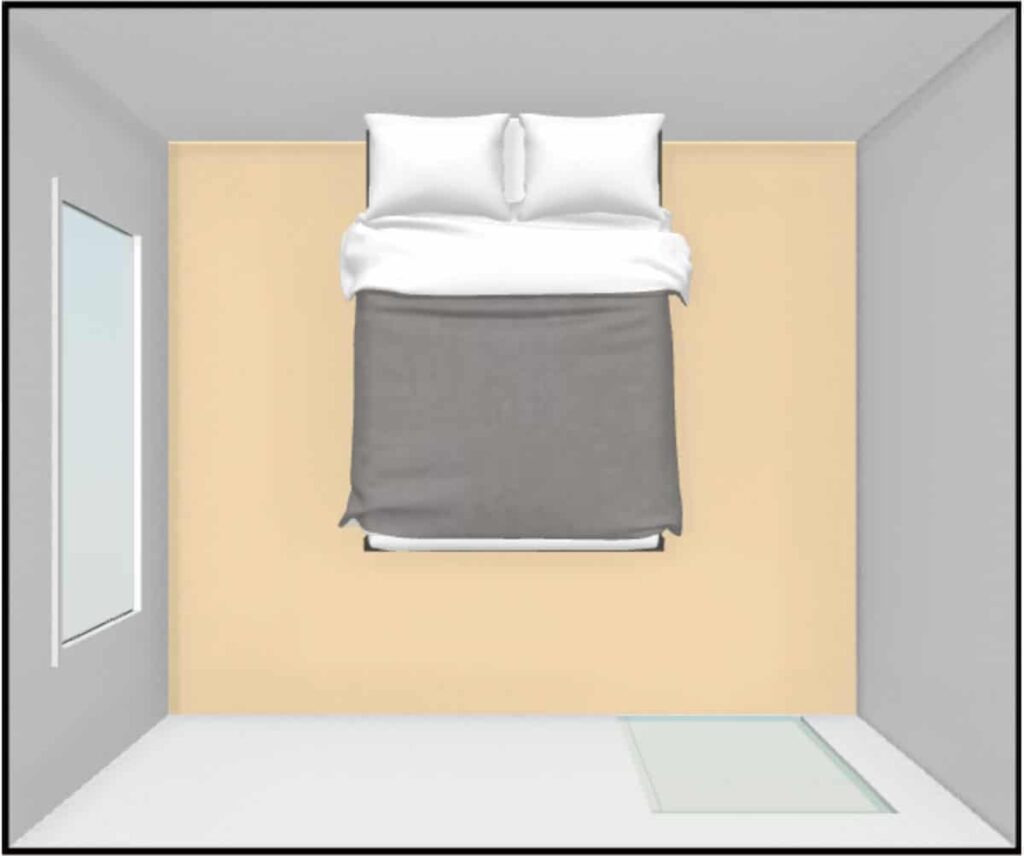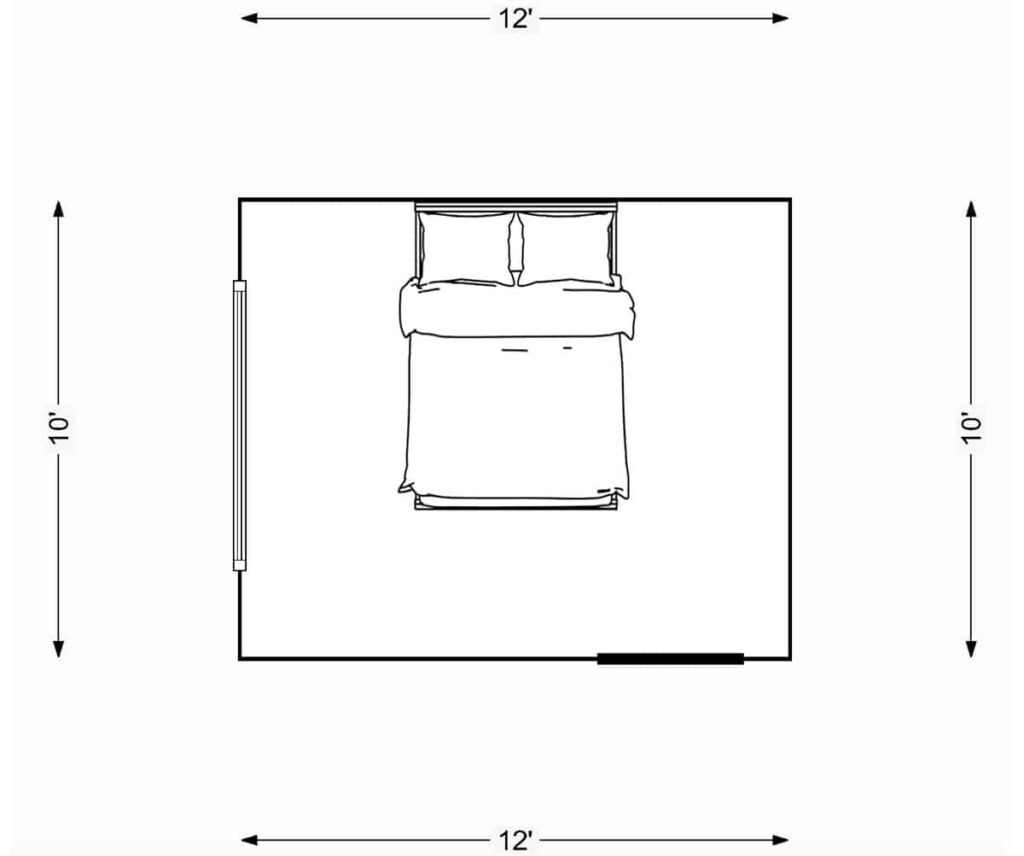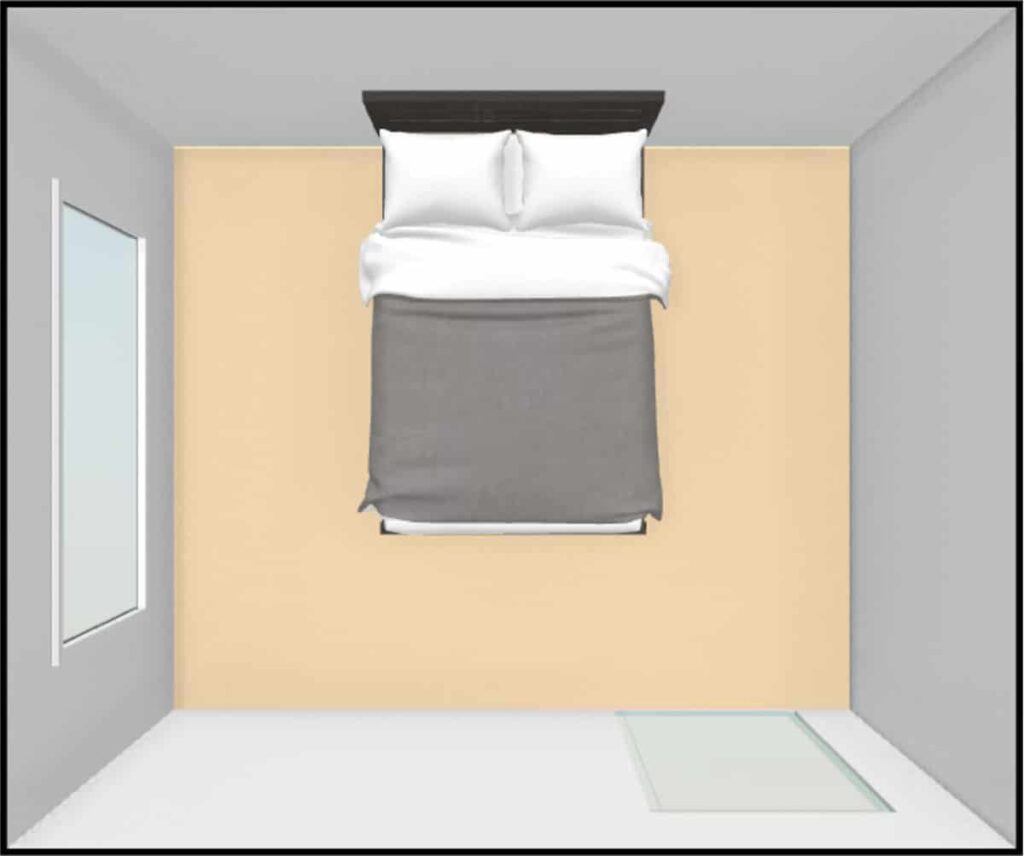 So there you have it. You can fit a king size bed in a 10×12 bedroom without much of a headache. From here on, you can decide what's most important for you: lots of bed space, lots of room space, or a balance of both. If this article has helped you, feel free to share it with others.
* Featured Image by overstock.com