Know someone who might like this? Share it!
Your bedroom isn't just where you sleep and that's why we've taken such pains to compile such a complete list of small bedroom ideas.
Your bedroom is where you get ready for the day, store your clothes and accessories and relax at night. Maybe it even has to double as a work space. So how do you do all that in a tiny bedroom space?
The trick is to look for space saving bedroom furniture and be open to some non-traditional solutions. So let's get started!

The links in this post take you to Amazon and if you buy something through a link, we get a small commission, at no extra cost to you. You can read our full disclosure here. We hope you enjoy our tips and product suggestions!
Small Bedroom Ideas Start with Space Saver Beds
1. Choose beds with storage.
Beds with built in drawers underneath are great for small bedrooms because they eliminate the need for a dresser in the room. Just make sure you have enough floor space to pull out the drawers.
The best beds for small bedrooms are those that serve multiple functions, thus saving space in your tiny bedroom.
2. Make your own under the bed storage.
Under the bed storage is pretty easy easy to rig up, so if you don't want to spend the money on a bed with drawers, you can get the same amount of storage for less money by raising your mattress.
One way to do this is with a raised mattress platform. This is a sweet little product to add storage space to a small bedroom. A regular bed frame is about 7.5 inches from the floor but this baby is 14 inches, so you have about 13 inches of clearance for under bed storage. And the bonus is that you don't need a box spring! Just use it with your existing mattress.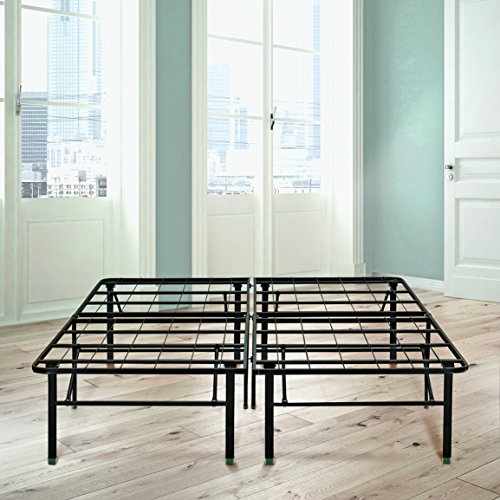 3. You could also just raise your bed.
For a still cheaper way to gain storage space under your bed, use blocks of wood or bed risers to raise your bed. Simply place them under each leg of your bed.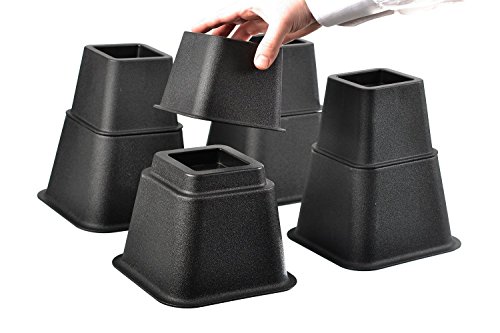 4. Try a loft bed.
One of the best small bedroom ideas is a loft bed. If you're young and limber, these are a fantastic space saving solution. They utilize space very cleverly and look sharp, especially with a modern decor. Many come in both twin and full size.
Loft beds come in a variety of styles and finishes:
5. Build open shelving under your bed.
Open shelving under your bed can not only provide storage, but can also be very decorative. A platform bed with shelving also works well when you're furnishing and decorating a studio apartment, as it helps define the bedroom space from the living space. Watch this tutorial to see how simple it is to make your own DIY platform bed with storage.



Creative Ideas for Bedside Storage
No matter how small your room, a place near your bed to put stuff is a necessity. Here's a few unique ideas.
6. Mount a shelf as a floating nightstand.
Sometimes a bedside table just isn't possible in a really tight bedroom space, so a bedside shelf is a simple and inexpensive solution. This oak corner shelf would work well.


Make your own corner floating nightstand out of a magazine holder. Just cover it with contact paper, scrapbook paper, or paint, and mount 'er up.
7. Or mount multiple shelves.
The vertical direction of these, when mounted on either side of the bed, offer a nice balance in a small room. These are just big enough for a night time novel, glasses, a charging phone, or other necessities and we love the modern look of them. They're a great deal because they come as a pair, perfect for either side of the bed. They come in 3-tier or 5-tier.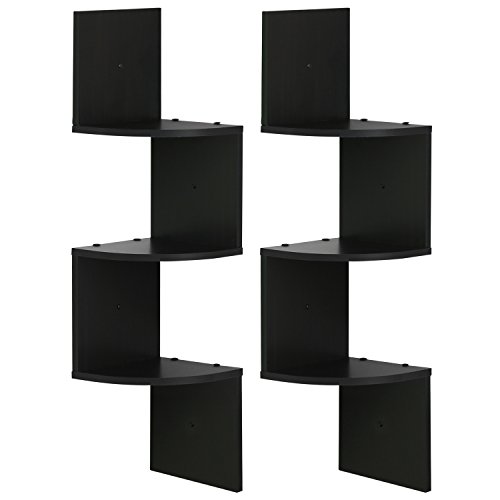 8. Make a DIY hanging table.
This is such a cool idea and a great look for a rustic or natural decor. Making it yourself ensures you get the exact size you need. Here's the tutorial.


9. Use a tray or caddy instead.
If you just don't have room for anything on either side of the bed, consider using a tray or bedside caddy. Amazon has a huge selection of them! We especially liked the two pictured below. (The tray looks bulky, but the legs fold up so you can just slide it right under the bed!)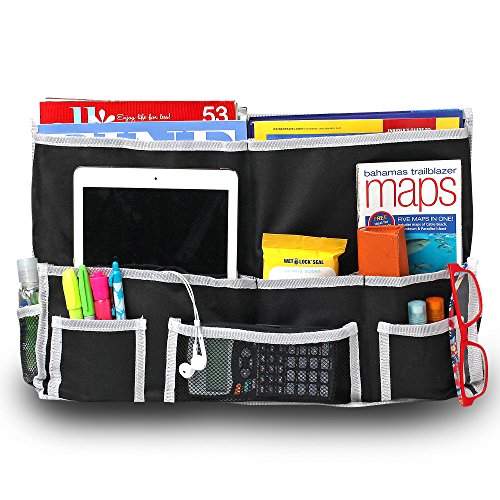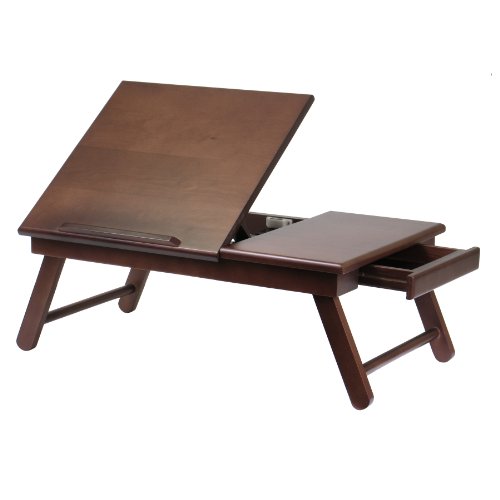 10. Turn a bookcase sideways.
If you have a small bookcase, turn it sideways for a skinny bedside table plus storage. Many small bookshelves are 12 inches wide or less, so turned sideways, they make great narrow nightstands for small spaces and provide lots of bedside storage. This simple bookshelf made by Furinno would work.
You could even take an old drawer and convert it to a shelf and use that. Below is a cool video tutorial to show you how to convert a drawer into a bookshelf.



11. Use double-duty furniture.
The homeowner below used her vanity table as a bedside table. You could do the same thing with a small desk and have a nightstand/vanity/desk all in one piece.


Here are a few pieces that would work great for this purpose:
Bedside Storage Tip: You don't have to have matching pieces on both sides of the bed, as long as the final look is balanced.
Innovative Ways to Gain Extra Closet Storage
Tiny bedrooms typically have tiny closets. An organization system that's unique to your needs is the key to making the most of the closet space in your small bedroom.
First, think about how you use your closet. Do you need more room to hang things up, or more shelving for folded items? What takes up the most room. Shoes? Scarves? Purses? Luggage? Once you figure out the type of storage you need, it's easier to find a solution. Here's some ideas that can help.
12. Invest in a closet organizing system.
Closet organizer systems (like this one from ClosetMaid) can be customized to whatever size or configuration works for you. They're a terrific option if you want a done, out of the box solution that you can install yourself.
13. Piece together your own closet organizer.
Using rod extenders, plastic drawers or bins, and hanging shoe compartments, you can piece together an organization system that works for you. You might be able to pick up some items at yard sales that would work.


Here's a few product suggestionss to help you make your own closet organizer:
14. Hang the clothing rod higher up.
You might not have thought of this, but when the clothing rod is higher, it makes room for extra closet storage by way of a dresser, shelves, or cube shelving like this underneath.


15. Use the back of the closet door.
The back of the door gets overlooked, but it's prime real estate when it comes to closet organizing. With just a few simple products, you can create a cute, customized accessory storage area on your closet door.


>Want to make this? Here's what you'll need:
16. Hang hangers vertically with soda tabs.
Who'd have thought soda tabs could be so darn handy? When you use your closet space vertically as well as horizontally, it makes room for extra closet storage and is a real space saver in a small bedroom.


17. Do the same thing with chains.
No soda tabs or chains? Just buy vertical hangers:
18. Install shelves to use the unusable spaces.
Those annoying sides and corners of your closet can be put to good use with some shelving. The pin below links to a DIY tutorial to show you how to build shelves in the corners of your closet and maximize that space.


19. Use every little bit of closet wall space.
Hang rods and S hooks to store scarves, belts, and other accessories. The picture shows it in a bathroom, but this would work well in a closet. You could nix the baskets and just use S hooks to hang necklaces and bracelets.


20. Hang a pegboard in your closet.
When it comes to small bedroom ideas, we have to mention pegboard. These are insanely useful in any room where you need extra storage space. The pegboard wall below gives oodles of extra closet storage, but even a portion of a wall with pegboard could be all you need.


No Closet? How to Pull Together a Stand-Alone Closet
21. Buy a stand-alone closet already made.
A stand-alone or freestanding closet like this closet by Whitmor is a relatively inexpensive solution and can be customized with storage accessories like Household Essentials Decorative Bins and Household Essentials Patterned Hat Boxes.
This stand-alone closet is a great deal:
22. Create your own stand-alone closet.
Piece together your own version of the ready-made closet above with just a clothes rack and decorative shoe boxes, like they've done in the image below.


Want to make a stand-alone closet? Here's some suggestions:
23. Make a corner clothing rack.
DIY this corner rack using PVC pipe or a curved shower curtain rod.


24. Hang a branch for a unique stand-alone closet.
Here's one of the cutest small bedroom ideas we've seen – a hanging branch clothing rack. Here's a simple DIY tutorial that shows how to make one:



25. Use a ladder as a clothing rack.
A ladder would make a really cute, sort of shabby chic, stand-alone closet. This blogger hung a ladder in her laundry room for drying clothes, but this would work in a bedroom for clothing and accessory storage. The tutorial for how to make a DIY clothing rack from a ladder is here.


26. Make a tiny corner closet from an old door.
We love this idea because it's a stand-alone closet and dressing area all in one! Brace an old door against the wall with wood strips, add a wire shelf, mirror and hooks and Voila! A tiny dressing area for your tiny space.


Preserve Floor Space with these Dresser Alternatives
27. Store your clothes under the bed.
Mom always said not to put your clothes under your bed, but when stored neatly away in under the bed storage bins like these, how could she complain? If you raise your bed up (see our #2 suggestion above), then there's plenty of room under there for storage and it's a great dresser alternative.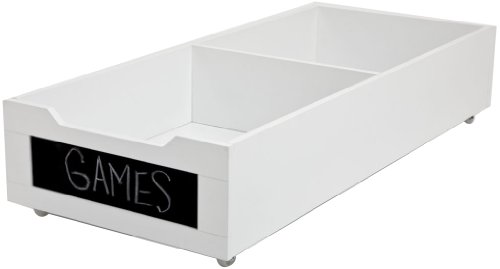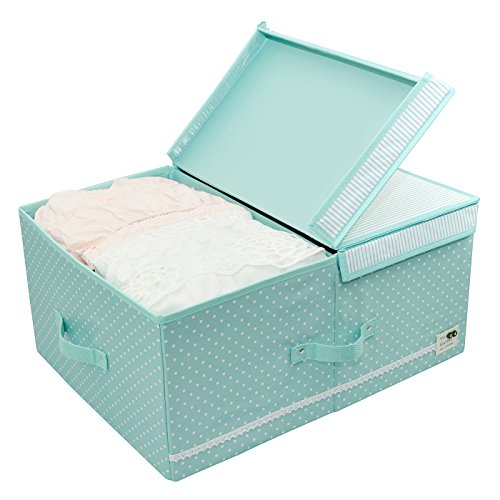 28. DIY your own under the bed storage with wheels.
We love upcycled stuff! Here's a tutorial to make your own wheeled under the bed storage from an old bookcase.


29. Use a nightstand with drawers as a dresser.
Remember (way back there) tip #11 – to use furniture that can pull double-duty? Use your nightstand as a dresser and store smaller things, like socks and undergarments in it.
30. Use shelves and bins or baskets.
One of the most important small bedroom ideas to remember is this: Go vertical! A bookcase with bins or baskets used as makeshift drawers is a smart dresser alternative in a tiny bedroom. The image below shows cubicle shelves, but just about any bookcase (like this simple 4-shelf bookcase would work.


31. Utilize cubicle storage for clothing.
Speaking of cubicle shelves – these puppies are our favorite storage solution for almost any room in the house! The canvas "drawers" come in a huge variety of fabrics and materials, so they blend in with any decor.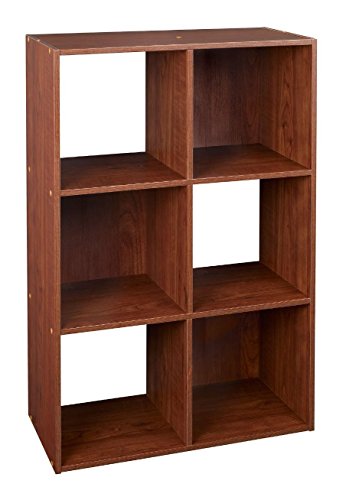 Here's some "drawer" ideas for inspiration:
32. Store folded clothing on closet shelves.
Another dresser alternative is to simply store your folded clothing on your closet shelves. These shelf separators will help keep your stacks neat and tidy.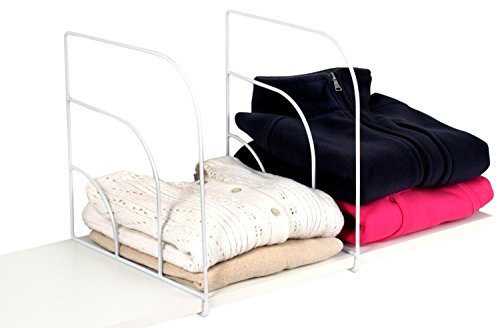 33. Use plastic drawers tucked into a closet.
These inexpensive plastic drawer units don't look half bad and can be tucked into a closet or other small space for clothing storage. They're also very lightweight so they can be easily moved around as needed.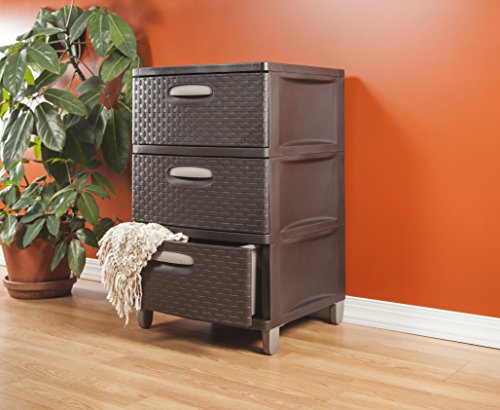 34. Use a hanging dresser.
These canvas hanging closets are like a compact 6 drawer dresser, but without taking up any bedroom floor space.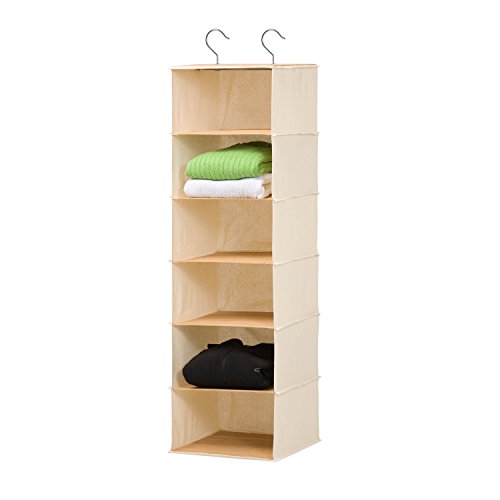 (Back to top)
Sneaky Ways to Add More Storage to Your Small Bedroom
Aside from clothing storage, there are books, personal and decorative items you might need to store in your bedroom as well. Here are a few small bedroom ideas to help you out with that.
35. Put a cube storage unit at the foot of the bed.
Have I mentioned yet how much we love these cubed storage units? Put one at the foot of your bed to add all kinds of storage space. Ikea makes this one that is popular, but any similar shaped cubed shelf unit will work. You could even go with an 8-cubed unit if you wanted something a little taller. The beauty of these storage cubes is you can use them horizontally or vertically, so they are super versatile!


Here's a few ready-made storage benches that work well at the foot of the bed:
36. Arrange cubicle shelves like a headboard.
This is one of the loveliest small bedroom ideas we've seen. It's such a great look! You could buy a few cubicle shelving units and arrange them strategically at the head of your bed for a DIY headboard with storage. You could also mount crates or wood boxes to the wall, like they've done here, for an all-in-one headboard and nightstands.


37. Buy a headboard with storage.
That area directly above the bed is unused space anyway, so a headboard with storage is a smart piece of space saving bedroom furniture.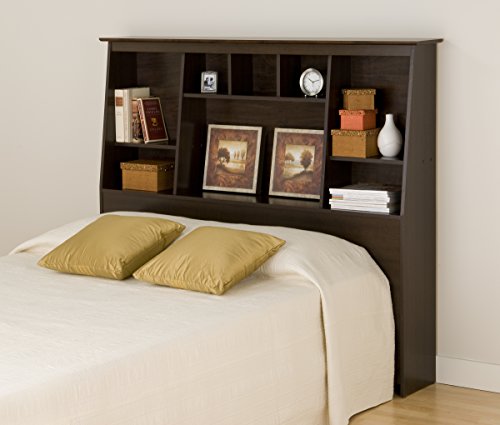 38. Mount shelves to the wall above your bed.
If you mount shelves above your bed, make sure they are mounted into studs and be extra cautious about what you store on the shelves, especially if you're in an earthquake-prone area. In the image below, they've added under cabinet lights to make these shelves even more functional and eliminate the need for lamps.


39. DIY some narrow floating shelves for books.
These floating bookshelves are great space savers as they can fit into a corner and are a pretty storage solution for books and magazines. You can read the tutorial to build these floating shelves here.


Ikea makes some nice floating bookshelves too:
40. Put your junk in a trunk.
I could hardly wait to type that. But seriously…trunks are great for storage. Use one for a nightstand, at the foot of the bed or for extra seating and fill it with whatever you need to store. If you're lucky enough to find a vintage one at a yard sale, great, but you can find cute new ones on Amazon, like the one below. Be sure and check out their whole selection of trunks with any of these links.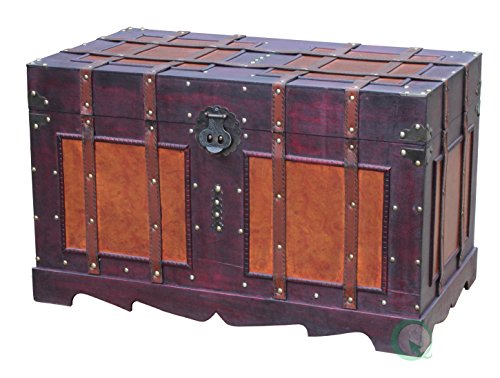 41. Make DIY ladder storage.
The picture shows this in a bathroom, but it would work in a bedroom easily. You could drape sweaters over some of the rungs and use S hooks and baskets on other rungs for storage of the current bedtime novel or other personal items.The instructions for making your own DIY ladder storage are here.


42. Hang pegboard.
In #20 above, we suggested pegboard for use in your closet, but it's a smart solution for other storage as well. Attach baskets to catch clutter and pretty up the pegboard with some artwork here and there.


(Back to top)
Space Saving Desk and Vanity Ideas
You may not need a desk or dressing table in your small bedroom, but if you do, here are a few space saving desk solutions that could work for you.
43. Hang a floating desk on the wall.
The best small bedroom ideas are the ones that help you save precious floor space. Wall mounted desks do this beautifully. The one pictured below is a little narrower than most desks and does well in small spaces.
44. Buy a hideaway desk.
This fold-out space saving desk tucks away when not in use, like a secret moving bookcase…well, maybe not just like that, but it's pretty cool.
Amazon has a great selection of space saving desks:
45. Use a shelf as a desk.
A simple wall mounted shelf can serve as a small desk. I had one of these in my bedroom as a kid and did my homework on it. The picture shows it as a vanity in a little girl's room, but the idea works for a desk space too.


46. Or use a windowsill.
If you have a wide windowsill, consider using it as a desk or vanity. Or add a shelf to run the length of the window, for a faux windowsill and use that.


47. Try an over-the-door vanity.
Okay girls, is this slick or what? An over the door make-up storage and vanity all in one. The vanity tray folds up and the whole thing closes up and hangs right over the door. That's one of the best small bedroom ideas ever!
48. Put a small desk at the foot of the bed.
A desk at the end of the bed is a clever layout for a small bedroom. Better yet, use a sofa or console table instead. They are narrower and longer and take up less space than most desks.


Amazon has a wide variety of small consoles and desks that would work well:
49. Use a bedside table as a desk.
I know, I know…again with the double duty nightstands, but when you have a small bedroom you really need to make those bedside tables multifunctional. Use a small table (like this Ikea table) that has room for a chair and it can double as a vanity or space saving desk.


50. Use a corner desk.
Turn a corner into usable space with a corner desk (like this Kings Brand desk). Add some wall shelves for more storage and you have a great little home office space in your bedroom. The picture below is a DIY corner desk with a full tutorial here if you want to build one too.


See how they positioned the desk next to the bed so it can double as a nightstand?
Okay, okay, I'm finished with the multipurpose nightstand thing.
The point is…no matter your bedroom size, there are all sorts of small bedroom ideas and tricks to help you make it both a comfy retreat and a multifunctional space.
(Back to top)
If this article inspired you, please share it!



For more space saving small bedroom ideas, follow our Pinterest board!