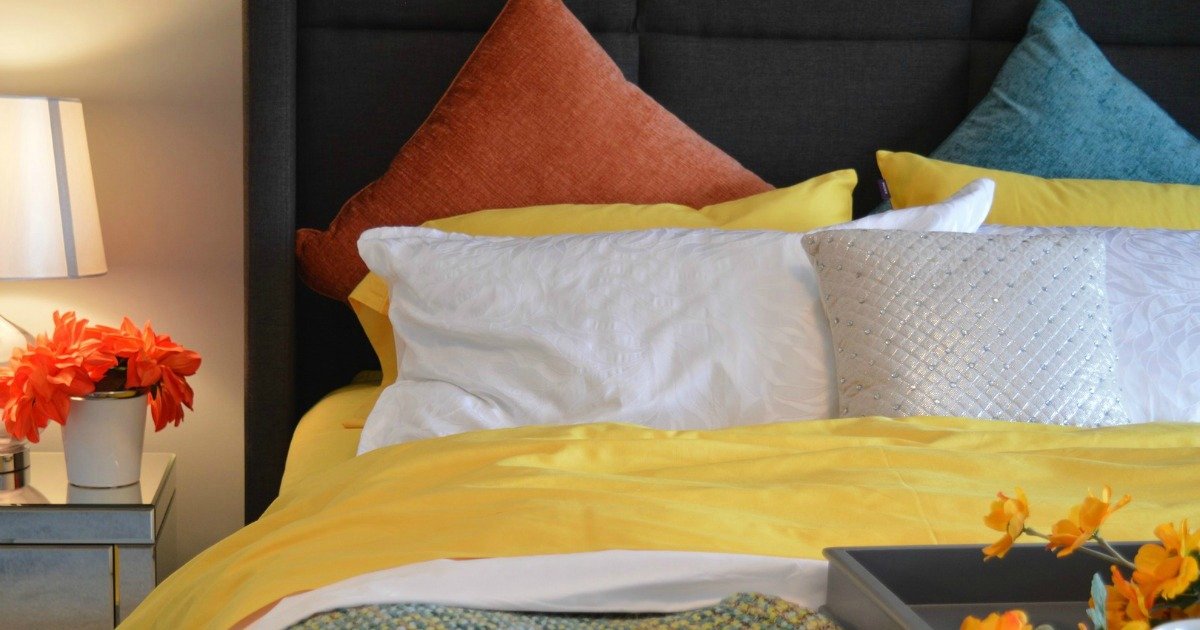 The best beds for small bedrooms generally fall into two categories. Either they make a small footprint in the room, or they're a larger piece that include some storage options.
The latter helps you save space by eliminating other furniture pieces in the room (like a dresser or nightstands), but either style will make your tiny space appear larger.
The layout of your bedroom and your style preference determine which bed is best for your small bedroom. But the biggest factor in deciding which bed to buy is how you use your bedroom space.
For example, if your bedroom doubles as a living room, a daybed is a great choice. If it's also a home office, a bed with storage is good so you can eliminate a dresser and make room for a small desk.
So before you search for your bed, think about all the ways you use your bedroom to make sure you buy the space saving bed that's right for you.
To help you out in your search, here's our suggestions for the best beds for small bedrooms, based on the footprint they make and their multi-functionality. The awesome thing about all these beds is they don't require a box spring!
Quick Note: We work hard to find ideas and products you'll love! As an Amazon associate, we earn from qualifying purchases. We earn from other retailers as well, which means if you buy something through the links or images on this page, we may get a small commission at no extra cost to you. Read our disclosure for more info. We hope you enjoy our tips and product suggestions.
Platform Beds are One of the Best Beds for Small Bedrooms
Platform beds are great choices for small bedrooms because of their simple, straight lines. They sit low on the ground, which seems to belie the name, but they are called platform beds because they raise the mattress off the floor, without the aid of a box spring.
---
Designer Tip: Keep your bed low to the ground so the eye sees more open space above it. Open space gives the illusion of a larger space.
---
Zinus Platform Beds for Small Spaces
There are lots of brands of platform beds, but I really like the Zinus platform beds. If you had a checklist of what you're looking for in a bed, they meet all the criteria.
Super reasonably priced
Easy assembly
Very durable
Wide variety of styles
Different heights available
Oodles of great reviews
The Zinus low-profile 6 inch bed (height from the ground) is a best seller and one of the best beds for small spaces. It's a perfect example of a low-profile bed that makes a small footprint in a room. This is a great look for a minimalist bedroom.
A box spring is optional, only if you prefer it a little higher off the ground. They also make a 10 inch platform bed with a simple slat headboard that is very popular.
Zinus 6 Inch Platform Bed
Zinus 10 inch Platform Bed
---
Zinus 14 Inch Platform Bed
No products found.
No products found.
You can see how a platform bed offers an uncluttered look for a small bedroom. Pair it with very basic bedding for a minimalistic look, or go ahead and throw on a frilly comforter and pillows – either way it looks great in a limited space.
The Zinus 14 inch Platform bed pictured above is higher from the ground than most platform beds but it's a favorite space saving bed for small rooms because it offers lots of storage space underneath. Use some fabric drawers under there and you don't even need a dresser!
Speaking of fabric drawers, here's a great deal on a 6-pack of fabric drawers. I like these because they're 10.5 inches high, so you can stack a lot of clothing in them and they come in six different color choices.
---
Zinus Platform Beds with Headboards
When it comes to beds for small spaces, you don't have to go "bare bones" and leave out a headboard if you don't want to. Just watch the width and avoid a headboard that's too bulky.
No products found.
No products found.
I love the sleek, stylish look of this Zinus Platform Bed with Faux Leather Headboard. You'll notice that this headboard doesn't extend out past the mattress, which is a detail to take note of when you're shopping for a bed with a padded headboard to put in your small space.
Most padded headboards extend out an inch or two on either side of the mattress and at the foot of the bed. It's not much, but if you have a very small room, it might be too much space to sacrifice.
I picked a few more Zinus beds with headboards in a variety of styles to show you. They all have that great Zinus quality and price and make our list of the best beds for small bedrooms.
Zinus Ironline Platform Bed
Zinus Tuscan Platform Bed
Zinus White Platform Bed
Zinus Epic Platform Bed
---
Designer Tip: Skip the footboard, which visually marks the end of the bed and adds bulk to a small bedroom.
---
Space Saving Beds with Storage
Beds that include drawers or shelves make a larger footprint in a room, but are huge space savers because they can eliminate the need for nightstands or a dresser.
Beds with storage in both the headboard and the drawers are like a bedroom-in-a-box! Everything you need is in one piece of furniture. If you use one in your small room, you may have enough space left over for a small desk and office area.
Or with no dresser needed, you could get a freestanding clothes rack to use for your hanging clothing and repurpose the closet into a tiny home office space.
Related: 50 Space Saving Ideas for Small Bedrooms
However you use utilize it, a storage bed opens up new possibilities for how to use the space you have and they are among the best beds for small bedrooms.
Below are a few examples of some great-looking storage beds for small spaces.
Designer Tip: When using a bed with built-in storage, keep the bedding tucked tight for a cleaner, less fussy look in a small room.
South Shore Bed with Cubby Storage
No products found.
No products found.
Beds with drawers are great space savers, but if you have a very small bedroom, there may not be ample room to pull out drawers. For that reason, I love this South Shore Bed with Cubby Storage.
The storage compartments are conveniently placed, plus it comes with 4 fabric drawers. It's a space saving bed for small rooms with a modern, trendy look .
---
DHP Faux Leather Lift Storage Bed
No products found.
No products found.
Here's a clever idea. This DHP Storage Bed lifts up and offers oodles of hidden storage underneath! This is almost as cool as a hidden bookcase in your wall.
The storage area is about 11 inches deep. You could section it with bins and store extra bedding, out of season clothing and shoes, suitcases – there's tons of options here. I love the versatility of this storage space-saving bed!
---
Memomad Bali Storage Bed for Small Bedrooms
No products found.
No products found.
Now here is a unique space saving bed for a small bedroom! The Memomad Bali Bed is a low-profile bed designed for small spaces.
It includes drawers, shelves, cubbies, and a pull-out tray on each side (in the queen and king sizes). A really cool thing about this bed is the twin size is made to fit in a corner, with storage only on one side and the end. You can assemble it so the storage is on either the left or the right!
---
Designer Tip: Choose a bed that blends with the rest of the furniture in the room. Too many different wood tones and colors tend to chop up a small space.
---
Daybeds are Perfect Beds for Small Spaces
Daybeds are one of the best beds for small bedrooms as they are made to go against a wall or in a corner. Some look so much like a couch, you wouldn't even know they're a daybed, making them great for studio apartments or rented rooms where your living room is also your bedroom.
---
Little Seeds Daybed with Trundle
No products found.
No products found.
This Little Seeds Daybed and Trundle hardly looks like a bed. I had to show you the pale pink because it's so incredibly cute and how great would this look in a feminine room?!
The Little Seeds daybed comes in black, ivory, light gray, and a minty green as well as the pink. This one is one of the best beds for small bedrooms when you need a bed that looks more like a couch.
---
Baxton Studio Linna Daybed
No products found.
No products found.
The Baxton Studio Linna Daybed is a simple, modern style bed to tuck into a small bedroom. I like that it has three drawers for storage PLUS a pull-out trundle. It also comes in brown, which you can see here.
---
DHP Full Size Daybed
No products found.
No products found.
If you're looking for a full-size daybed (they can be hard to find at a good price), this DHP Victoria Full Size Daybed is a good one. It comes in white, bronze, gray or pewter and is available in full or twin size. This is a simple, traditional daybed design and comes at a fantastic price for either twin or full.
Below are a couple more super affordable options for full size daybeds.
Dorel Living Full Daybed
Full Daybed with Trundle
---
Loft Beds For Small Rooms
Loft beds are fun space savers if you can get in and out of them without an issue. This isn't a problem for kids and teens, but for adults over the age of 35…well, it could be challenging.
But, if you are limber enough to have one, they are pretty cool space saving beds for small rooms. The area underneath them can be used for so many different things such as a library, office space, dressing area, sitting area, craft space, and anything else you can think of.
Loft beds are some of the best beds for small bedrooms and here's just a couple examples of what a loft bed could do for your small space.
---
Dorel Living Harlan Loft Bed
No products found.
No products found.
The Dorel Living Harlan Loft Bed is my favorite of the loft beds I've seen so far. I love the full size desk underneath. What a cool work space this would be. And so convenient for those 3:00pm power naps!
---
DHP Space Saving Loft Bed in Full Size
No products found.
No products found.
If you want a little more versatility in a loft bed, this DHP Full Size Loft Bed has open space underneath to do what you want with. It comes in silver or black and twin or full size.
Metal loft beds like this one are very simple and pretty inexpensive. They look plain, but if you use a regular comforter, it will hang over the top a bit, adding some warmth and color to it. The nice thing about these plain looking beds is you can style them any way you want to give them some personality.
Below are a couple more well-rated full size loft beds to consider.
WE Full Size Loft Bed
Parkview Full Loft Bed
---
Murphy Beds and Cabinet Beds
There's something fascinating about murphy beds and cabinet beds. Maybe it's the idea that they're hidden and you can't tell what they are until…voila!
At any rate, we can't not mention them in an article about the best beds for small bedroom spaces. Be prepared to pay a pretty price for them due to the moving parts and complexity of them.
---
Bestar Murphy Wall Bed
No products found.
No products found.
The Bestar Murphy Wall Bed looks like a large cabinet when it's closed. It comes in either full or queen size and has four finish options – white, gray, antique, and a white/gray combo. This is a good quality Murphy bed at a great price.
One thing to keep in mind is that most Murphy beds don't include a mattress. This one will need a mattress that weighs at least 70 pounds in order to keep the platform flat against the pistons.
Despite the price tag, a Murphy bed works very well in a studio apartment or a multipurpose room in your home that has to also double as a guestroom.
---
Night & Day Murphy Cube Bed
No products found.No products found.
No products found.
This Murphy Cube Bed or Cabinet bed is a good option to save some floor space in a small room. A nice feature is that it includes a 6-inch memory foam mattress and reviewers agree that it's pretty comfortable. It can support 500 lbs. too.
When it's all folded up, it looks like a buffet cabinet and it doesn't take up horizontal wall space like a regular Murphy bed. When you consider that the mattress is included, it's also a bit cheaper than a wall Murphy bed.
---
Space Saving Bed Ideas
Besides buying a new bed or bed frame, here's a few more ideas on how to utilize your bed to save space in a small bedroom.
Zinus Smartbase Raised Frame
Zinus Raised Bed Frame
A simple way to utilize your bed more efficiently in a small bedroom is to raise your bed so you can use the under bed area for storage.
This Zinus Smartbase bed frame is 14 inches high, giving you an additional 6.5 inches of under the bed storage space over a regular bed frame.
It comes in twin through king sizes, including twin extra long. This thing supports up to 2400 lbs too! It comes apart easily and folds up if you ever need to store it.
The Zinus Smartbase has phemomenal reviews and is a best seller!
---
Prepac Bookcase Headboard
No products found.
Prepac Bookcase Headboard
If you're perfectly happy with your bed frame and just want to add storage space or get rid of your nightstands, a bookcase headboard is a simple solution. It can turn a space hogging bed into a space saving bed for small rooms!
This Prepac bookcase headboard features adjustable shelves and openings in the back for charging cords.
It's super reasonably priced with good reviews too.
---
Below are a couple more solid choices for bookcase headboards. The first one has small drawers, which is a nice feature and the second has lots of shelf space for storage.
Ultimately, the best bed for your small bedroom will depend on how you use your bedroom space, aside from sleeping. I hope these ideas inspire you to use your space efficiently and help you find a bed that's just right for your small space.
---
[Sassy_Social_Share]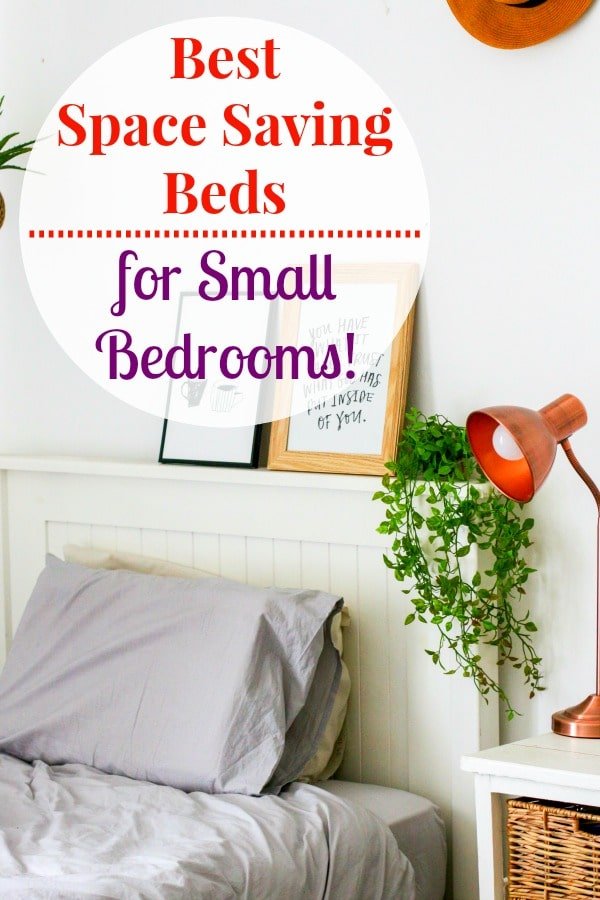 You might also like: Space Saving Tips for Kid's Bedrooms
Search for More Space Saving Bed Ideas
Before I Go… A Few Bedframe Shopping Tips
Some points about shopping for a bed frame:
Read the description and look for hardwood or good quality plywood
Steel or metal frames are very durable as well
Look for a frame held together with screws or dowels
If assembling yourself, reinforce the joint areas with glue.

Happy assembling!