Living in a small home or apartment has its advantages. There's less to clean and maintain and fewer steps required to do it. But if you're trying to decorate that small space, you might run into some challenges, like how to make it feel uncluttered and less cramped. To help you with that, here's 12 simple small house decorating tips to help your tiny place feel larger.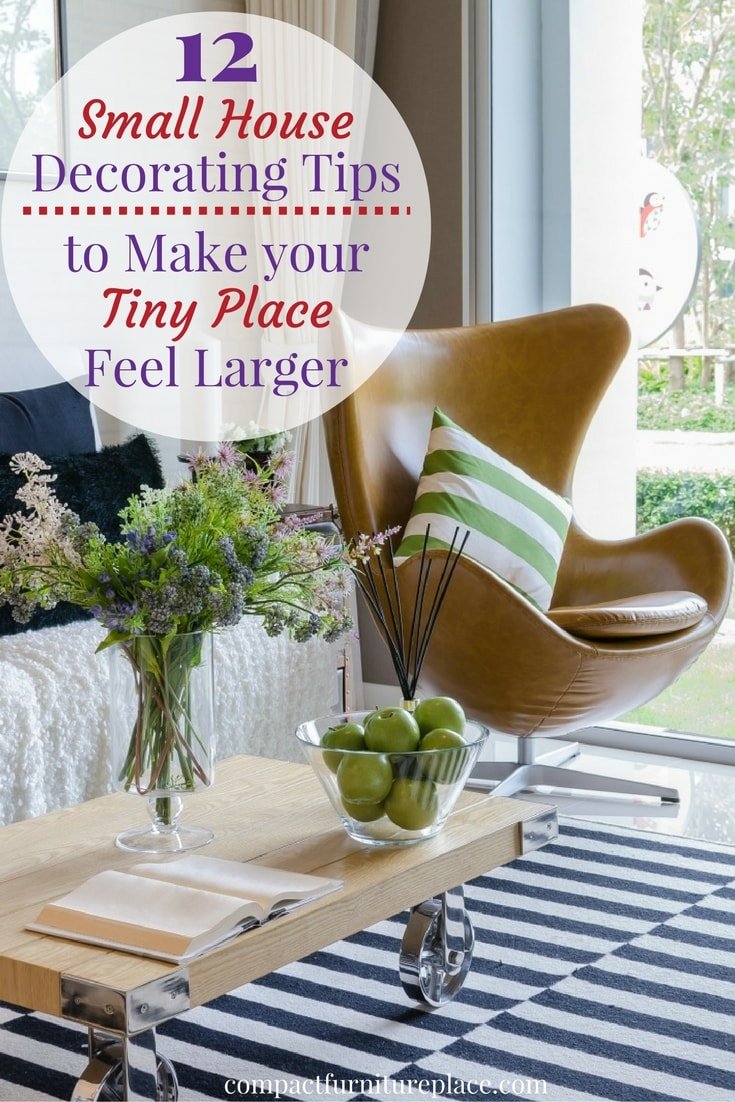 Real quick – We work hard to find great stuff you'll love! If you buy something through the links on this page, we may get a small commission at no extra cost to you. Full disclosure here. We hope you enjoy our tips and product suggestions!
1. Use light colored floor rugs.
If you have dark carpet or flooring, use lighter area rugs on your floors. Keep the rugs the same color in all your rooms and down your hallway. Lighter colors open up a small space and keeping the floor the same color throughout brings continuity into your home.
2. Use repetition to make space appear to repeat itself.
According to Apartment Therapy,  when an element repeats itself in a room, our eyes and brains "fill in the blanks and we're suddenly tricked into believing the repetition continues even when it doesn't."
Rows of books, stripes (like the striped rug in the image at the beginning of this post), or even a gallery wall like the one below, can be used to give the illusion of a continuing pattern and help to expand a room. Find a way to implement the concept of repetition into each of your rooms during your next small house decorating project.
3. Try some collapsible furniture to save space.
Furniture with drop leafs are clever ways to save space in just about any room in your home. When folded up, all is neat and tidy, but when you need the work or eating space, fold them out for plenty of extra room.
4. Make sure you have a variety of lighting and enough of it.
When it comes to small home decorating, good lighting in every room is vital. Nothing makes a room feel closed in and small, more than darkness.
Ballard Designs offers this formula to help you calculate how much light you need in a room: Room length X Room width x 1.5 = Amount of wattage to light a room
So if your room is 14 feet long and 12 feet wide, you need about 169 watts of light. You can accomplish this through different sources, including overhead lighting and table and floor lamps, as illustrated in the photo below.
5. Clean out clutter twice a year, including furniture pieces you no longer use.
When you have too much stuff and begin to run out of places to put it, it accumulates here and there and can quickly overwhelm a small home. Make a point to sort through things twice a year and donate or discard anything you don't use anymore.
Here's a helpful infographic with tips on how to declutter your home.
6. On the topic of clutter, create a foyer so you have a spot to drop stuff when you come in.
Do you tend to use the kitchen counter or table or maybe the coffee table to throw your keys and mail on when you get home? What you need is a foyer! A foyer can be created in even the tiniest of homes.
All you need is a small table or shelf, a tray for mail and hooks or a bowl for your keys. Add a few coat hooks and there you have it – a foyer. In the photo below, they've used a simple shelf and umbrella rack but it does the trick.
7. Throw in some acrylic pieces.
Acrylic furniture works very well in small rooms because of its transparency. It serves the same function as a bulky piece, yet you barely know it's there. It can add a sleek contemporary feel to even the most traditional room.
In the photos below, one designer combined stylish acrylic chairs with a more traditional wood shelf piece on the wall and it looks fantastic together. The other added a simple acrylic coffee table to her room.
8. Small house decorating mantra…Use Mirrors!
Mirrors reflect light and expand space in a room. Find ways to incorporate mirrors into your decor in every room, to make your little house appear larger. Here are a few examples of how to do that:
Lean one on the floor and hang one above it, because if one mirror is good, then two is better, right? It looks great in this space!
Make a gallery wall of mirrors
Use one in your dining room.
Place one in your bedroom.
9. Hang your curtains high and wide.
No collection of small house decorating ideas is complete without this tip. Hang your curtain rod as high as you can above the window, and make sure it's wider than the window.
This one small tip makes a huge difference in the space perception of the room. Try this in every room in your home where there's curtains.
10. Bring the eye upward with tall shelves.
When floor space is in short supply, you need to go vertical with your furniture. Tall shelves give you extra storage, plus they draw the eye upward and this makes the room feel larger. In the image below, the homeowner flanked a doorway with bookcases, and added molding to give them the appearance of built-ins.
11. Use multifunctional furniture.
When furniture does double duty, you need fewer pieces. Fewer pieces means a less cluttered room.  Ottomans are great examples of multipurpose furniture pieces (I'm pretty sure we've mentioned this a time or two before!) since they can double as coffee tables, seating, or storage.
A floor lamp with a built in table, like this one, bar carts that can be used to display dishes or as a buffet table when entertaining, and dining sets with (like this one) are more examples of how you can get multiple uses out of one furniture piece.
12. Transform your patio into an extension of your home.
If you have a small patio or balcony, don't discount it as too small to be useful. Use it as an outdoor dining space, a second living room, a meditation area, a work out space – whatever you need it to be. Check out our article on small patios for some helpful tips to turn your outdoor space into a fabulous retreat. 
If you liked this post, please share it! And for more small home decorating ideas, follow us on Pinterest.