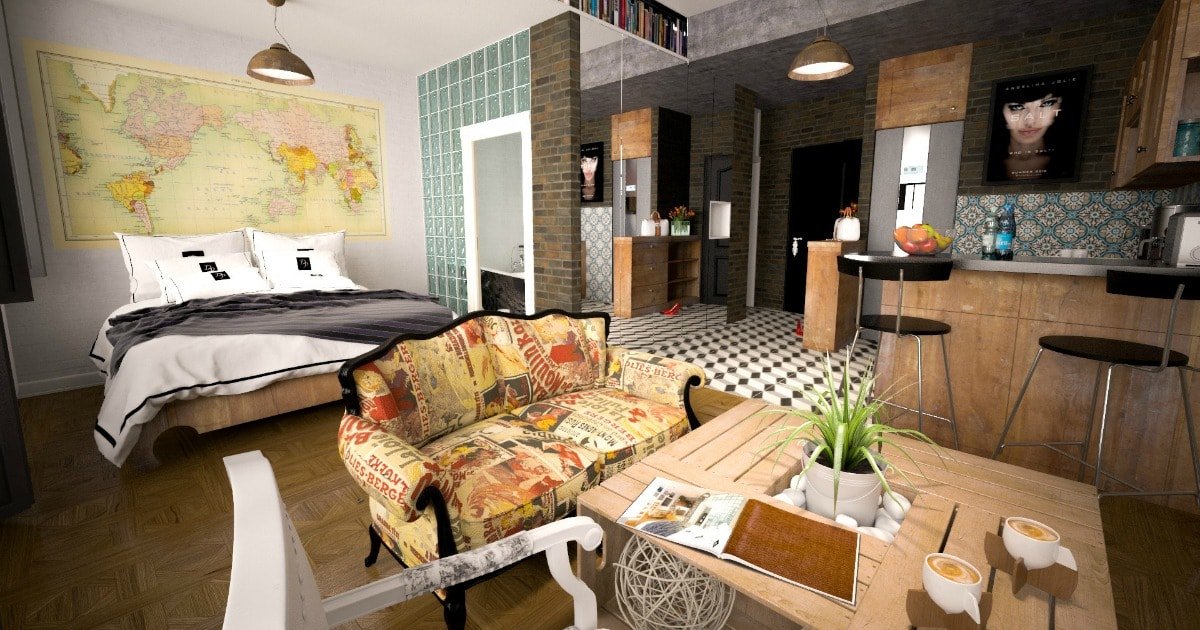 Choosing studio apartment furniture and decor can seem overwhelming. You wouldn't think so because it's just a tiny area, but small spaces are actually more challenging to furnish and decorate than large ones.
There is a need for an eating area, but no room for a dining room table and chairs. There is a need for seating, but no room for a full size couch. You need to stash your clothes, but there's no space for a dresser. And with the sleeping and living areas combined, what do you do about privacy?
It's a plethora of conundrums.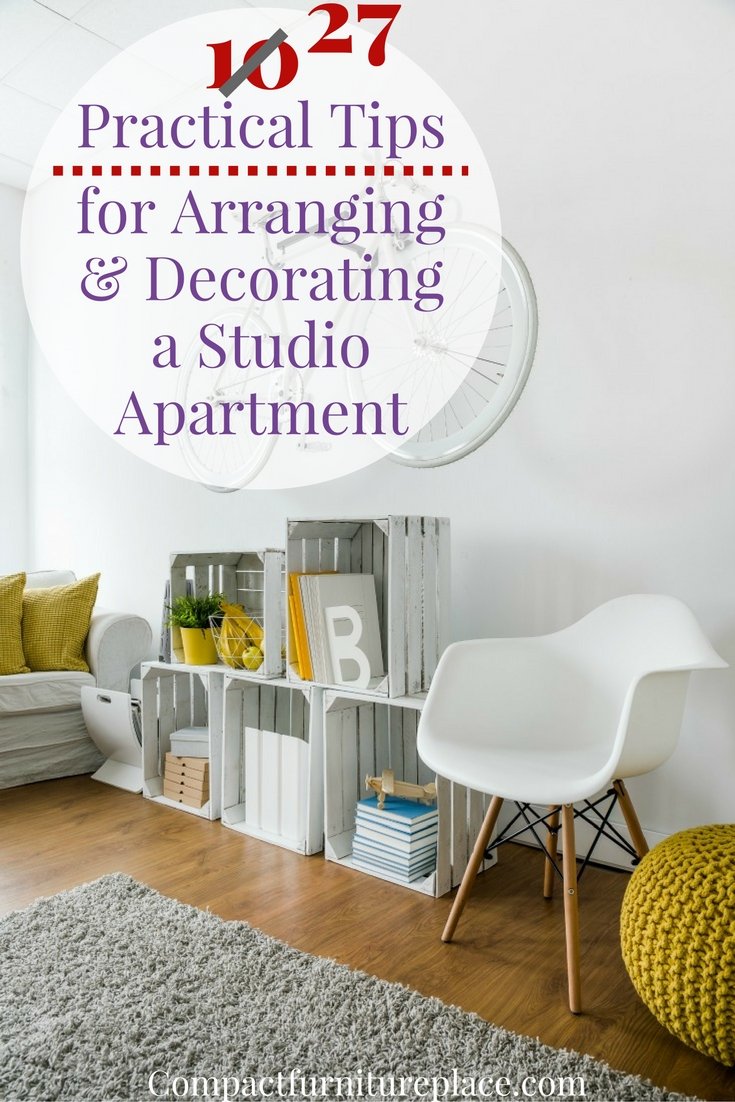 Fortunately there is a wide selection of compact furniture for studio apartments that can solve these problems. Here's 10 tips (we got a little carried away and added "sub tips", so it's more like 27) to help with decorating and furnishing your small space.
Just an FYI that the links in this article will take you to Amazon where you can view our recommended products. If you buy something through our links, we may get a small commission at no extra cost to you. You can read our full disclosure here.
1. Divide and Conquer
Firstly, define your living areas. The kitchen and bathrooms are already set, but where will guests sit? Where will you sleep? Do you need an office area?
Think about how you will use the space and then go about defining each area.
How do you do that? Area rugs work nicely – hence the name. Don't be afraid to use different patterns, as long as they are in your color scheme.
When it comes to studio apartment furniture, bookshelves are a must have! They offer storage PLUS room partitioning. They are especially useful to hide your bed from your main living space. Open bookshelves give access on either side and won't make the sleeping area feel claustrophobic.
This studio apartment dweller used a a long dresser to divide her space. You could cover the back of it with corkboard and use it to hang photos or mementos. Then place tall decorative items or plants on top for even more of a privacy screen.
A simple curtain will define the sleeping area also, and adds some texture to the room.
If privacy isn't a concern (you exhibitionist, you!), then put your couch at the end of your bed. The couch becomes the partition between your entertaining and sleeping areas. Add a large rug under the bed that extends out on either side to further define your bedroom area.
If you have the space, consider putting your bed on a platform to really separate the bedroom area from the rest of the space.
You have to see this video – it shows you how to build a platform bed from Ikea cabinets!
2. Decide on Couches and Beds
Once you've divided up your space, you should be able to determine if you have room for both a couch and a bed. Measure the areas you've designated for sleeping and for sitting and figure out the maximum size bed and couch each space can handle.
Allow enough room on each side of the bed to get in and out of it, even if it's just a narrow space. For tips on how to make the most of a small bedroom space (like using a shelf for a nightstand), read our 50 Space Saving Tips for Small Bedrooms. Most of the ideas can be applied to a "bedspace" as well as a "bedroom".
For your seating area, the following studio apartment furniture spacing suggestions from Apartment Therapy can help you judge what size couch is suitable for your space:
There should be 14 – 18 inches between the sofa and coffee table
Keep 3 – 10 feet of space between seating (between couches and chairs, not applied to folks sitting on your couch together)
Allow 30 – 36 inches of walking space between furniture pieces
The distance from seating and the television should be about 1.5 times the diagonal size of the screen. So a 43 inch television should be placed about 5.5 feet away from the seating area.
The studio pictured below has just the right amount of furniture and if more seating is needed in the living room, they can easily pull chairs over from the table.
You might want to check out our 30 Fab Tips for Decorating a Small Living Room . You'll find many decorating and storage tips we haven't repeated here, but that would work in a studio apartment as well.
3. Consider a Daybed
If your studio is very small and there isn't room for both a couch and a bed, consider the stereotypical studio apartment furniture piece – a daybed. Use a variety of pillows around the sides and back to give the appearance and comfort of a couch and so that visitors don't feel like they're sitting on your bed.
We love this one because of its elegant look and the added benefit of a trundle underneath.
If you're on a budget, you can still achieve a daybed look by placing a regular twin bed against the wall and creating a back and sides with pillows.
For guests, you could keep another twin mattress slid underneath, or pick up an ottoman fold out bed or a chair fold out bed.
4. Keep It Light
Light colors open up a small space. You might be tempted to paint one wall an accent color, but doing so breaks up the flow of the small area. Keep your walls light and add color with accessories (more on that later).
Speaking of light…make sure and have some. If you don't have much natural light, add plenty of light fixtures to brighten your studio apartment and make it appear larger. Think wall sconces that don't have to be wired into the wall (great for renters), under cabinet lights, and floor uplights.
This homeowner used unconventional string lighting but it looks great in their industrial style space. And hey, if you don't have enough chairs, keep some stacked pillows around for seating!
5. Use the Unusable
There really is no such thing as "unusable space." There's lots of storage space in a studio or small apartment – you just have to get creative.
There's the space above doors.
The space behind doors.
The space above cabinets.
The space in corners.
The space under furniture. Aside from beds, risers can be used under other furniture pieces, like dressers, to make room for storage underneath. They may not be the prettiest solution, but you could spray paint them to match a rug so they blend in a little better.
So, look around your apartment for spots that aren't living up to their full potential and think of ways to better utilize those areas.
6. Mirror the View
Mirrors and small spaces need to be best friends. Position one so that it reflects a window to flood the room with more natural light.
Hang a mirror in your smallest nook to visually expand it.
Just make sure and look at what it is you are reflecting. A pretty view outside or a cute display is inviting, a view of your bathroom…not so much.
7. Go Vertical with your Studio Apartment Furniture
Your studio apartment might be small in floor space, but remember you have walls too. Use studio apartment furniture to draw the eye upward. Tall bookcases filled with books, photos, and keepsakes are a great way to do this. Store your practical, but not so decorative items in pretty boxes or baskets and stash them on the shelves too.
Hang artwork all the way up to the ceiling to make a small room seem more spacious. Gallery walls are good ways to do this.
8. Hide Clutter
Nothing makes a room feel claustrophobic more than clutter. Hide yours away inside storage ottomans or trunks. These studio apartment furniture pieces not only make for great storage, but can double as side tables or extra seating.
9. Layer it up
Make sure and add layers of texture to bring depth and warmth to your small space. A furry blanket, some decorative throw pillows, and cozy rugs can make the difference between "nice, but it needs a little something" and "Wow!" Imagine the rooms in these pictures, without the layers, and they are just not nearly as interesting.
10. Add color
If you're renting your studio apartment and can't paint the walls, add color in other ways. Consistent splashes of color spattered around the room pull it together and give the eye something to focus on as it sweeps the space.
You can do this with art, accents, books, a lampshade – just about anything can be covered or painted in your accent color. Stick with just one or two accent colors for a cohesive and impactful look. In the room below, they've used red and orange all around the room and it's gorgeous!
Painting your furniture is another simple way to add color in an unexpected way, especially when you're renting and can't paint the walls. The painted nightstand in the picture below illustrates this.
For more studio apartment furniture and decor inspiration, follow our Pinterest board!