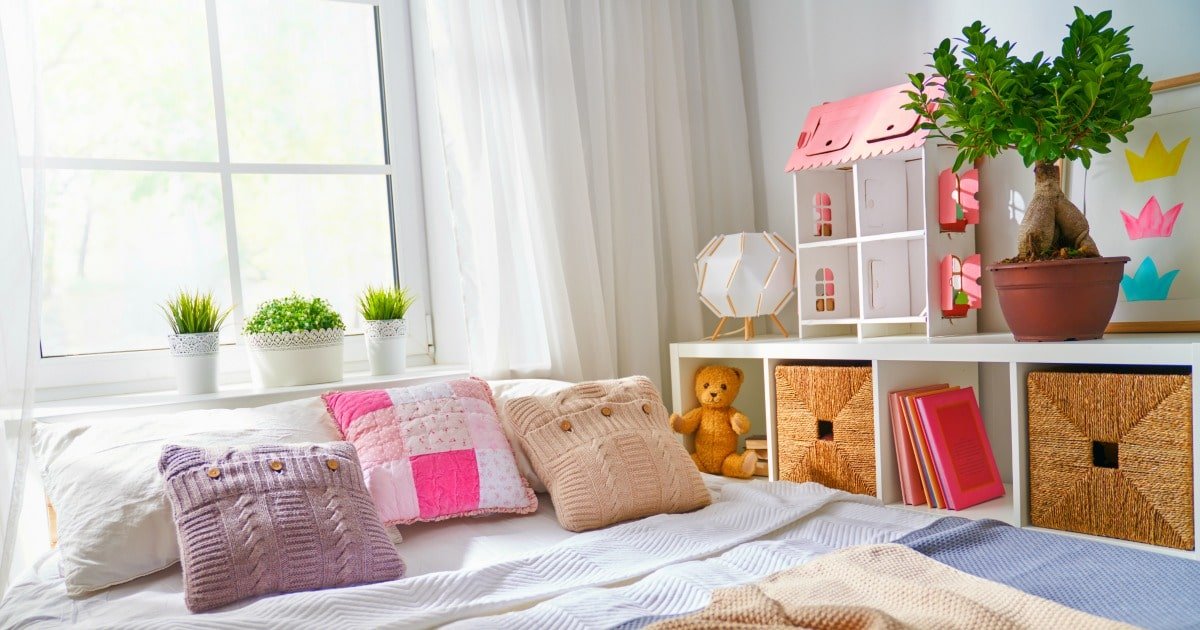 If you live in a small place and have kids, you're going to need some small kids bedroom ideas to help you organize and decorate their space. Both for their happiness and most importantly…your sanity!
Because man, do those little people take up a lot of space! Toys, gadgets, clothes, books, homework…where do you put it all in a small kids bedroom? The better question is…where do you put it so that they can find it and not ask YOU constantly where stuff is?
To help you out with that, we gathered our favorite decorating tips and kids room organization ideas from around the web. When it comes to organizing kids rooms, parents come up with the cleverest solutions!
My own big solution, back in the day, was to give up my master bedroom for my two girls to share and I took their tiny bedroom. 🙄
But now, thankfully, there's Instagram and Pinterest and well…the Internet…to give us all inspiration for our small kids room dilemmas. Like kids room organization ideas to help make a small kids room look organized AND cute!
Small Kids Bedroom Ideas
1. Optimize the bed by adding storage.
Since the bed takes up the most area in a bedroom, optimize it to make the best use of the bedroom space. The obvious (and easiest!) way to do this is with under the bed storage bins. These things are the best kids room organization idea ever!
The Tot Tutors set of 4 bins are the perfect size to slide under the bed. They come in the primary colors pictured below, but also in pink, lavender, and blue. They're a great price for 4 bins too! If you click the link to check them out, you'll see two size options, it's the large ones that are best for under bed storage.
I also love these canvas storage bins with fun kids designs. There are several different patterns to choose from and the reviews are great.
These are about 7″ high and most beds sit about about 7.5″ from the floor, so they should fit under the bed, but measure your child's bed to be sure. You could always pick up some bed risers to raise the bed and give you more storage room underneath.
Colored Storage Bins
Canvas Storage Bin
---
2. Buy a kids bed with built-in storage.
Another small kids bedroom idea to help with organization is to buy a children's bed with storage. The nice thing about these types of beds is you don't need a box spring.
Many of these are simple beds with drawers underneath (kid's captain bed), which means there is no need for a dresser taking up valuable floor space.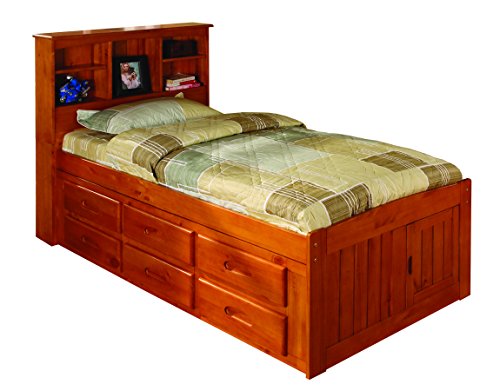 There are also kids beds complete with desks, drawers, and shelves. Basically, a kids bedroom-in-a-box. These are suitable for kids from elementary school age, on up to high school and even into adulthood. It's all in how you style it. Use bedding and age appropriate decor items for the shelves and desk and change them out as your child grows and you have a super versatile piece of compact furniture.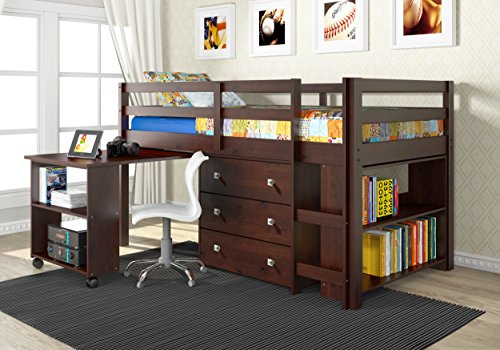 A third way to optimize the bed is with a loft bed for kids. Raising the bed gives you the area under it for shelves or a desk or a play area. These, too, are great for kids of all ages (as long as they are old enough to handle getting up and down from it safely).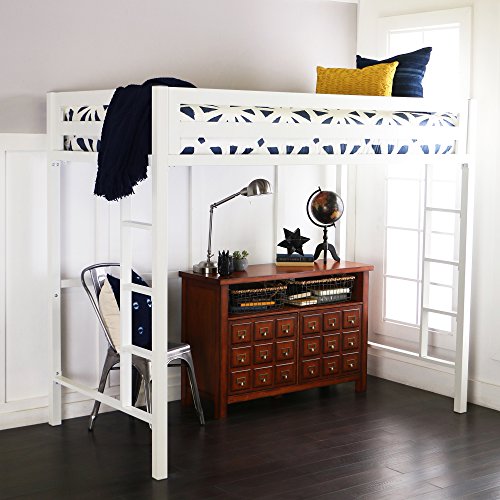 With a loft bed, you can create your own bedroom-in-a-box by placing a desk and shelves or dresser underneath. Or here's a few other ideas for what to do with the space under a kid's loft bed:
Arts and crafts station
Open play area
Play dress-up station
Reading nook
Study and homework space
Toy storage area
How about making a DIY bed frame with storage using (cube bookcases, like these, from BHG)? Watch this video to see how.
The above options are great for one child, but what about beds for two or more children sharing a small room?
3. Try bunk beds.
Bunk beds are a common choice for a shared kids bedroom and they come in an array of materials and colors to fit in with any decor…and budget. The twin over queen bunk bed below has, not only a trundle, but drawer storage as well. You can fit a whole lotta' little tykes in this baby!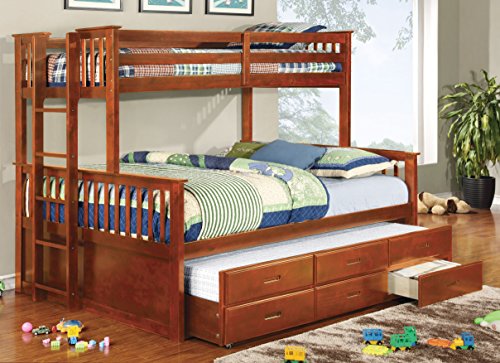 You can even make some DIY triple bunk beds like these. Click the pin for a full tutorial and plans.


4. Put the bottom bed perpendicular.
This gives the bedroom a more traditional look with the head of the bed against the wall. Some bunk beds, like this Discovery World Twin over Full bed, come already designed like this, or you could piece together your own bunk bed style sleeping arrangement. Use a loft bed for the top and a regular twin or full size bed perpendicular, underneath.
5. DIY some corner beds.
We love Ana White and all her amazing DIY projects! Corner beds with storage like these are a super practical way to fit two kids comfortably into a small room. The pin will take you to her page with the plans and instructions to build this cute bed.
6. Get creative with furniture arrangement.
For younger children who need more floor space to play, putting the bed against the wall makes sense. But for older kids you can get a little more creative with the furniture. Placing a bed catty-corner makes a room more visually interesting.
Utilize the corner space behind the head of the bed with an overhead floor lamp (this one is cool!) or some corner shelves (these would be cute!). In the picture above, notice the fold out side table mounted under the window, making a nice little homework space.
7. Choose furniture that's similar color to the walls.
If your walls are a light color (which helps to brighten a small room and make it appear less cramped), choose furniture in light colors also. Not that the furniture needs to match the walls exactly, but keeping the walls and furniture light opens up the room more.
Back to top

A kids bedroom must have an area where kids can spread out and play, preferably with all their toys close by. For teens, they need a study or homework area where they can also work on art or hobbies. Here's a few ideas to make that play or study spot work in a small space.

8. Use one whole wall for storage and play area.
For kids who are still in the toy stage, consider devoting one whole wall to toy storage and play area. It streamlines the look of the room, and the youngsters know exactly where their toys are (and where to put them away!). For older kids, this idea translates into storage, display and homework or study spot.
Use a combination of cube storage shelves and wall shelves, like they've done in the picture below. Or try a combination of large and small bookcases, plus wall shelves. To complete the look, add a play table or desk (depending on the age of your child) and you have a functional kid-friendly space.
Here's some items to help you get this tidy look:
9. Use pegboard.
Oh pegboard, how we love thee! This one simple board provides oodles of storage in a small kids bedroom, especially for corralling lots of tiny bits and bobs. Here's a popular pegboard organizer that comes in a variety of colors. Or here's a larger wood pegboard that you could frame or attach with others to make a pegboard wall.
Use one for organizing arts and craft supplies…
Or for desk stuff…
Or park trucks on it…
Or use it as a headboard.
Your play or study spot needs a desk or table for the kids to work or play upon. Here are a few space saving kids bedroom furniture ideas that will give their little brains the inspirational space they need, even in a small room.
10. Get a kids table with storage.
This little play table and chairs (pictured below) includes bins for storing Legos, play dishes, blocks, or anything else. You can get more info about it here.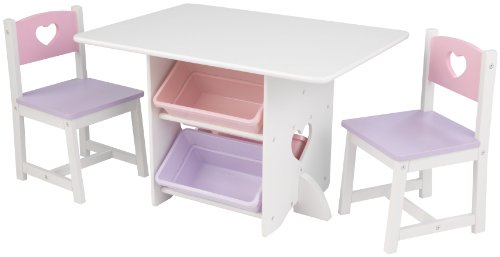 11. Use a floating or fold down desk.
For a preteen or teen, a desk that mounts on the wall or folds out is great choice for a compact kid's desk.
12. Make a DIY murphy desk.
Click the pin for a tutorial to make this cute and functional Murphy desk for your child's bedroom!
Back to top

Shelves to hold Books, collectibles, and decorative items are must-haves in a small space. Here are a few other ways to create storage for kids that maximizes the space in a small kids bedroom.

13. Put shelves around the door.
Use every inch of space by utilizing the space around the bedroom door for storage with shelves like the ones pictured below. What a smart idea! You can find some similar shelves here (the black ones are here).
14. Put shelves around the bed.
For an older child who doesn't need toy storage any longer, put shelves around the bed for loads of space to hold books and display collectibles.
15. Use picture ledges to store books.
The littles are more likely to read if their books are out where they can see them. Storing them by the bed makes for a convenient and cozy reading spot. Picture ledges are just wide enough to hold a selection of their favorite stories.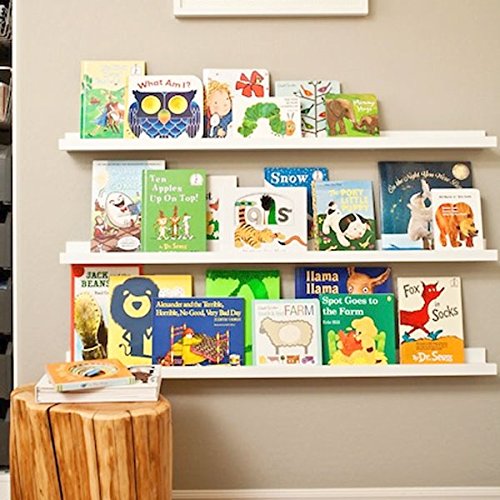 16. Or use Ikea spice racks.
These Ikea spice racks are all over Pinterest and are incredibly handy for all sorts of storage, including books.
17. Attach Ikea racks to a dresser.
In a small kids bedroom, we're fans of eliminating the need for a dresser. But if that's not practical, do what this blogger did and attach those Ikea spice racks to the side of it (you can paint them to match the dresser first).
18. Make some DIY corner hanging shelves.
Utilize a corner for storage with some DIY corner hanging shelves. The pin takes you to the tutorial.
The little kidlets need space to be creative and express their inner Picasso. We mentioned a play table with art supplies close at hand in #10 above, but here are a few other ideas to encourage creativity in a small kids bedroom.

19. Make a chalkboard wall for doodling.
If you can't devote a whole wall to chalkboard, tape off a rectangular or square section, paint with chalkboard paint (it comes in lots of colors, so you're not stuck with black!) and trim it out with some molding. You can buy smaller amounts in different colors here.
Or if you have a chair rail in the room, paint the lower portion with chalkboard paint.
If painting is out because you're renting, use peel and stick whiteboard or chalkboard to create some doodle space that way. It comes in a variety of sizes and you can buy both whiteboard and chalkboard through the link below.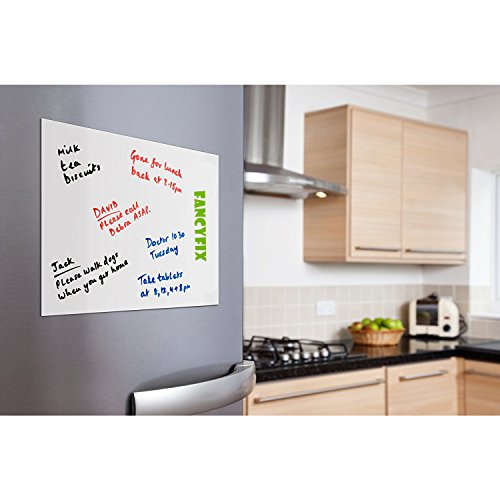 20. Hang rolls of paper for drawing.
Here's a clever idea from Better Homes and Gardens. Attach a dowel to a shelf and hang rolled paper on it for a disposable canvas for your little artists. Click the pin for details.
Of course, with all those creative juices flowing, the little tykes are bound to produce piece after piece of display-worthy artwork. Here are a couple cute ideas to show off their little creations.
21. Use clipboards hung on the wall.
This is such a cute idea and allows for changing out the artwork easily.
22. Or hang them with clothespins.
23. Create a DIY magnetic board.
Attach a sheet of galvanized metal (you can get it pretty cheap from a home improvement store or you can find one here) to the wall and hang drawings and mementos with magnets.
Or use an oil drip pan (like this one)
Back to top

Now we come to toy storage. Kids do be toy collectors! If you've accomplished our first tip to purge, hopefully the toys that are left aren't too overwhelming. Here's some simple and stylish children's toy storage ideas.

24. Use storage cube organizers.
Cubed organizers (here's a wide variety of them) are perfect for kids storage because whether you use fabric drawers, baskets, or colored bins, the toys and doodads are neatly hidden away.
Plus, you can get a few because they're relatively cheap, and arrange them in a variety of configurations. A 3 shelf cubby storage unit turned on its side is perfect for the end of the bed or under a window and doubles as a bench. Here, they've flanked one with a couple taller units.
25. Use pocket shoe organizers.
Shoe organizers aren't just for closets. Pinterest is loaded with ways to use these all over the house. Hang them on the wall or the back of a door.
They work capitally for small toys and figurines…
And for Barbies…
Or art supplies.
26. Use bins.
Bins made of plastic, wire, wood, or anything else you can think of, are fantastic toy wranglers. Their open style makes it easy for the tots to find what they want AND put them away easily. Well…in theory anyway. This multi bin toy organizer is sturdy and great looking.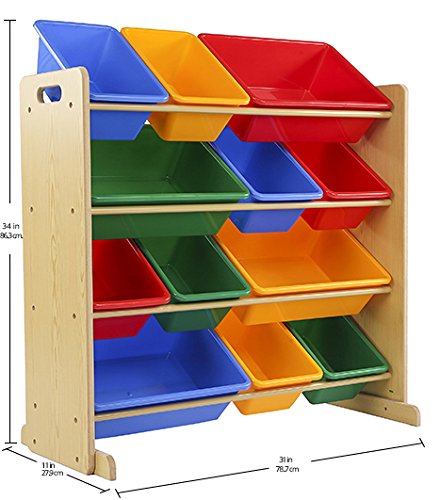 You can make a DIY wood bin storage unit with a shelf, like this one, using the directions found when you click the pin.
27. Make a chair from stuffed animals.
Why does it seem like the stuffed animals multiply? Just what are they doing when the kiddos aren't around?
There are lots of fun storage ideas for those furry beasts, but we're just going to highlight this one because it was so clever. (By the way, you can visit our Pinterest board for more ideas!)
Make a soft animal stuffed chair!
There are lots of clever products to corral the little guys (the stuffed animals…not the kids). You can find several here.
28. Make use of storage ottomans.
We love storage ottomans for their many uses and they can be utilized in a kids bedroom really well. For toy storage, their size makes them preferable to a big toy box. Kids don't have far to dig to find the toy they want when they're stored in smaller containers like these. Put a couple at the food of the bed for both seating and toy storage.
These cute fire truck ottomans are durable and affordable.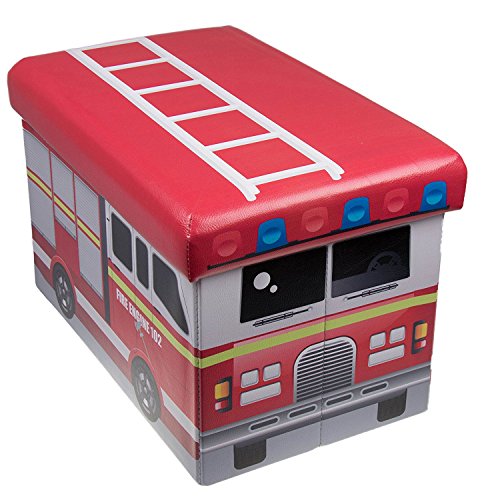 These connectable storage ottomans look cute in a kids bedroom and can be configured a number of ways and come in a variety of colors.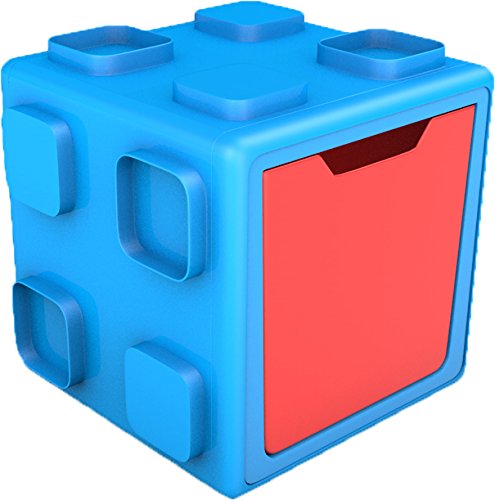 Finally, we come to kids closet organization. Here are a few closet ideas for a small kids bedroom, to inspire you to new organizational heights.

29. Put the dresser in the closet.
As I mentioned earlier, we're big fans of finding a way to eliminate the need for a dresser in a kids bedroom. They just gobble up precious floor real estate that can be better used for play space. If you can fit a dresser in the closet and use the top for storage as well, you might find it to be a real space saver.
Or simply use inexpensive plastic drawers in the closet (like these).
30. Use closet organization pieces to create a custom closet.
Many parents have illustrated on Pinterest that smart use of closet organization pieces can create a unique closet arrangement that works perfectly for their child's needs.
Using a combination of Closetmaid storage cubes and hanging organizers, you can make a custom closet system for a bargain price. Other brands have storage cubes and shelf units as well, such as Ikea.
31. Attach plastic bins to the underside of a closet shelf.
This is a clever idea for the little bitty kid's clothes, like under garments and socks.
32. Use the door jam space.
These DIY closet racks (made by Ana White, of course!) make use of the little bit of door jam space in a closet. The pin will take you to the full instructions.
33. Make a child-size desk space in the closet.
Depending on your closet space needs, this is a great space saving idea for a small kids bedroom.
34. Replace closet doors with curtains.
Closet doors can be a hassle. The ones that fold back are always a pinch hazard for little fingers. The ones that open out are space hogs, and the ones that slide make it impossible to see everything at once.
Consider removing the doors altogether and replace them with a curtain. This works well in conjunction with tip #33 above..
Lastly, below are a couple decorating tips for kid's rooms.
35. Use a solid or simply patterned rug.
A rug adds warmth and depth to a room, even if the floor is carpeted. If you use one in your child's bedroom, pick one that's a solid color or with a very simple pattern. The floor in a child's space already gets cluttered with toys, and a rug with a busy pattern will just add to the chaos. A simply patterned or solid rug helps maintain a neater look.
36. Add accent colors throughout the room.
Once you've sorted and organized the room, and have your furniture and storage solutions in place, it's time to add in decorative elements. Of course you'll use bedding and curtains in your color scheme, but add those same colors in other areas around the room for a cohesive look.
Think about the color of your lampshades, artwork, picture frames, decorative items, pegboard, storage bins, and other items and try to make them enhance the room's decor with their color. It's those final touches that really make a room look finished.
Here's a few product suggestions to get this cute bedroom look:
If you liked this post, please pin it!
And for more small kids bedroom decorating ideas, follow our Pinterest board.
You might also like these articles: