No room for a fridge in your kitchen? This is a common dilemma for those of us who live in a small apartment or tiny home. With a small kitchen, we also have to make trade offs that enhance our lives or save us time, like prioritizing space for a dishwasher. Good news is that with some creatively and practicality, we can find that perfect solution to accommodate a fridge in a small kitchen (even though we also like an excuse to eat out more often).
When you have no room for a fridge in your kitchen, there are a few things that you can try, like creatively rearranging other appliances, utilizing a small fridge in the kitchen and a freezer in the garage, placing a small fridge in a cabinet, or removing a piece of storage to fit a fridge in there.
So how do you accommodate a fridge in a small kitchen? Here are 6 cool ways:
Make Space for a Refrigerator
Take a good look at that small kitchen and the positioning of your stove, cabinets, dishwasher, and other appliances. There's a lot of potential for some kitchen tetris in there and with a bit of legwork, you'll soon be on your way filling up the cart at Whole Foods because you've got some space to keep your ingredients cool.
A few ideas that we'll go into are redesigning the oven situation and transitioning from a traditional (and big) stand-up oven to a wall oven to create space, moving storage above the fridge, and removing a cabinet or two to make space.
Install a Wall Oven to Create Space
Most ovens are so big and bulky. Do we really need so much oven? Because if your goal is to get a fridge in there, we need to reassess the oven situation. You can remove that vertically standing oven and replace it with a wall oven to create space for a fridge. A wall oven will allow you to add space underneath and/or on top of it.
And if you already have a wall oven and that fridge just won't fit in that kitchen, you can try to play around with the space under the oven. If you have a dishwasher or a few cabinets at counter level with space at the top, a wall oven can go right on top of it and that former oven space will make room for your fridge.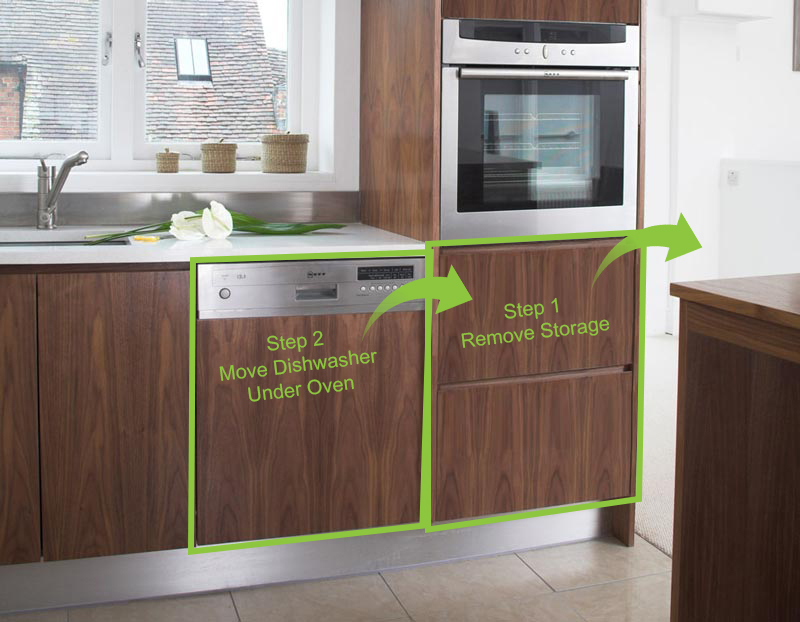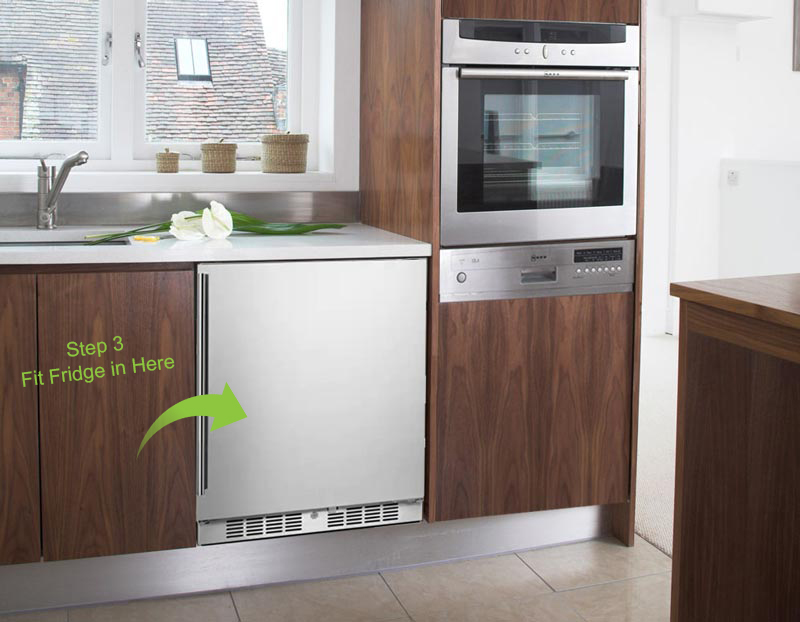 Note of caution: According to sfgate.com, it's not a good idea to put a fridge right underneath a wall oven because the fridge uses ambient air to keep the temperature of the coolant low (and your fridge cold). An oven warms the air and the warmer that air is on top of your fridge, the more work it has to do to keep things cool which can lead to higher energy costs and quicker wear and tear.
So it's better to use a wall oven to create space for other things that you can rearrange, like moving the wall oven on top of a dishwasher and using the newly created space for the fridge.
Move Storage Above the Fridge
If cabinets or other storage spaces are taking up the majority of your kitchen area, you can also consider moving this storage space above the fridge. This is a particularly good idea when you want to hide things like cookie jars from your kids, your pets, or even yourself. That's two birds with one stone – a fridge in your kitchen and a bit more work to access sweet treats .
These are a few cool ideas to get more out of that potentially awkward space above the fridge. If you're a vino lover like me, then this idea might be your favorite – an above the fridge wine rack.
Plus, a few simple shelves can work wonders above the fridge for some added storage practicality and style.
Remove a Cabinet or Two to Make Space for Your Fridge
We have to make some trade offs if we want to make room for that fridge, so if cabinet space is getting in the way, you can also consider removing a few cabinets. This is especially relevant if you have an older kitchen with too many cabinets taking up space. If you don't want to do any of the hard work to remove these cabinets (who's with me in the chill-boat?), you can get a small fridge and fit it in the cabinet. See more on that below.
Make Your Kitchen Look More Spacious
Using the colors of the cabinets around the fridge like This Old House can help it blend in and give the perception of more space. Lighter colors also brighten up the space, making the kitchen even more inviting.
Related: 22 Incredibly Smart Kitchen Space Savers for Small Kitchens
Consider the Multi-Fridge
And we're not talking about in the multi-verse. The idea here is to create just enough space for the convenience of a fridge in the kitchen where you need it most. That means ditching the bulky traditional standing refridgerator and using a mini-fridge for the kitchen.
Put an Extra Fridge or Freezer in Another Room
You can put a mini-fridge in the kitchen and then put a separate freezer in the garage or in another room.
You can also put a small fridge in the kitchen for food essentials and then add a separate mini-fridge in the living room specifically for keeping your white wine, beer, mixers, and other party or Netflix binge-worthy drinks chilled and even more easily accessible.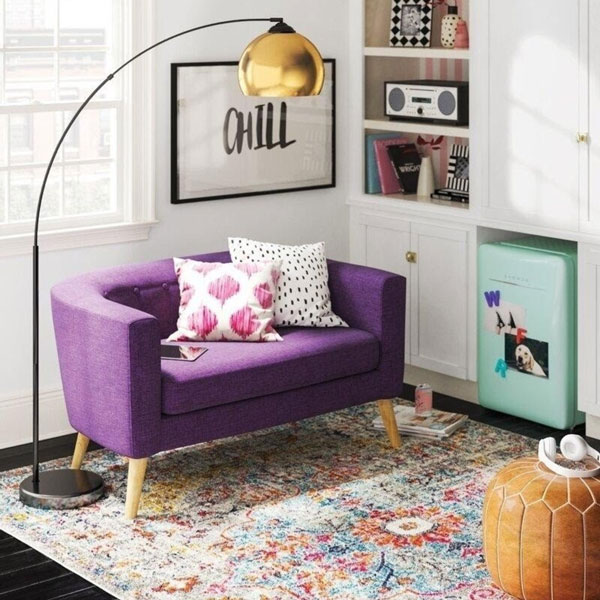 Other Things to Consider
Leave Enough Space Around the Fridge
Wherever you decide to place your fridge, make sure that there's enough space around it. Having too little space can reduce the lifespan of your fridge because of risk of overheating. According to Samsung.com, a refrigerator requires a minimum space of 2″ for the sides and 4″ from the top of the fridge.
Define Your Priorities
Lastly, it's important to consider what it is that you absolutely cannot go without in your kitchen. If the fridge is at the top of your list, then other things like storage space can be moved above the fridge or outside of the kitchen. If you can do without an oven, then a small stove will do and you can use the old oven space for your much needed fridge.
And there's an added benefit while you're in design mode sans fridge – eating out and ordering in is guilt free!
For even more space saving inspiration in the kitchen, check out these articles: