Living in a tiny space has its perks. One of them is, of course, the lack of bathroom storage… I'm joking, that's not a perk. In fact, it kind of stinks because no cabinets or drawers in the tiny bathroom means you're forced to store your toiletries in another room altogether – usually the bedroom. 
How do you store your toiletries in a bedroom without making it obvious? Especially if you don't have much space there, either? Don't worry, we've got a few tricks up our sleeve.
5 Ways To Store Your Toiletries In Your Bedroom
If you think about it, there two reasons your bedroom is the smartest place to store the toiletries you can't fit in your bathroom. 
Your bedroom is usually closer to the toilet than any other room in your living space. This makes it a handy spot to store your skincare products and other bathroom essentials. 
Guests aren't as likely to go into your bedroom because that's your private space. This means they're also less likely to see your toiletries and judge you for your choice in tampon brand. 
With those reasons in mind, here are 5 ways to keep your toiletries out of sight and out of mind in your bedroom, yet still easily accessible for those quick bathroom trips.
1. Hide Them In Bins Under Your Bed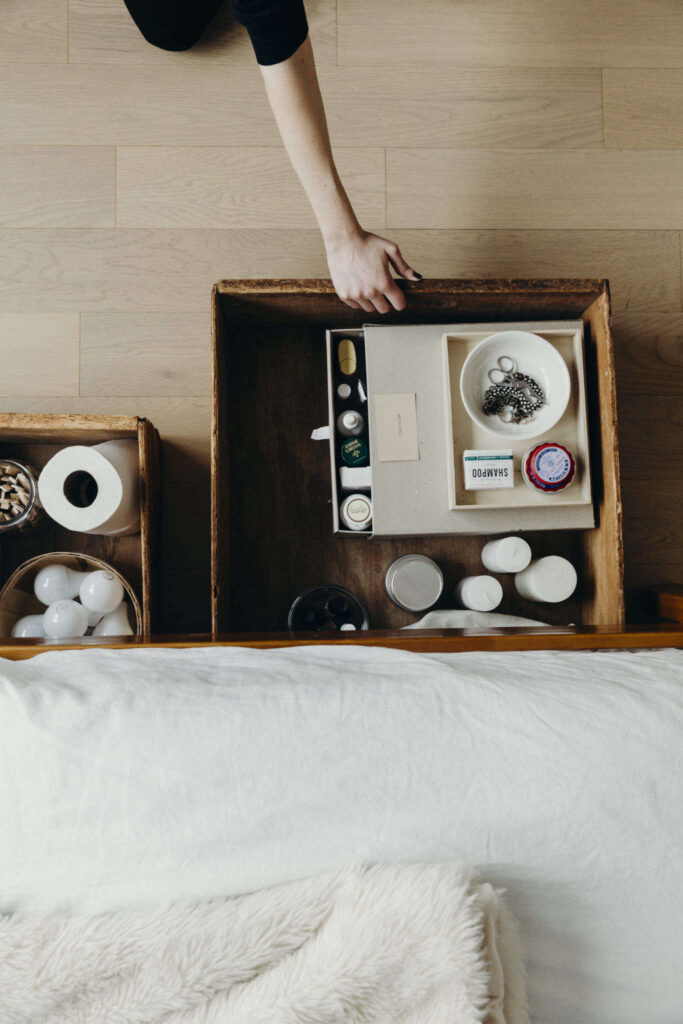 If your bed frame stands just a few inches above the floor, you can purchase storage bins like these to slide underneath. They don't have to be very tall; you can always lay your cosmetic bottles and skincare products and other tall items down. Towels can be folded or rolled up, and tampons and pads are easy to cram into tight spaces. The beauty of this solution is that once the bins are pushed in, you don't see the clutter inside them.
2. Commandeer A Dresser Or Nightstand Drawer
If you own a dresser or a nightstand with drawers, you can commandeer one of the drawers and fill it with toiletries. This way, when it's closed, no one will ever dream that you're storing things like hairstyling products or face cleansers in it. Plus, it's easy to access, as well as fun to organize. Purchase some miniature plastic bins like these to slip inside and keep your essentials separated, neat, and tidy.
3. Keep Them In Your Closet
Most of us don't have much closet space to spare in a tiny space, especially those of us who love clothes (wait, are you looking at me?!). But if you take a second look and maybe do some weeding out and reorganizing, you may find that you have space for one or two small baskets or bins to keep your toiletries in. They can also be stored amongst your wardrobe in a hanging closet organizer like this. As long as you keep your closet door shut, who would ever guess that your closet is doubling as bathroom storage? 
4. Hang Them On The Back Of The Door
Over-the-door organizers like this one from Amazon are the perfect space-saving bathroom storage tool for your bedroom. It fits over the back of your bedroom or closet door, so that when the nosey Nellies in your life (hey, Mom!) come to scope out your digs, they'll be none the wiser that it's there. Plus, this type of storage solution frees up space in the rest of the room – so you can store even more toiletries! 
5. Store Them In Bins Or Baskets On Floating Shelves
When you're running out of floor space, look to the walls! Bookshelves take up a lot of real estate, but you can save a ton of room by installing floating shelves. Next, get some cute baskets or bins that you can't see through, fill them with toiletries, and line them up neatly on the shelves. Anyone who sees them will just assume they're decoration, or that they hold books or other personal belongings.
How Do I Organize My Skincare Products In My Bedroom? 3 Quick And Dirty Tips
Storing your skincare products and other toiletries in your bedroom is one thing. But how do you keep it all organized? Below are 3 quick and dirty tips which will help you keep your skincare products looking clean and tidy, even though you're storing them in your bedroom. 
1. Transfer Your Liquid Skincare Products To Slimmer Reusable Bottles
We all know the struggle of using a skin product that comes in a bottle that's way too big. The worst part is that the size of the bottle becomes even more noticeable – and cumbersome – as the contents shrink. To store your liquid skincare products more easily, purchase a set of slim reusable bottles like these, and transfer the contents for an easier, more compact storage solution. Remember to label them so you can tell them apart!
2. Keep All The Skincare Products You Currently Use In One Bin
If you use multiple skincare products, don't spread them all around the room. Instead, store them all in a single bin or another type of container so that they're all together. Then, when you go to the bathroom, you can just schlep the bin and have everything you need in the same handful.
3. Store Your Skincare Products In A Shoe Organizer On The Back Of Your Bedroom Door
Back-of-the-door shoe organizers like this one aren't just perfect for storing shoes. They're also just the right size to hold different sizes of bottles containing skincare products. The pockets keep them upright, the plastic is easy to clean should a lid pop and some of the liquid spills out, and the door's proximity to the bathroom makes for short convenient trips back and forth.
For more handy dandy bathroom storage hacks, check out this article:
30 Decorating Tips and Storage Ideas for Small Bathrooms
* Featured Image by Kier In Sight on Unsplash