Have you also had one of those days where you walk into a Target, a Bed Bath & Beyond, or my personal favorite a TJ Maxx with a list of 3 things to get for the kitchen and then somehow a dozen must-have things appeared in your shopping bag? But emergency…there's hardly any cabinets, so where's the best spot for my new absolutely essential quesadilla maker?
This is obviously a question that many of us have, whether we live in an apartment with a smaller kitchen or a home with a kitchen that lacks storage. Lack of cabinetry forces us to be a bit more creative with our space, but we can find storage for all our kitchen must-haves with the right tricks. 
When you're wondering how do I organize my kitchen with few cabinets, there are creative solutions you can use, like utilizing drawers, adding shelving, and bringing in moveable storage. 
Here are a few clever storage ideas for small kitchen. 
Creative Storage Solutions 
When your kitchen lacks cabinet storage, bringing in other storage solutions is an easy way to increase your space without making any extensive (or costly) structural changes. With a little creativity, you may be surprised at home much space you actually have for margarita glasses, even if your kitchen is on the smaller size. 
Add Moveable Storage
Moveable storage is an excellent way to increase your storage area and your working space. Not only can you place it where you want it, but you can remove it if you need more room to move around. 
There are many options for moveable storage in different shapes and sizes to fit any decor and kitchen size. A rolling cart is a great choice to help you organize your kitchen appliances, so you can access them when you need them and keep them out of the way when not in use. We love this one for its three tiers which can accommodate different appliances, wine rack to keep your vino easily accessible, and stainless steel top for a modern touch. 
Another excellent option is a removable island. Along the same lines as the rolling cart, a moveable island is larger and offers more storage choices. You can keep pots and pans stacked neatly inside, use the drawers for utensils, and hideaway appliances to keep your countertops clean and decluttered. This one has doors to keep your kitchen looking tidy, a kitchen towel holder, a spice rack, sturdy wheels for easy moving, and several color options to blend stylishly into your decor.
Utilize Bins and Shelves
Bins are an excellent way to organize your kitchen when you're short on cabinetry for the other essential that came back with you from your TJ Maxx run, like those sunnyside egg molds. Bins allow you to place like items together and hide away what you don't want to see. 
Plus, there are many different types of bins to match any decor, giving you the option to update your space while getting organized. You can use clear bins for quick and easy access to snacks or solid ones to conceal utensils. The possibilities are endless, and with so many varieties, you can easily find options to fit your space. When searching for the best choice for your kitchen, keep these five things in mind:
Material – Choose a durable option for long-lasting storage
Size – Make sure it fits the available space 
Capacity – How much can it hold
Design – How does it match your decor
Lid – Does it need a lid for freshness
Another useful organizational tool is adding shelves to your available wall space. Floating shelves not only look great, but they give you a place to put plates, cups, or anything else you need that needs a home. They may seem hard to install, but you can hang them quickly and easily with this tutorial.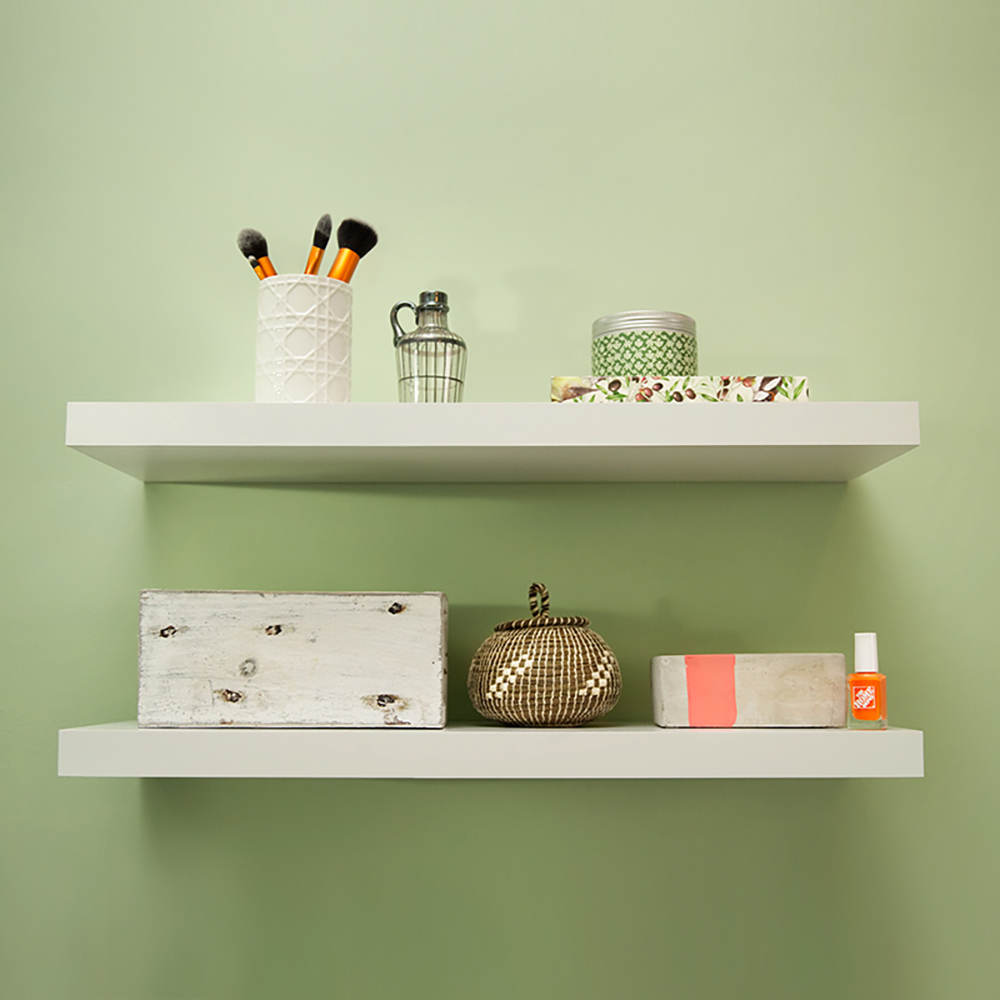 Use the Space you Already Have
You may not have cabinets for that air fryer, but chances are you have room in your kitchen that you haven't utilized that can help keep you organized. 
Use Your Oven
Did you know you have extra storage sitting in your kitchen right now that you can use to help keep you organized and clear up much need space? That's right; your oven is an untapped gold mine of unused room just waiting to be utilized. 
Ovens range in size, but according to the data, their interiors are between three to five cubic feet, which is around the same size as a typical cabinet. You can store your pots, pans, and cookie sheets inside and beneath your oven, clearing up a large amount of cabinet storage for other items. Just make sure you remember to remove them before you use it! 
Utilize Drawers
Drawers are an excellent way to keep your kitchen organized and ensure that you have everything you need at your fingertips. However, many people don't utilize their drawers as they should, which is a missed opportunity for increasing organization. To get the most out of your drawers, use dividers for utensils to keep them neat and tidy. We love this one for its compact shape. 
Use Additional Rooms
If you've used our other tips and find you still have too much stuff and not enough space, you may have to use additional rooms to stay organized. Try putting appliances in the laundry room or getting a storage system for the garage to use as a pantry. By removing larger items from your kitchen and placing them in other rooms of your home, you can keep your countertops clear, which minimizes the look of clutter and helps you stay more organized. 
Organize Your Existing Space
Ensuring the space you have is neatly organized is the best way to make the most of what's available without spending a cent. It may take a little time and effort, but you'll be amazed at how good your kitchen looks and how great you feel once you're done!
Declutter
Take everything out and go through it, one at a time. Donate any utensils or appliances you haven't used in the last six months, and throw out any expired food. 
Make it Flow
Place items you use together in the same area, so your kitchen flows. Things you use the most should be easily accessible and within reach. 
Don't Stress
Don't stress about making it perfect. As long as it makes sense to you and is neat, that's all that matters. 
For even more space saving inspiration in the kitchen, check out these articles:
* Featured image by Dane Deaner on Unsplash