You've waited nine months, and now you're finally ready to bring your new bundle of joy home; there's just one problem, you have nowhere to put them! The bedroom you have is tiny, and there doesn't seem to be any room for a crib. What's a parent to do? Well, you can either utilize a dresser drawer (hey, it worked for great-grandma Phylis) or you can try out a few storage-saving tips to give your little human a proper bed. 
While we don't recommend putting your baby to sleep in the dresser, many parents face the question, "what if you don't have room for a crib?" Don't worry; even if your home is small, there are ingenious ways to utilize the space and ensure your baby has somewhere to lay its tiny head.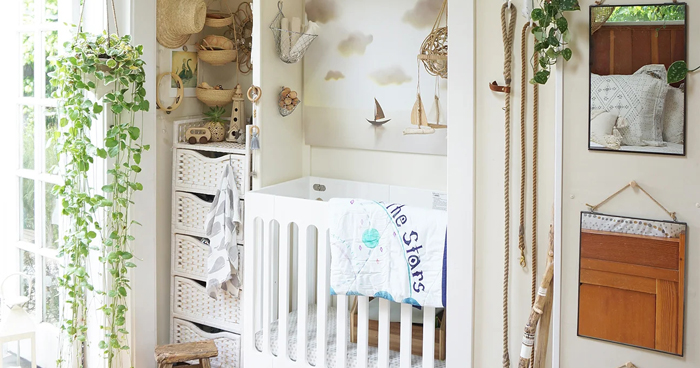 If you're ready to get the most out of your bedroom and find space for a crib you didn't know you had, just keep reading! 
1. Plan It Out
The first step to finding space you didn't know you had, is planning out the room's layout. Chances are, you have more usable area than you think, but the current setup isn't maximizing it. 
Putting a bed against the wall often frees up space in the center of the room and allows you to move dressers, creating more usable wall space. This process takes some time, so don't try to rush it. Play around with different layouts and see which one makes the most sense. 
Using graphing paper to simulate the space and making cutouts of the furniture you want to include are great for visual learners. You can also use a room planning site like this one, which lets you make 2D and 3D renderings of the space and plan it out accordingly. 
2. Prioritize 
Think to yourself, "do I really need three bookshelves in the bedroom?" Probably not, which is why prioritizing the furniture inside the room can help you clear up precious wall space and find room for a crib (along with a darn good reason to finally get a Kindle…for bed time stories too!). Write out a list of what you would ideally have in the room and what is truly necessary, and see what you can include and what you should take out. 
Having a changing table may not be necessary, the floor works just fine, or instead of an oversized chair, choose a smaller one. There's nothing wrong with having a bedroom with minimalistic furniture; it helps clear the mind and encourages relaxation (both of which you're going to need as a new parent!)
3. Choose A Smaller Crib
Did you know that cribs aren't all one size? It's true! Standard size cribs are about 52″x 28″ while a mini version is only 24″x 36″. That's a big difference! Although a standard size crib is the most popular, mini ones are available that take up far less space while providing adequate room for your growing baby. We love this one because it's convertible into a toddler bed and a twin size bed as your baby grows and comes in eight beautiful colors. 
Mini cribs are an excellent option for smaller bedrooms, but you can also choose a bassinet for newborn babies. We love this portable option for its sleek and compact design. Bassinets are great since you can move them around the house; just make sure you move your baby out of it once they can roll and lift themselves up. 
4. Utilize Corners
It's tempting to want to put the crib in the middle of the wall; however, pushing it to a corner is a great way to make the most of the space and allow for more furniture to fit into the room. 
You can also clear out the closet and place a dresser inside, which can help eliminate the feeling of clutter and give the room a more airy feel. As with anything that involves children, ensure all outlets are properly covered, and there is nothing within reach that could harm your baby.
If your placing the crib underneath a window, remove any coverings that they could pull down, and in no circumstances should your baby ever be able to reach the pull for the blinds, which is a hanging hazard!
5. Take Advantage Of Storage
As anyone with a small space knows, storage is everything! Taking advantage of every nook and cranny can help clear up a room and create an area for a crib. Use under the bed storage containers for seasonal items or utilize wall space with fashionable floating shelving. 
You can find adorable decorative hangars and wall hooks that work great for the diaper bag and towels and choose collapsable fabric bins to hold small items like socks, diapers, and bibs. Use the top of your closet to stack items to clear up space in the bedroom, and you may find you have the perfect place for your baby's crib! 
6. Convert a Closet into a Nursery
You say you have no space for a crib in the bedroom…but have you thought about that bedroom closet? Doors take up a considerable amount of space in a bedroom, keeping you from accessing much-needed floor and wall areas. By removing closet doors, you can regain up to three feet and make room for a crib that was inaccessible before.
Once the doors are down, you can use curtains to provide privacy and keep the room looking tidy. Plus, you can choose cute patterns and designs to give the bedroom a comfortable and inviting feeling! We love these to bring a bit of the wild into your baby's room, and they work great for boys and girls! 
By removing the closet door, you can create a beautiful solution for both storage and crib. If this sounds like a fab idea for your growing fam, feel free to obsess about like we did with even more nursery closet ideas.
7. Don't Forget Decor
If you've moved your furniture around, downsized the crib, and made room for your baby, don't forget about decor. Paint can make a small room feel larger, and adding wall hangings can create a cozy feeling. Even the smallest spaces can feel roomier when they're light and bright.
Here are some great tips on how to Decorate Your Tiny Place so it Feels Larger!
When there's no room for crib in bedroom, it can make you feel discouraged or overwhelmed. But by using these few simple tips, you can find space for your baby's crib and make sure they (and you) get a peaceful night's sleep! 
For more small bedroom ideas, check out these posts: