When you live in a tiny space, there's barely enough room for you and your spouse, let alone your mother-in-law. But we know our mothers-in-law, and we know that they're coming to visit whether there's room for them or not! 
So, when there's no room for mother-in-law, how do we make her feel comfortable staying in our small spaces? Lucky for you, we've got plenty of tips to maximize your tiny home's person-squeezing potential.
Where Will My Mother In Law Sleep?
First, we must address the elephant in the room: just where is she going to sleep?
If you live in a tiny house or apartment, we're assuming you don't have a guest bedroom. So, unless you want your mother-in-law bunking with you and your spouse in your bed (ew, gross!), she'll probably sleep in the living area or whichever of your common spaces has the most room.
With that in mind, check out these 3 tips for finding a place for your mother-in-law to sleep in your tiny space.
Purchase A Sleeping Couch
You'd be amazed at the number of different sleeping couches you can find on the internet. All shapes, colors, styles, and innovations are at your fingertips. 
What do we mean by "innovations"? In this context, we mean couches that convert into beds that still work for your small living space. The back of this Serta Rane Convertible Sofa folds down easily so you can convert it into a bed at the end of the day. The next morning, all you have to do is pop the back up again and boom: it's a sofa again! Talk about space saving innovation! 
You can also go with an old-fashioned pullout sleeper sofa. This way you can give your mother the comfort of a full-size bed without sacrificing permanent space.
Use A Portable Cot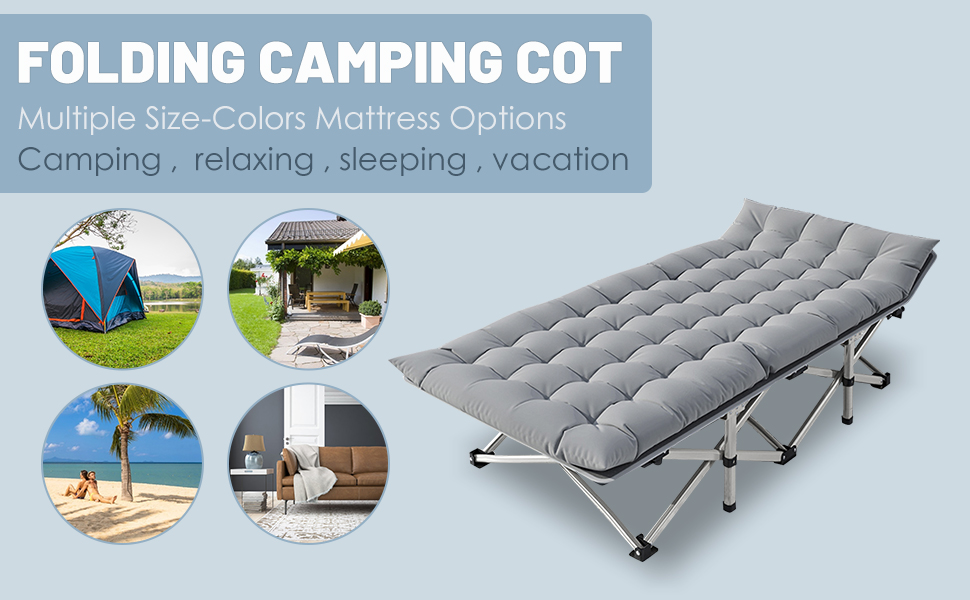 Cots are not just for camping. They're also the perfect tiny home sleeping solution for your mother-in-law's next visit! This is because they can be easily folded up when not in use. Many of them are surprisingly comfortable, like this folding camping cot by a brand called Slsy. 
Keep An Air Mattress On Hand
Air mattresses are easy to store and are pretty cost effective for short stays. You don't even have to buy your own pump anymore because so many air mattresses come with a pump pre-installed in the side. Brands like this twin EZ Inflate Air Mattress from Amazon include both inflate and deflate valves, making taking it down as fast and easy as setting it up.
How Will My Mother In Law Store Her Belongings?
If your mother-in-law is in for a long stay, then she would probably appreciate not having to live out of her suitcase the entire time. Like any good host with their honored guest, you should provide her with storage solutions for her toiletries, clothes, and anything else she may have brought with her. Some people have special dietary restrictions, and if your mother-in-law is one of these, you should be prepared that she will bring her own food, as well. 
But in a small home, providing extra storage for a person who doesn't live with you may seem like a tall order. Don't worry about the space. We promise you: it's there! Just follow these 5 tips and you'll find it's easy to store your mother-in-law's belongings when she comes to visit.
Set Up A Collapsible Garment Rack Where She Can Hang Her Clothes
If your mother-in-law tends to bring lots of hanging clothes and you find that you just don't have room for them in any of your closets, it's time for a different approach. A collapsible garment rack may be just the thing. When not in use, you can collapse it and store it under your bed, in your closet, or behind a sturdy piece of furniture like a dresser. Then, when your mother-in-law comes, simply take it out, expand it, and set it up for her use wherever she is staying in your home. 
Hang A Garment Bag For Her In Your Closet
Maybe you don't have the room for a collapsible garment rack, or maybe your mother-in-law doesn't need quite that much room for hanging clothes. If that's the case, purchase a garment bag like this one from MISSLO (or use an old one of yours that you've cleaned properly first) and hang it in your closet. This way, her clothes can hang up but there is no chance her clothes will get mixed up with yours. 
Give Her A Collapsible Hamper for Laundry
One of the things I always forgot on a vacation is a laundry bag to keep dirty clothes in. Chances are your mother-in-law may forget, too. Provide her with a bag or even a collapsible hamper like these Lifewit Laundry Hampers that come in a few pretty shades like grey, pink, and blue. With a collapsible hamper, you can fold it up and store it away when she's not there. 
Collapsible Fabric Bins Are Your Friend
Fabric bins that collapse are your friends when it comes to storage solutions for your mother-in-law's visit. When your mother-in-law is visiting, she can use them to hold toiletries, small articles of clothing such as underwear, her nighttime accessories (book light, lip balm, pills, you get the drift), and anything else she needs. Then, when she's gone, fold the bins and put them away. 
Fabric bins come in an infinite number of colors and designs, so matching your existing color scheme should be a breeze. Here are a few fabric bins to try out that come in different colors and designs, because why not visit in style?
Use A TV Tray For Her Nightstand
Now she's all snuggly in bed but wait: she has no nightstand! No place to put her glasses or her flashlight where she can easily reach them in the dark if she needs to! 
Not to worry, there's an easy solution. It's called a TV tray. 
It's actually super easy to set up as well as take down and store out of sight for the day. And after she's gone, you and your spouse will have something to eat off in the living area while you watch your favorite streaming series, just like they did in the good old days. 
Now that we found space for your mother-in-law, check out this cool article about finding space in your kitchen for your fridge.
No Space for Fridge in Kitchen? 5 Cool Ways to Solve It (+ Before & After Photos)