When you first see a small bedroom, you might think that you're always going to feel a bit cramped. But don't stress too much because you can get that zen feeling of a larger space with the right colors. You can enlarge your room by using colors that recede and by bringing attention to elements that pop. Small rooms need a subtle balance of both of these visual effects to feel less confined. Plus, with the right decor and a good layout, you can make any room feel bigger. Let's take a look at some tips for making your small bedroom feel bigger than it is.
What Colors Make a Small Bedroom Look Bigger?
Not all colors will make a bedroom seem larger. Some can make a room feel cramped and closed in, while others have the opposite effect to lighten and brighten and therefore open up the space. Blue can make a room feel smaller and cold, so it's not the best choice for bedrooms. On the other hand, red, orange, and yellow can make a room seem bigger. Yellow is an optimistic, cheerful color that can make a room feel more spacious. Orange is another warm color that can also make a room feel more open. And red, although it can be energizing, is also a relaxing color that can expand a room. Green can go either way. It can either make a room feel spacious or closed in, depending on the shade chosen. So if green is your favorite color, opt for a lighter shade.
Dark colors can make a room feel smaller, while light colors can make it seem more spacious. If you can, lighten up the walls in your bedroom. If you have dark-colored walls, paint them with lighter shades. If you can't paint the walls in your bedroom, try adding decorative elements like lighter-colored wallpaper, artwork, or decals. You can also use sheer curtains to lighten up the room.
White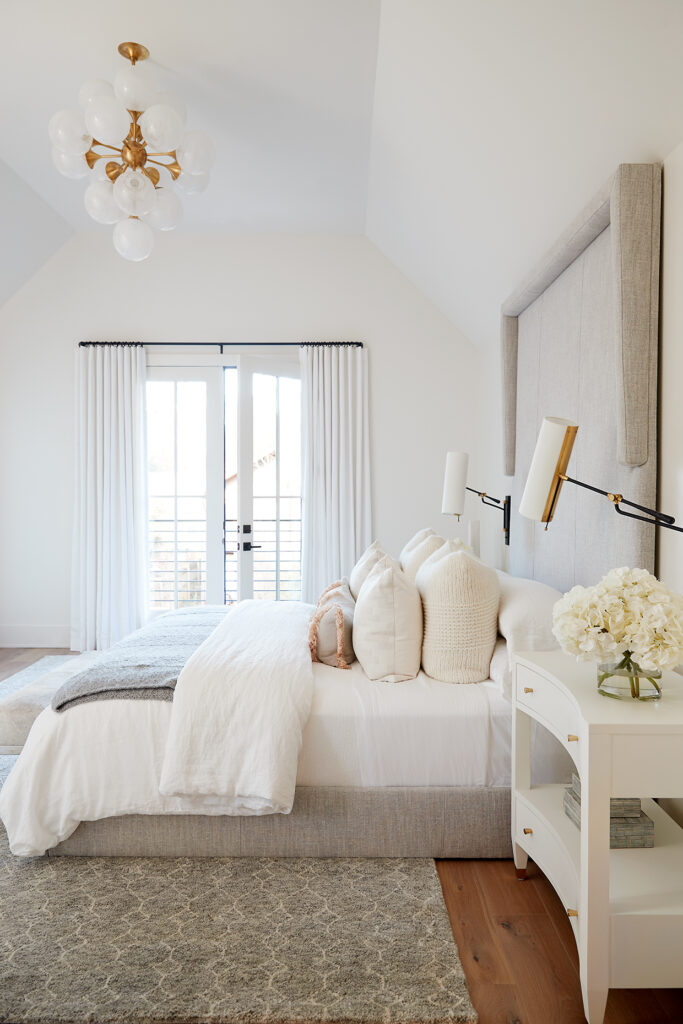 There is no color that has the ability to make a room appear bigger than white. This is a very bright and clean color, and it can make a small bedroom appear lighter and more spacious. If you have a very small bedroom, it is worth thinking about painting it all white. You may be surprised at how much that can transform the room. White is also a very versatile color that can be combined with many other colors to create bold and stylish designs. You can paint the walls white and then use colorful accessories or throw blankets to add some color to the room, without making it look too "busy". Another advantage of using white to make a small bedroom look bigger is that it reflects light, which is useful in rooms with not much natural light.
Light Green / Mint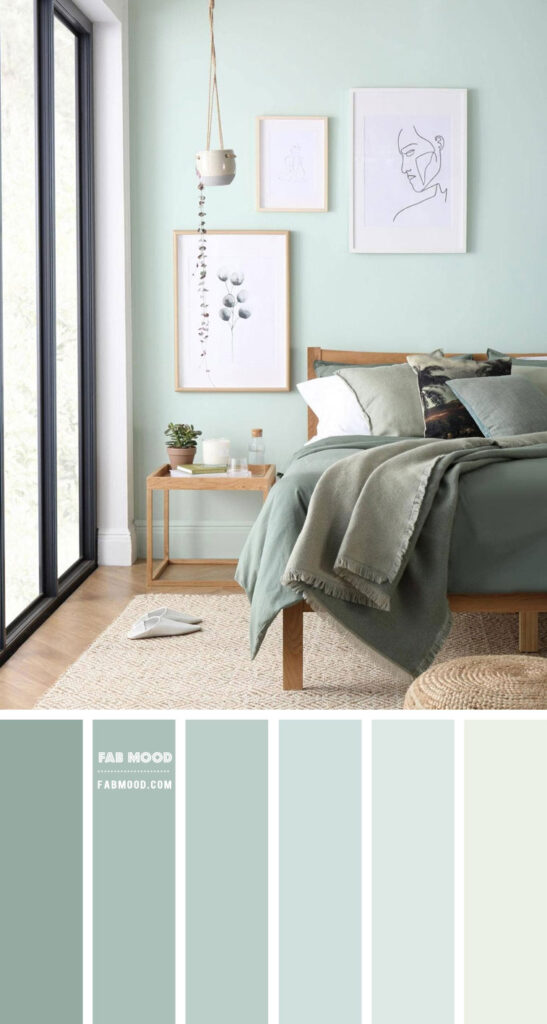 This is a great color for a small bedroom because it is very fresh and vibrant, but it is not as bold as red or blue, which can make smaller rooms appear even smaller. Light green can be combined with most other colors, so it is very versatile, and it is also a relaxing color that is calming to the mind. If you want to create a design with a lot of color in it, but don't want the room to feel too small, then light green is a great color to use. Light green and mint combine very well with brown colors so if your room has wooden furniture, definitely consider this color.
Light Blue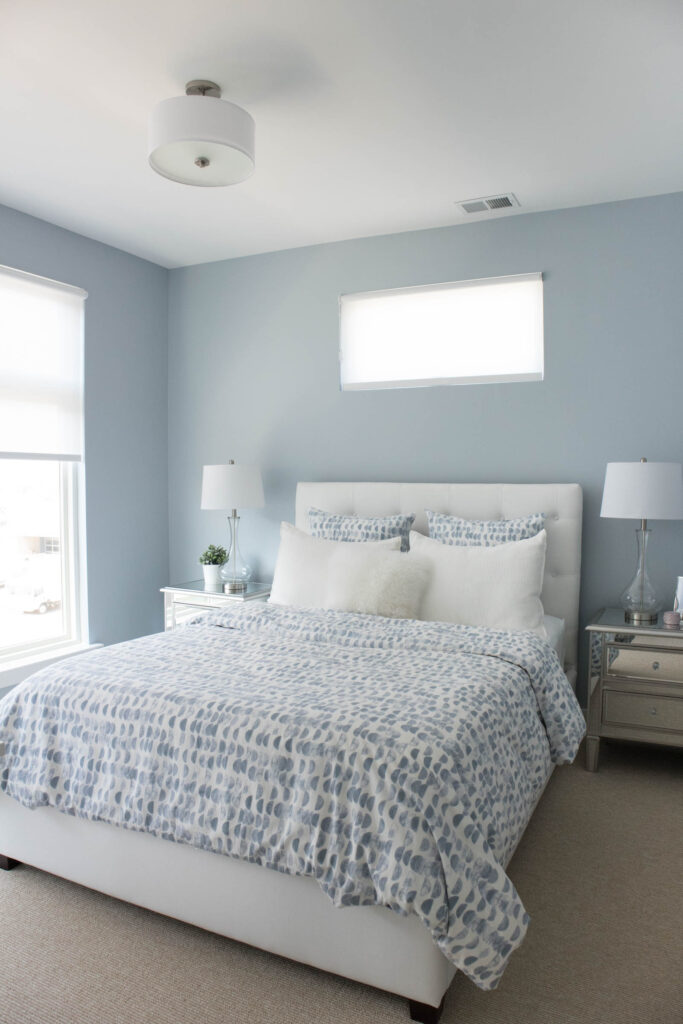 Light blue is a color that works well in a smaller bedroom, partly because it is very subtile and can be combined with other bold colors creating a vibrant design. Light blue is also a very calming color, which might be something to consider if you want to create a bedroom that is also used as a place to unwind and relax. Blue combines particularly well with white and brown which creates a classy look and feel for your small bedroom.
Light Brown and Beige
These are two very subtle, muted colors that work well in a small bedroom because they are not as bold as most other colors. Although brown can make a room appear smaller, this particular shade of brown and beige will make a small bedroom look larger. If you have a smaller bedroom with a predominantly light or white colored theme, this color combination can be a great way to create a new design with a bit more color. This color combination can also be a good choice if you want to make a room appear larger.
More Ideas on Making your Bedroom Look Bigger
Open the Door to the Outside World
If you have windows or transparent doors in your bedroom, make sure that you don't block it off with blinds or curtains. Instead, leave the windows uncovered so that you can see a bit of the outside world inside your room. This is an easy way to make your room feel bigger. If you can't keep the windows uncovered, use decorative blinds or curtains to frame them and bring attention to the outdoors.
Add Height and Depth
In a small bedroom, you want to try to make the room feel taller and more spacious. The easiest way to do this is by adding artwork and wall decorations at different heights. Use shelves to bring attention to decorative pieces that can add depth to the room and make it feel larger. If your room has a bit of a slant, use items that are weighted or attached to the wall to help them stay in place. If your room has a slanted ceiling, you can also use items that are at different heights to draw attention to the slant and make the room seem less slanted. Another way to add height and depth to your small room is by using large pieces of furniture like a tall dresser or a platform bed that rises above the floor. You can also add mirrors to the walls to make the room feel more open and spacious.
Small Room but High Ceiling? Bring Attention to It
High ceilings definitely make a small space feel bigger, even if you have a tiny bedroom. So if you do have height to your advantage, then bring it on even more. You can bring attention to a high ceiling by adding decorations to it. Use decals, lights, colorful paper, or string lights to transform your high ceiling into a feature of your room. You can also use furniture that stands out, like a tall dresser, a ceiling-high bookshelf, or a tall bookshelf.
Making your small bedroom feel bigger isn't as tricky as you might think. All it takes is a bit of creativity, a few of the right, light, or bright colors and decorations, and a few adjustments to the layout. Your bedroom doesn't have to be cramped and uncomfortable. Make it your sanctuary with the right colors and decor.
You may also be interested in:
---
Featured image by www.beautifulhomes.com